Tips for Hiking Tiger Leaping Gorge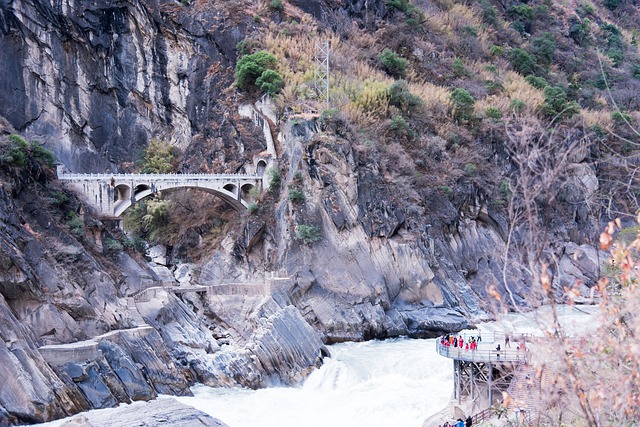 Tiger Leaping Gorge is located in Yunnan province – a popular travel destination both for international and domestic tourists. The gorge covers part of two big rivers in Southwest China: Yangtze River and Jinsha River. It is among one of the deepest gorges in China. There are two major mountains – Jade Dragon Snow Mountain and Haba Mountain on both sides of the Jinsha River.
On a nice day, you can see the snowcapped mountaintop on the Jade Dragon Snow mountain, which is on the south side of the river. The two mountains are huge, both in width and height; Jade Dragon Snow mountain is 5698 km in altitude, and Haba mountain is 5396 km in altitude. The pictures do not do justice to this magnificent place. The only way to understand its beauty is to experience it for yourself.
Most people choose either Lijiang or Shangri-La as their base to travel to Tiger Leaping Gorge.
The day before our hike, we arrived in the nearby city of Lijiang. Most people choose either Lijiang or Shangri-La as their base to travel to Tiger Leaping Gorge. From Lijiang to Tiger Leaping Gorge, our guest house owner helped us buy early morning bus tickets, which costs 35 Chinese Yuan each. The bus leaves from Lijiang Central Bus Station, and it takes around three hours to reach Qiaotou town.
Once we arrived, our drivers asked us to get off the bus and get onto another bus that would take us to our destination. This turned out to be unnecessary. The other bus only drove about 10 minutes to get to the starting point of the trek, and the driver stopped half way and asked every passengers to pay 65 Chinese Yuan in order to enter. This could have been avoided if we just got off the first bus and walked. If you want to walk from Tiger Leaping Gorge town to the entry point of the gorge, just follow the main road of the town and you can reach the entrance by foot in about 20 to 30 minutes, depending on your speed.
The only way to understand its beauty is to experience it for yourself.
We used this map that we found online to plan our trek trail. It is pretty accurate with estimated timing for each section of the trail.
We planned to stay at the Tibetan Guest House, but unfortunately we couldn't find it on the map and it was too dark once it was time to look for it. However, if you do want to stay at the Tibetan Guest House, it is a 20-minute walk down the road past Tina's, across the bridge.
Note: The trail is separated into three sections: upper, middle and lower. There are arrows on the rocks along the way to direct you to the right direction. There are also signs to show you how far away you are from certain guest houses.
At the beginning of the trail, there were lots of villagers with donkeys following us. They wanted us to hire their donkeys as means of transportation. I felt bad for the donkeys as the beginning of the trail was quite hard. It is steep and long. We had to stop every 15 minutes to catch our breath in order to keep going.
Naxi Guest House seems to be the lunch break choice for every hiker. They offer a simple fried rice dish with soup–an easy and quick meal to fill you up and keep you going. After lunch, more villagers with donkeys joined in and tried to persuade us to rent their donkey, because "very hard hiking trail" is ahead. The section after Naxi Guest House is called "28 turns," which is an uphill trail with lots of turns.
Note: The 28 turns is not that hard and we did not need any help.
This walk not only showed us great scenery, but hiking through this place also gave us a glimpse of the local villagers' day-to-day life as well. We saw farmers working on the little pieces of land, tending their vegetables, and a goat herder and his goats and a cattle herder, just minding their own business.
On the first day, we walked about 9 hours to reach Tina's Guest House, and from there we crossed the bridge and found a cute and cozy guest house called Bridge (Cafe) Guest House. This is right next to the bridge and faces the valley, which looks down on the river. Our rooms, which directly faced the gorge, had the best views.
Note: If you are not a very experienced hiker and feel tired once you reach Halfway Guest House, your best bet is to stay there for the night. The trail from Halfway towards Tina's can be quite slippery with falling rocks, making it difficult to walk in the dark.
The next day, we had two choices: we could keep going to reach the lower section of the gorge and eventually reach another town at the end of the gorge called Daju. From there, we could catch a bus which would take us back to Lijiang. However, we would have to pay 230 Chinese Yuan as a pass fee to drive through Jade Dragon Snow Mountain. Another option was to take a detour down to the river where the sky ladder is located, and walk back up to the middle section to take a bus back to Lijiang.
The staff at our guest house, Bridge (Cafe) Guest House told us they could arrange a van to take us back to Lijiang for 50 Chinese Yuan. This sounded like a better option as we had walked long hours on the first day. Now, we wanted to take it easy and admire the river.
There is a guest house called Sandy's further down the road after the bridge, and they charge 15 Chinese Yuan per person for you to go down to the river. Blue barrels along the way guided us.
Walking down the stairs was relatively easy. The river torrents created mesmerizing shapes and if you stare at it for a certain period of time, you will start seeing some faces. There is a big stone placed near the river bank. According to the legend, there was once a tiger that jumped on top of the stone and used the stone to cross the river. At this section of the river–which is approximately 30 meters wide–it certainly looked like the tiger could've jumped to the other side of the bank. And this is how the gorge was named, Tiger Leaping Gorge.
The Sky Ladder, a very tall ladder which is near the water, can be climbed for 10 Chinese Yuan. There is warning sign telling explaining how to properly climb the ladder. It would've been an interesting experience to climb the ladder in order to return to the main road. However, we took another route to go back up, hoping to see some different scenery. We did have to pay the locals another 10 Chinese Yuan to go through the other pass.
Note: there is a sign to show people the different routes toward the main road.
If you are planning to travel in Yunnan province, I definitely recommend trekking Tiger Leaping Gorge for two or three days. It is one of the best hikes I've done in China!
Have you hiked Tiger Leaping Gorge? What were your experiences like?
Tips for Hiking Tiger Leaping Gorge photo credits: pixabay.