Savouring the Towns of Tuscany, Italy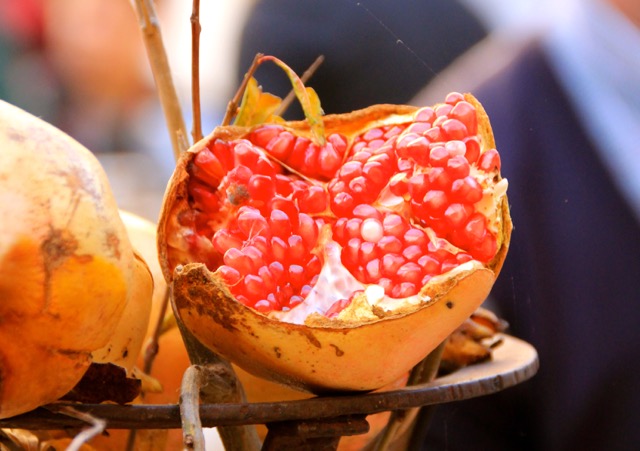 "I know I need to see Venice, Rome and Florence, but is there anything else to see in Italy?"
This question is asked more often by travellers considering a trip to Italy than anyone who loves the country would like to hear… Yes, we all cry, there is so much to see! There is enough to fill lifetimes, depending on what you like.
In Tuscany alone, the smaller towns and cities offer history and incredible flavours that fill the lives and mouths of many, year round. Celebrations are scattered through the calendar, and finding a festa, sagra, mostra or parade to enjoy means doing a little online research for the things you like to do.
Tuscan flavours calling to you
The autumn harvest starts with vendemmia – grape picking – usually in September or October. The town of Imprunetta celebrates the last Sunday afternoon in September with their Festa dell'Uva – festival of the grapes.
Four areas of the town develop a story and compete with tractor-pulled floats and hundreds of costumed dancers to celebrate the grape and the harvest. A community event, tickets are sold as you enter the streets towards the main piazza, with food and wine available.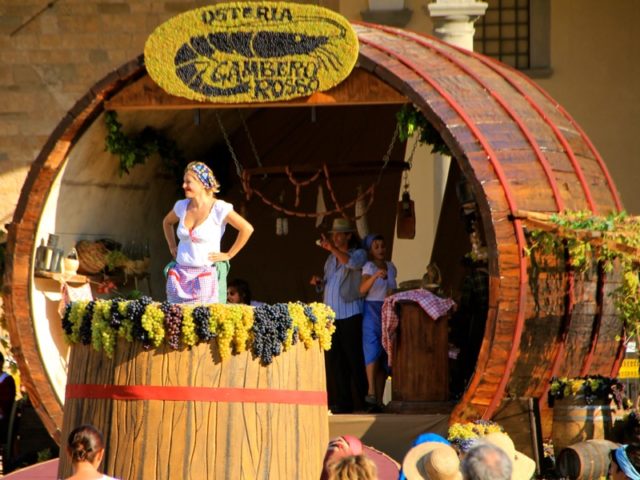 For four weekends from mid-November to early-December the medieval hilltop village of San Miniato, a 40-minute train ride east of Florence, celebrates Mostra Mercato Nazionale del Tartufo Bianco di San Miniato – The San Miniato National White Truffle Market.
Offering more than just views of the pungent tuber, you can sample other truffle-based products. Including truffle oil, pasts and sauces, and truffle salt at this internationally acclaimed event. You can also enjoy other local specialties as well. Examples include wines, extra virgin olive oil, pecorino cheese, honey, hams, salamis, chocolate, breads and focaccia, pickles and preserves.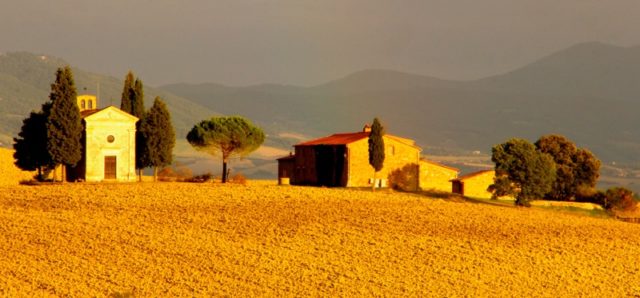 Not to be outdone, the Sienese countryside offer flavours to rival northern Tuscany. The wines and cheeses of the Val d'Orcia will leave your mouth watering and your mind filled with delicious memories. A visit to Montalcino, home of Brunello wine, and nearby Montelpuciano, home of the Nobile de Montepulciano, offer flavours that fill your memory. As well as dance on your taste buds.
Pienza is world-renowned for the production of pecorino cheese, which is made from sheep's milk. It pairs beautifully with the local honeys and a glass of regional wine.
The fragrant spice of saffron has been grown in the Val d'Orcia since the Middle Ages, and can be found in sauces for pasta and with risotto.
Pienza is world-renowned for the production of pecorino cheese, which is made from sheep's milk. It pairs beautifully with the local honeys and a glass of regional wine.
Sounds of festivals fill the streets and piazzas
The Siena Palio horse race takes over the Piazza del Campo twice a year. This happens on July 2 and August 16, pitting 10 champions selected from the 17 contradas, or districts of the city.
Seating for 33,000 around the piazza is sold out long before each race. And a standing room in the middle of the track offers little comfort for the 28,000 who opt to stand. They stand for the entire day.
Cafes, hotels and apartments with windows and balconies overlooking the piazza are filled to capacity, too. Parades and festivities take place in the days before each race. The event ends with a parade led by the people of the victorious contrada.
Lucca celebrates summer with music. Hosting a Summer Festival throughout July in the open-air Piazza Napoleone, inside the ancient city walls. Lucca draws leading international artists.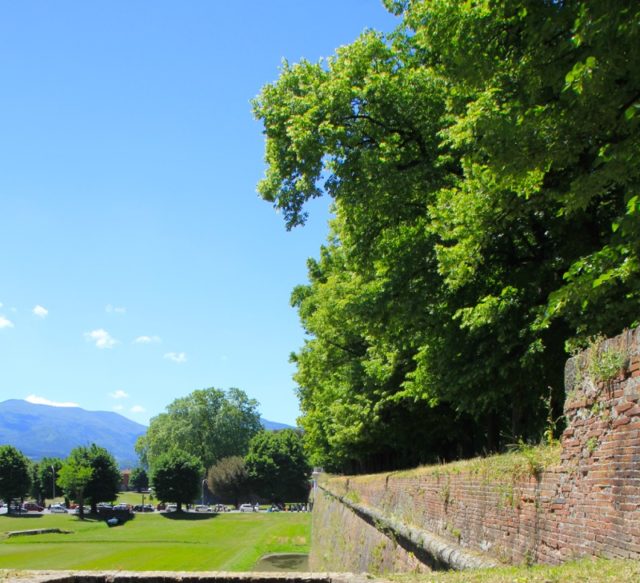 Overlapping the Summer Festival in the last days of July and running through August, the Gran Teatro All'Aperto's outdoor theatre stage is home to the Puccini Festival. Held in the hamlet of Torre del Lago. Which is located between Lucca and Viareggio, the festival is the only one in the world fully dedicated to Giacomo Puccini.
During his more than 30 years living in the tiny town beside Lake Massacciuccoli, he composed Tosca (1900), Madama Butterfly (1904), La Fanciulla del West (1910), La Rondine (1917) and Il Trittico (1918).
Yes, we all cry, there is so much to see! There is enough to fill lifetimes, depending on what you like.
As winter days slowly start to lengthen, the seaside town of Viareggio gives its promenade over to a carnevale parade, which dates back to 1873 and was started to mock the elected people of the city. Today, it is a giant fiesta of colour and dance, symbolizing peace, unity and love.
Dolls, some standing more than 20 metres in height, are surrounded by costumed dancers, and represent different figures from fairytale figures to local and foreign politicians. Thanks to the mask fiestas, musical comedies and theatre shows, special menus at local restaurants, and fireworks, accommodation is in high demand.
Rising above the land
Dating back to the Etruscan village in 200BC, San Gimignano was first named as a town in August 929, and in 998, it was named as a town on the Via Francigena, the road used by pilgrims travelling between France and Rome. Two hundred years later, in 1199, the walled hilltop town declared itself a Free Commune.
It had developed and prospered with the production of saffron, wine, and wool. And the rise of taller and taller tower-houses was a show of power and wealth.
With more than two-thirds of the population of 13,000 succumbing to the plague in 1348, and falling to the power of Florence in 1353, a period of decline set in. Today only 13 of the 72 medieval towers remain.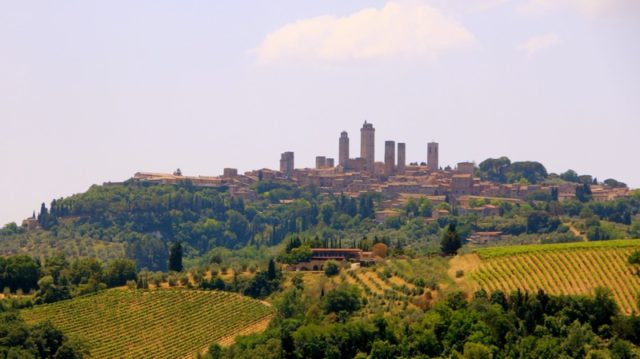 On the third weekend in June, the streets and piazzas are filled with a medieval festival. Minstrels, musicians and street performers entertain festival-goers, while costumed horsemen parade and joust, representing the four quarters of the city.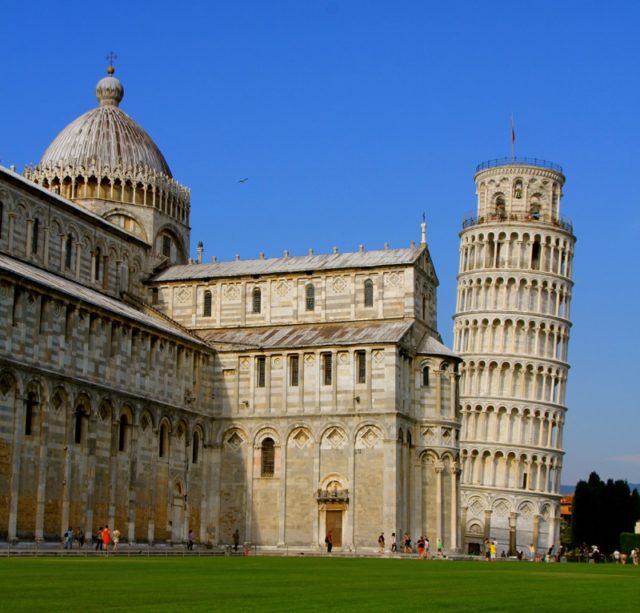 Construction of the tower in Pisa's Piazza dei Miracoli – Square of Miracles – began in 1174. It was stopped when the tower had reached its third storey and it started sinking into the ground. The tower was finally finished in the 14th century.
Of Italy's 50 towns, cities and areas on the UNESCO World Heritage List, seven are in Tuscany, Italy
Once a maritime power like Genoa and Venice, the city also boasts a long history of education. It's known as a university town since the 1400s. Local architecture includes Romanesque buildings, Gothic churches and Renaissance piazzas to welcome locals and tourists who wander beyond the piazza di Miracoli.
Of Italy's 50 towns, cities and areas on the UNESCO World Heritage List. Seven are in Tuscany, Italy – the old centre of Florence, Pisa's Piazza dei Miracoli, San Gimignano, Siena's historical centre, Pienza and the Val d'Orcia, and 12 Medici villas and two Medici gardens. See you at one of them soon!
Savouring the Towns of Tuscany, Italy
Related Reading
10 Things You Want to do Before Traveling to Italy
Have you traveled to the towns of Tuscany, Italy? What were your impressions? Email us at [email protected]pinkpangea.com for information about sharing your experience and advice with the Pink Pangea community. We can't wait to hear from you.
Savouring the Towns of Tuscany, Italy photo credits: Sandy Swanton