5 Best Weekend Trips From Tuscany
Siena is located in the heart of Tuscany, near numerous destinations that make for fun-filled weekend trips. During my study abroad program (through Lewis & Clark College and hosted by Siena Italian Studies), I was not allowed to travel outside of Italy. I took this rule as a chance to take advantage of my immediate surroundings—the one and only alluring Italian region of Tuscany.
While in Siena, I saved all of my money by sacrificing going out for drinks with friends during the week, shopping only for necessities, and eating at home with my host family so that I could travel during the weekends.
If you're currently living in the region or just want to get a taste of Tuscany, here is a list of the best weekend destinations both in and near the area, all of which are accessible by public transport.
5 Best Weekend Trips From Tuscany
1. Florence
Located only about an hour north of Siena, Florence is a no-brainer. Round trip tickets start at around 8€, and you have an unlimited amount of options once you arrive in Florence. The Uffizi and the Accademia Gallery are great to visit, whether you're one for art and history or you live with a "you're only here once" mentality. Both are priced at 6,50€. In the Uffizi, you can admire the famous works of Masaccio and Giotto, while the Accademia Gallery is home to the world famous David statue by Michelangelo.
Even simply strolling through Florence is an experience within itself. If you would rather just explore, walk through Ponte Vecchio, check out the most mesmerizing Duomo, shop your way through all of the markets, and eat.
2. San Gimignano
My classmates started referring to San Gimignano (San Jimmy-ya-no) as "San Jimmy Johns" due to the Italian way of pronouncing the letters "-gn" together. Located about an hour by bus from Siena and up high on a mountain top, this town is the perfect epitome of Tuscany and the best place to relax for a while.
Whether you choose to explore its ancient structures or just sit back and enjoy the view, SG is so great that you might need to visit twice (I did). It is also home to the world's best gelato, so you really can't go wrong. Make sure to try the Vernaccia flavor—made from SG's very own Vernaccia grape from which they also make a white wine.
3. Pisa and Lucca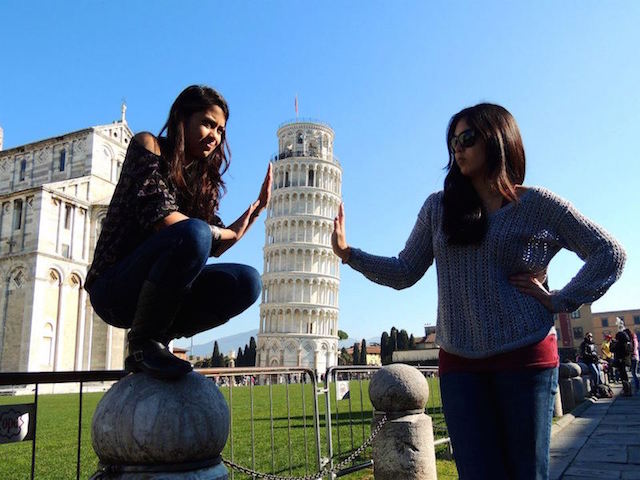 If you're a first-time visitor to Italy, why wouldn't you want a goofy picture in front of the Leaning Tower? Other than the Leaning Tower, check out the 11th-century Duomo. When you're done dealing with countless tourists at Pisa, venture on over to the nearby town of Lucca.
I added Lucca to this list because it will make your trip to Pisa worth it. It offers cobblestoned streets, elegant palaces, and Renaissance-era walls. Take a bike ride on these ancient city walls, roam the piazzas, and hang out at a cafe to enjoy the view and to talk to the locals.
4. Cinque Terre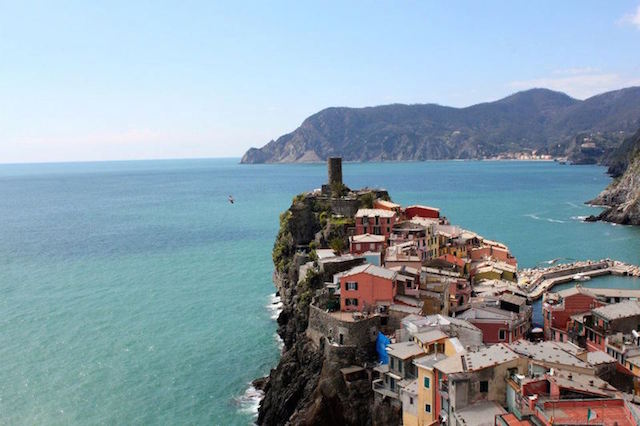 The last two stops on my list are not in Tuscany, but they are easily accessible. The weekend I visited Cinque Terre was the weekend that the Italian coast stole my heart. I stayed in Riomaggiore with five friends in an awesome hostel, which had its very own balcony! During our time there, we explored as many towns as possible and really just loved walking along the coast. We even had lots of time to relax on the beach and read while lying beneath the sun.
We got to visit four out of the five towns that make up the Cinque Terre—Riomaggiore, Monterosso, Corniglia and Vernazza. While in Monterosso, I had the experience of jumping into the freezing cold Mediterranean Sea. We also played frisbee along the shore, searched for sea glass, and climbed rocks. Cinque Terre is the perfect place to visit without a plan.
While in Vernazza, we hiked to Corniglia. You need to go on at least one of the hikes! This was the only open hike while we were there and I'm just grateful to have been able to go on one. Hiking along the Italian coast is an incredible and breathtaking journey and will definitely make you feel small and realize how lucky you are to be in such a beautiful place. Trails are available for all levels of hikers. The adventure didn't stop there, as our trip back to Siena would not have been completely Italian without a couple of train strikes.
5. Venice and Verona

A lot of people complain about Venice being too crowded with tourists, but that was not the case for me. I visited during February—sure, it was pretty cold, but it was definitely worth seeing while close to no one was there. Venice is where I learned to get lost. Even with a map, all of its narrow streets and alleys are bound to confuse you. After stressing out about getting lost, I realized that there was no point in getting upset and chose to appreciate my time there.
I also spent way too much money while in Venice—street markets will do that to you. I became obsessed with Venetian glass and wanted to eat everything from Nutella crepes to dinner at fancy restaurants. This is not to say that Venice on a budget is impossible, because there are a lot of free things to do there too.
We only had a few hours in Verona so the main attraction we visited was Juliet's (yes, from Romeo & Juliet) house. My romantic expectations were crushed when I learned that the balcony was made out of part of a sarcophagus. Gross! Other than that, there is a pretty wall full of lovers' locks, similar to Pont des Arts, but I don't know why anyone would want a romance like Romeo and Juliet's.
5 Best Weekend Trips From Tuscany
Related Reading
10 Things You Want to do Before Traveling to Italy
Have you traveled to Italy? What were your impressions? Email us at editor@pinkpangea.com for information about sharing your experience and advice with the Pink Pangea community. We can't wait to hear from you.