Travel to Budapest: In Conversation with Katie Mowery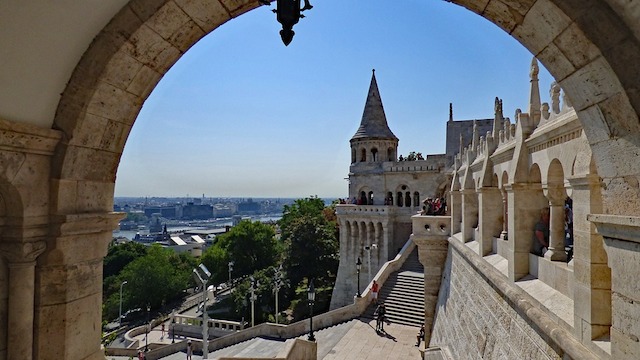 Ready to travel to Budapest? Here are the activities and accommodations that Katie Mowery recommends for your trip.
Tell us about yourself! What do you do when you're not traveling the world? Where do you live? What made you decide to go to your most recent destination?
I am truly lucky to have a unique marketing job in the association industry, which has allowed me to travel to destinations all over the world.
In fact, I spent five years in the city of Chicago before moving to the Northwest suburbs where I live with my husband and baby-on-the-way, due this December! I love my job too much to ditch my hour-and-a-half commute downtown each way, so I'm in a serious committed love/hate relationship with the train.
I was recently in Budapest, Hungary for a client conference in the graphics arts industry. The destination was selected due to its convenient location for travelers coming from other European countries, and low cost of entertainment, food, venue space, etc. When they refer to Budapest as an emerging tourist spot, they aren't exaggerating. It offers a taste of a historic, rich culture without the price tag of a place like Prague.
How long did you go for? How did you spend your time?
I spent seven days in Budapest, splitting time between Buda and Pest…split by just the Dunube river, but seemingly unrelated in style, culture, appearance.
Seven days is more than enough time to hit the major sites, although you could (and we did) make an entire day (or three) out of stopping to have a drink at all of the charming open-windowed cafes, bars and restaurants you pass on many streets. We were often told throughout our stay that Budapest has a thriving wine scene (not sure that came across in their beverage offerings), but you can expect to drink a lot of your classic import beers with a few local brews thrown in.
In June, the weather is warm (high 70s) with it getting cooler in the evening. It doesn't have the fresh breezes offered by other European destination cities like Barcelona, Venice, etc. Think more of a dry, constant temperature with moderate sun.
Unfamiliar to me prior to visiting (I'm not too much of a European history buff), was the country's involvement in World War II. That added an unexpected dimension to our trip as we were faced with amazing history presented in the hauntingly moving House of Terror Museum, which included floors of prison cells, monuments, and artifacts from victims of Nazi regimes. It serves as a memorial for many visiting family members, and the somber atmosphere will be apparent right off the bat.
What were your most memorable experiences? What were the biggest disappointments?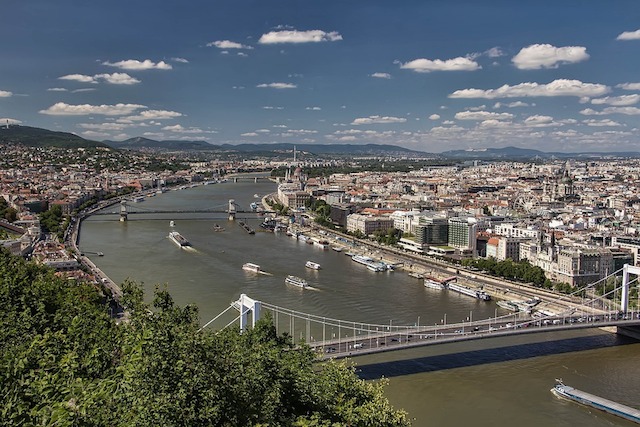 I would be remiss if I didn't say the one thing that I will never forget is the strip club around the corner from our hotel that was connected to a KFC on Király utca (yes, the chicken place). The token tagline used in many KFC commercials now seems so vulgar after experiencing that odd combination of venues.
The food is not good. I know that's abrupt, but after traveling to many other countries in Europe, do not expect to go there and experience amazing local cuisine.
The best evenings there were spent on the patio of some bar (preferably one that accepts tourists with open arms as I'll explain later) with a drink in hand listening to a DJ or to local music that you won't hear anywhere else. This isn't specific to the famous ruin bars, though those are perfect choices to spend hours mingling with friends and locals.
It feels like a city where you can walk almost anywhere (until you're looking to cross the river) so enjoy the lack of traffic and loud streets.
The food is not good. I know that's abrupt, but after traveling to many other countries in Europe, do not expect to go there and experience amazing local cuisine. Some of the best food we had in Budapest was food native to other countries–Italian, Mexican, bar food, pizza, gyros, etc. Hungarian food lacks flavor and an identity.
What do you wish you knew before you went?
Bring cash! 95% of the local bars and restaurants will not accept credit cards, regardless of the type. Some said they did on the door, but once they found out our group was made up of Americans and Brits, they would refuse. This happened time and time again. I don't know if it's a currency issue, but no one wants to make multiple trips to an international ATM.
Along those lines, make sure to understand the currency exchange. It can be daunting to do the quick math in your head when the numbers are so large. For example, a $10 drink = 2700 forints. After you rack up a large bar tab, you'll want to make sure you have your phone or currency converter ready to figure out what you owe.
The bars run by younger locals are the best. The millennials of Budapest are some of the most sincere, engaging individuals who love talking about travel, work, music, and basically anything else. Often, they run the smaller bars that are off the beaten path, but those can be the most fun.
Any favorite restaurants/hotels/hostels/sites you'd like to recommend? Tell us what made them great!
Kuplung: It is built out of an old garage and is perfect for playing cards while having a few drinks.
Szimpla Kert: It adds food to the mix (think basic bar food), and has an outdoor city patio feel.
Trap Cafe: Located on Erzsébet krt, it has a chill atmosphere but may close early.
Be sure to skip Morrison's Music Pub. I don't know what kind of place this is, but our entire group left feeling so uncomfortable. First, every hour, they bring in busloads of teenagers who are dressed in rave gear to fill the dance floors. Second, they are not friendly to non-locals–from raising prices that are listed on the menu to demanding that we (six people having a conversation) keep our voices down (in a nightclub!). This place left much to be desired.
It's embarrassing to admit, but on three separate occasions, I ate at a Mexican restaurant called Tacos Locos étterem. It was right by my hotel, but it was the amazing Mexican food that kept us coming back.
It felt like they were purposely trying to make us feel like outsiders. This included proprietors of restaurants and bars. I kept thinking 'Don't you want my business?'"
I stayed at the Corinthia Hotel, which was just beautiful. The staff was friendly and there was a rooftop bar, which we frequented often. If it looks familiar to you, that's because it's a spitting image of the hotel in the Grand Budapest Hotel. If you order room service, consider the egg rolls. They are the perfect way to end a night filled with beer.
Is there anything that women specifically should know before they travel to your destination?
I'm not sure that this is specific to women as men in the group experienced the same level of rudeness by many locals. But definitely don't expect anyone to be overly friendly just because you're female. We were cut off when talking, ignored, or talked down to by many older generation locals. It felt like they were purposely trying to make us feel like outsiders. This included proprietors of restaurants and bars. I kept thinking "Don't you want my business?"
Photo credits by Unsplash.