Budapest's Sziget Festival: The Real Deal with Dana Humphrey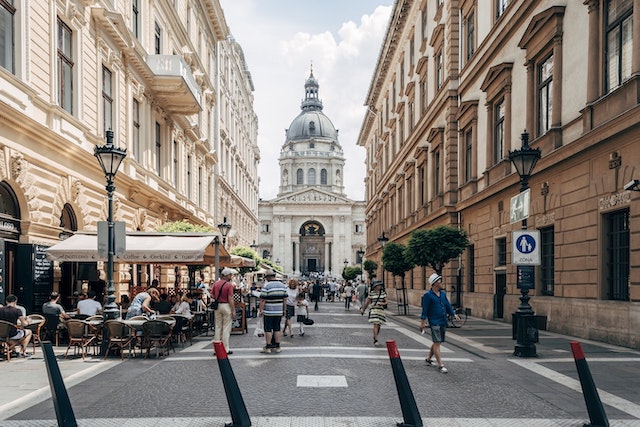 Interested in attending the Sziget Festival? Dana Humphrey shares her experiences there, as well as her recommendations for a great time exploring in Budapest.
Tell us about yourself! What do you do when you're not traveling the world? Where do you live? What made you decide to go to your most recent destination?
I run a PR firm that specializes in the Pet Industry! It's called Whitegate PR and we do traditional public relations and marketing services for pet product manufacturers. I live in New York City in a neighborhood called Astoria. It's the most culturally diverse place in the world, and I love it! I also am a professor at FIT (Fashion Institute of Technology) and teach in the "Pet Product Marketing and Design" continuing education program.
I love to travel! I've been to over 60 countries, and I am pretty much addicted. I work so that I can travel, and I love NYC but I also love to leave! In August, I met up with two girlfriends in Hungary, and we continued on to Russia and then Prague over a two-week trip. The impetus to go to Hungary was based around our quest to find a music festival. After a few searches, we found Sziget.
I was asking around to see if anyone in my circle knew about the Sziget Festival, and lo and behold, my little sister, Andrea, had been there a few years prior. So we decided to go! Sziget means Island of Freedom and it's in Budapest, Hungary.
How long did you go for? How did you spend your time?
We spent five glorious days in Budapest. We stayed in a hotel with a rooftop pool, with beautiful views of the city, in the Jewish part of town. Budapest is extremely easy to get around and tourist friendly. You can walk to the chain bridge and the castle, or hop on a tram to the amazing bath houses. We bought something called a "Go Pass" in advance, which allows you unlimited access to the train, bus, boat and transit systems. One of my favorite nights was spent in the "ruin bars" of Budapest. I especially recommend checking out Szimpla.
The Sziget Festival was very interesting as well, featuring all kinds of music from all around the world and across all genres. We enjoyed the world music section as well as an amazing live DJ set by Avici. We enjoyed watching circus acts, a fashion show, food, drinks, art, people, and, of course, the bands! One day turned out to be plenty at this festival full of mostly young European tourists.
What were your most memorable experiences? What were the biggest disappointments?
We really enjoyed eating goulash and cheap street food in Budapest.
The thermal bath house was extraordinary. Gellert Bath House has eight pools, a few outdoor, a few indoor, many steam rooms and saunas, a wave pool and a sunny deck patio to relax. Plus, you can always finish off an afternoon with a delicious Magnum Bar (ice cream dipped in chocolate).
My friends dragged me on the Ferris Wheel. In hindsight, I wouldn't have spent 10 euro on it–that was my only disappointment.
What do you wish you knew before you went?
I wish I would have known how much I would like it, so that I would've planned to stay longer! I could definitely live in Budapest.
Any favorite restaurants/hotels/hostels/sites you'd like to recommend? Tell us what made them great!
We found a dive bar one night on our way home, while we were actually looking for a glass of water. We popped in and found a dog on the couch named Iggy. One friend fell in love with Iggy, while the other met a handsome young Hungarian guy. I crawled up to the attic space where there was an impromptu jam session going on. The bar is called Szzzt, and if you are looking for a fun night, I highly recommend it. We ended up going back again.
Is there anything that women specifically should know before they travel to your destination?
Hungary is very welcoming and cosmopolitan. There is good shopping and good food and everything is open late. There are many kosher options and lots of sights to see. I don't see any particular threats to women here more than taking the usual precautions of being careful and keeping your wits about you.
Photo credits by Unsplash.