Three-Day Budapest Tour: The Real Deal with Vanessa Roche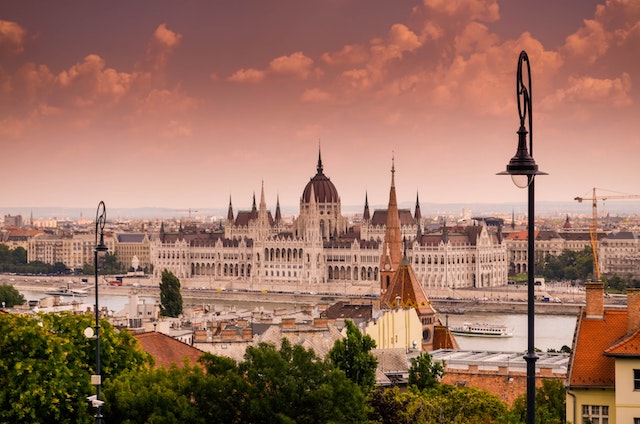 Interested in taking part in a Budapest tour? Here are the activities and accommodations that Vanessa Roche recommends for your trip.
Tell us about yourself! What do you do when you're not traveling the world? Where do you live? What made you decide to go to your most recent destination?
I am a Digital Analyst for the marketing team at Go Ahead Tours, a leading tour operator based in Boston. I've always been inspired by travel. I'm fascinated by going to places that are more off-the-beaten-path – like Hungary – where you can explore such a rich history and culture. When I'm not traveling the world, I'm usually renovating our old Victorian home or planning my wedding.
How long did you go for? How did you spend your time?
My trip to Hungary was part of a 15-day tour to Budapest, Vienna, Prague, Krakow and Warsaw with Go Ahead Tours.
In Budapest, we had a great mix of planned activities included with the tour, as well as free time. We were able to walk the city with a local guide and explore some of the famous sights like the Hungarian Parliament Building, Heroes' Square and Castle Hill while learning about the city's diverse history. Although it was my second time to Budapest, our guides really brought the experience to life and gave me a deeper understanding of the culture and influences that have impacted its people, which I really enjoyed. I then filled my free time with other sights and experiences that interested me–like a trip to the thermal baths.
What were your most memorable experiences? What were the biggest disappointments?
Some of my favorite, most memorable experiences were:
Trying the local flavors: The food in Budapest is really fresh and affordable. Try some delicious goulash or Hungary's world-famous Tokaji wines and pezsgo, a sparkling white
Gaining insight into the history and culture: Hungary is a country steeped in history. Evidence of the aftermath of World War II and the post-Communist regime that followed until 1989 are still very much visible throughout the city. A walking tour led by a local guide is a great way to take in the city's multi-faceted history and culture
Cruising the Danube in the evening: For a unique and gorgeous perspective of the city, take an evening cruise along the Danube, where you'll see Hungary's famous city lit up along the river. The Parliament Building and other sights, while beautiful by day, are stunning at night
What do you wish you knew before you went?
Hungary isn't on the euro–it's on the Hungarian forint. It can be helpful to have some local currency when you arrive. Just keep in mind that prices are pretty affordable there, so it's not necessary to carry a large amount of currency with you–and you can always swing by an ATM if you need more.
I also always recommend learning a few key local phrases for when you're introducing yourself and interacting with locals. It's a small gesture that goes a long way in showing that you're interested in their culture–even if it's just a simple köszönöm (thank you).
Any favorite restaurants/hotels/hostels/sites you'd like to recommend? Tell us what made them great!
Alexandra Bookcafe: An old casino that was renovated into a department store before being renovated again into a bookstore/cafe. The cafe is located in a former ballroom with murals painted by Karl Lotz. We had coffee, tea and desserts there with our group–it was a really magical experience.
Thermal Baths: Our tour director recommended we try Szechenyi Baths and Pool. It's one of the largest natural hot spring spa baths in Europe with a century-old history. You can relax in one of the outdoor or indoor geothermal pools, get a massage and more.
Budapest Jazz Club: This spot is great for a night out that gives you insight into some of the local culture. You can enjoy drinks outside and then head in to hear live performances and hang out with locals.
Ruin pubs: Beloved by locals and tourists, Szimpla Kert is one such pub, which features live music, outdoor air, and games within a relaxed club atmosphere–think beer garden meets World War II ruins.
Is there anything that women specifically should know before they travel to your destination?
Not particularly. I felt very safe exploring the city. As always when you're traveling it pays to be smart and keep your wits about you. The people are very friendly and polite; they embrace tourists and locals alike, and I really enjoyed interacting with them.
Photo credit: Unsplash.