Travel Budapest: In Conversation with Jennifer Kon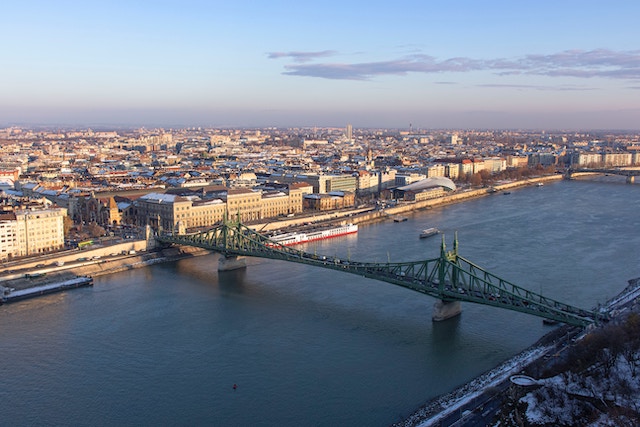 This month, we're interviewing women from all over the world and asking them about their experiences traveling to Budapest. We had the privilege of speaking with Jennifer Kon about her experience traveling through the rein. Here's a glimpse into our conversation.
Tell us about yourself! What do you do when you're not traveling the world? Where do you live? What made you decide to go to your most recent destination?
I'm a travel agent with Rollinglobe, and I live in Columbus, Ohio. My parents are originally from Hungary, and I've been there many times, but I went last year with a few friends who have never been to Hungary before.
How long did you go for? How did you spend your time?
We went for a week and mostly stayed in Budapest. I recommend that first-time visitors stay in Budapest and maybe venture out to the Balaton region, Szentendre, or Eger.
What were your most memorable experiences? What were the biggest disappointments?
My most memorable experience was going to the baths. It's so relaxing and so integral to Hungarian culture and even medical treatment.
My biggest disappointment was that there was no longer a non-stop flight from the USA to Budapest. So, you'll have to fly to Toronto or a European hub before transferring to a flight to Budapest.
What do you wish you knew before you went?
I think what surprises most people about Hungary is how much there is to do and how great the wines are. Most Americans have never had Hungarian wine since it's not imported very much to the USA. But, once they have it, they are addicted.
Hungary is a great place to spend several days or a week, instead of just a weekend, like a lot of people think before they go there.
Most Hungarians who work in tourist areas will speak some English but most Hungarians outside of the tourist areas do not. If you plan to go outside of the usual tourist attractions, bring along a translation app or learn a few Hungarian words.
Any favorite restaurants/hotels/hostels/sites you'd like to recommend? Tell us what made them great!
Go to one of the bath houses in Budapest. I recommend trying either the Szechenyi or Gellert baths. It's such a relaxing experience that I recommend going there on your first day in the country. Some other great things to do are to walk around the Buda Castle district (including the Matyas Church and famous Fisherman's bastion), walk across the chain bridge, and walk around Margit Island.
Some museums I would recommend are the Terror House Museum (about the communist and fascist regimes) and the Hungarian National Gallery. You'll also want to visit the Parliament building and Opera House but you should arrange tours in advance of your trip.
To get a sense of Hungarian cuisine and shop for souvenirs, go to the Great Market Hall. I especially love langos, a fried bread topped with sour cream and cheese.
Some hotels I would recommend in Budapest are the Corintha (luxury), Four Seasons (luxury), Ibis Budapest Centrum (budget), or Bliss Hotel and Wellness (apartment-style).
One of the big areas to find restaurants and bars is Liszt Ferenc Square. Budapest's most famous bar is probably Szimpla Kert, a unique ruin bar.
Is there anything that women specifically should know before they travel to your destination?
I think Hungary is a safe place for women to travel alone or with others.
Photo credit for Travel Budapest: In Conversation with Jennifer Kon by Unsplash.