Bologna Travel: Porticoes, Pilgrimage, and Pork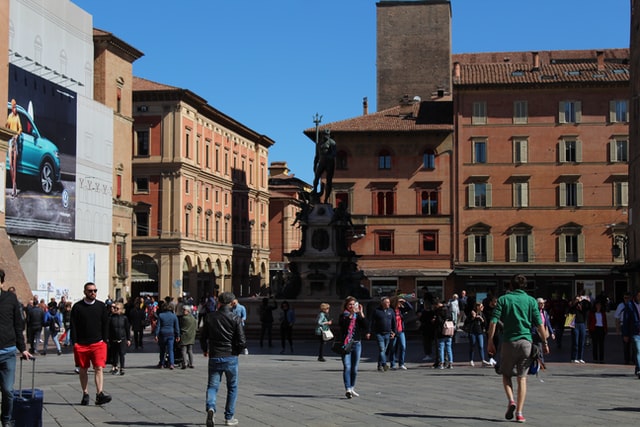 There isn't a city in Italy that I don't like. After four visits and several months spent in the country, I have fallen in love with every place I have seen. The canals of Venice, the ancient architecture in Rome, the style in Milan, the pizza in Naples, the hiking in Cinque Terre and along the Amalfi Coast are all reasons why Italy is my favorite country in the world.
Italy is so loaded with breathtaking beauty, delicious cuisine, fantastic wine, and architectural gems that it is often easy to overlook towns with less tourist appeal. But having a bit less tourist appeal in Italy doesn't mean too much, as places such as Verona, Certaldo, Bracciano, and Lake Como are all outstanding vacation spots. Having seen the largest and most touristy cities in Italy, I turned my attention to Bologna, Italy's seventh largest city with a population of almost 400,000 inhabitants.
Why don't we build our houses to last for 600 years anymore?
Bologna lies in the Emilia-Romagna region of Italy, located in the center of the country in the north. Car aficionados often visit the Emilia-Romagna region to see the home of Ferrari, Ducati, and Maserati. The area is also known for food production, with foodie cities such as Parma selling delicious prosciutto ham and Modena producing balsamic vinegar. Bologna is also a popular study abroad destination, attracting international students to spend a semester or a year at one of its many outstanding universities.
Bologna has one of the best preserved historical city centers and was featured as a European Capital of Culture in 2000. Despite all of these outstanding reasons to visit Emilia-Romagna, I had passed it up in favor of other cities until this year. When I boarded a train from Florence, I had very little idea about what to expect, and by the time I left Bologna, I knew I had discovered yet another Italian gem. For those travelers who have seen Rome, Venice, Florence, and Milan, Bologna deserves to be next on your list!
Getting There
Arriving in the new Bologna train station from Florence is quite an experience. The train is underground, so you have no idea what the city looks like until you emerge from the station. Also, the area around the train station isn't the nicest in the city, so it certainly doesn't give a good first impression. After walking for five minutes, I quickly found my way to the Via dell'Indipenza, which runs from the Central Train Station to the heart of the city, the Piazza Maggiore.
Bologna Travel: Porticoes, Pilgrimage, and Pork
Porticoes
Right away, I noticed the porticoes lining both sides of this major shopping street. Bologna's 26 miles of porticoes allow pedestrians to walk in the street, soaking in the weather, while still removed from the traffic. They were originally built out of wood to shelter pedestrians in the Middle Ages. Today, while many new buildings feature beautiful, lofty porticoes, it is still possible to see a few of the original 13th century wooden porticoes in the city center. These porticoes have been well reinforced to stand the test of time. Why don't we build our houses to last for 600 years anymore?
Towers
Another recognizable feature of the city is the Towers of the Asinelli and Garisenda, or due torri, which have stretched towards the sky for hundreds of years. During the 12th to 14th centuries, close to 200 towers were built in Bologna as family status symbols. Now only 20 towers remain standing. The due torri lean towards each other slightly as though leaning in for a kiss.
You can hike to the top of the Torre degli Asinelli for an amazing view over Bologna. It is not an easy hike, with more than 500 old stairs leading steeply up to the top, which is 330 feet high. The view from the top is worth the effort, though. When I visited, the rain had just passed and the city streets appeared to sparkle as the sunshine hit the puddles far below.
Churches and Museums
If you like old churches, Bologna has a nice one called the Basilica of San Petronio, which also happens to be the fifteenth largest church in the world. Many other churches dot the city, as well. The city also has many museums for those who want to see some artistic masterpieces or learn about history. My favorites were the Museum of the History of Bologna and the Modern Art Museum of Bologna.
The history museum is fantastic because it incorporates many interactive exhibits using new technology and media to tell an old story. The Museum of Modern Art's main exhibit is dedicated to Morandi, one of Italy's most famous still life painters who was born in Bologna and did most of his life's work in Bologna.
Cuisine
While in Bologna, a good portion of your time should be dedicated to sampling as many delicious Italian foods as possible. Pastas that appear frequently on menus include tortellini, lasagna, and tagliatelle alla Bolognese. The city's famous red sauce is loaded with onions, tomatoes, and usually pork. Several food markets serve up fresh, locally produced pasta and sauces, and the centrally-located Mercato di Mezzo is a food lover's paradise!

There is something to satisfy all types of travelers in Bologna. Whether you are interested in architecture, food, art, history, or wine, Bologna has something to offer you. You will need at least 48 hours to get a good sample of Bolognese cuisine and to enjoy long strolls under the covered porticoes.
Pilgrimage
My first visit has inspired me to plan a second visit during which I will make the three-mile pilgrimage walk from the city center to the Sanctuary of the Madonna de San Luca. The walk is entirely under a portico as you climb steadily up the hill to the sanctuary just outside the city. Limited time and a heat wave prevented me from doing it during my visit this summer. Thankfully, I always find reasons to return to Italy again.
What do you recommend doing on a Bologna travel adventure?
Top photo by Unsplash.