9 Awesome Tips for Your Trip to the Yucatan Peninsula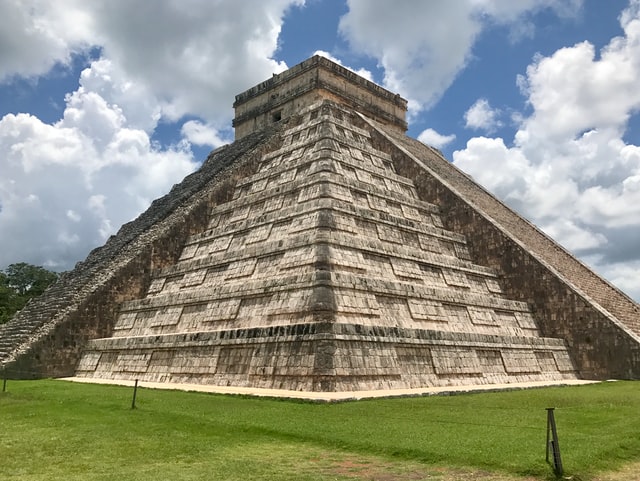 If you appreciate beautiful landscapes, majestic Mayan temples, historical cities, happy people and extraordinary food, I recommend a visit to the Yucatan Peninsula in Mexico. Below are tips to make the most out of your trip:
9 Awesome Tips for Your Trip to the Yucatan Peninsula
1. If you're crossing into Mexico, splurge on a shuttle bus
Traveling from Guatemala through Belize to Tulum, Mexico took me around 11 hours. Because safety and not getting lost were most important to me, I booked a shuttle bus one day in advance from Flores, Guatemala, and everything worked out well.
Shuttle buses for border crossings are a bit more expensive than normal chicken buses, but they're absolutely worth it, especially if you're traveling alone. Traveling by chicken bus will take you longer–you have to change buses many times, and you may get stuck on the border.
2. Save money with second-class buses in Mexico
There are first- and second-class buses in Mexico. The first-class buses, like ADO-Buses, are faster, more comfortable and more expensive. So if you like to travel quickly and comfortably, that's a good option. If those factors aren't important to you, the second-class buses are absolutely fine–and are sometimes even half of the price. Luckily, compared to chicken buses in Central America, all Mexican buses are really comfortable!
3. Use Couchsurfing
If you want to meet fantastic people, be immersed in the local culture, eat delicious Mexican food, share interesting stories, and make new friends, try Couchsurfing! Many Couchsurfers will even take you around their towns, helping you see their homes from a local's perspective. Mexican people are some of the friendliest I've met, so I definitely recommend using Couchsurfing here!
4. Spend an afternoon at a cenote
Don't miss out on visiting a cenote! This natural wonder will take your breath away, as you swim in the cold clear water, watch the fish below you, admire the blue sky, and just enjoy life.
5. Immerse yourself in Yucatan's cultural capital
In Merida, also known as the culture center of Yucatan, you'll find beautiful colonial buildings, parks, streets, and churches. Almost every day, colorful performances like Mexican dances or traditional Mayan festivals take place on the streets of Merida. You'll also find many museums about Mexican history and ancient Mayan culture, as well as free plays!
6. Marvel at the ancient Mayan ruins
Located by the Caribbean Sea, the ruins of Tulum offer an incredible view. Even more amazing, though, are the ruins of Chichén Itzá. Get there as early as possible in order to avoid the midday crowds and penetrating sun. You'll find few shaded spots there.
7. Pack sunblock with you
Especially during the summer, it can get incredibly hot so be sure to lather up with lotion. If possible, it's best to avoid going out around midday, from 11 am to 3 pm.
8. Visit the yellow town
Izamal, also known as the yellow town, isn't far from Merida. Just take a collectivo, a small bus, from the big market in Merida. Collectivos can fit about about 10 passengers and leave as soon as they are full, which is about every 10 minutes. Izamal offers a great day trip!
9. Sample Mayan chocolate
In Valladolid, visit the Cacao Museum, where they process cacao like the Mayas did. The entrance is free and you will be able to get a short tour through the small museum. Afterwards, you can try different chocolates and purchase some as well. They also have a little café, where you can order hot chocolate in different flavors. It's delicious!
9 Tips for Your Trip to the Yucatan Peninsula Related Reading
Letting One Thing Lead to Another in San Miguel de Allende
Have you traveled to Mexico? How was your trip? Email us at [email protected]pinkpangea.com for information about sharing your experience and advice with the Pink Pangea community. We can't wait to hear from you.
9 Tips for Your Trip to the Yucatan Peninsula photo credit: Unsplash.