Cooking on an Organic Vietnamese Farm: A Conversation with Vanessa Chua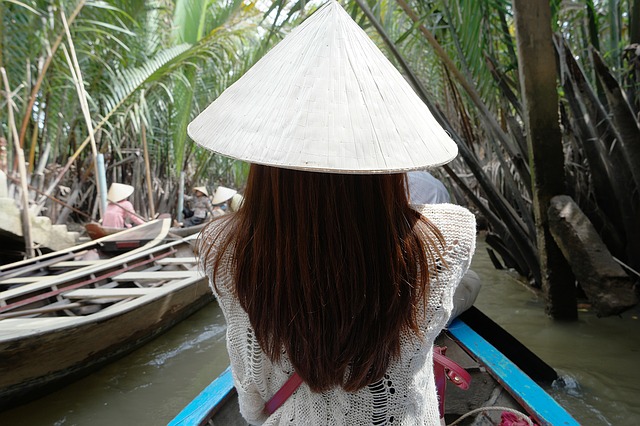 Tell us about yourself! What do you do when you're not traveling the world? Where do you live? What made you decide to travel to Vietnam?
My name is Vanessa. I am currently based in Barcelona where I am an exchange student with a local university. I am living with uni mates in a shared apartment at La Segregra. When I am not travelling the world, I am busy with school assignments and also my part time job. I decided to travel to Ho Chi Minh City because a few of my friends recommended this place as a beautiful destination and it is also very budget-friendly.
What kind of cooking class did you take? How long was it, and where was it held?
I took a healthy Vietnamese Cuisine cooking class at a local organic farmhouse, taught by the farmhouse owner, Chef Tan, who has been a professional chef for more than a decade. The cooking class took around two hours plus (we went slightly overtime because I spent a lot of time picking the herbs in his garden, and was quite slow at cutting the ingredients afterwards). As I said, it was held at Chef's farmhouse which was about a 15 minute drive from the Cu Chi Tunnels.
Did the cooking class include any extra activities, such as a visit to a marketplace or a restaurant?
The cooking class consisted of an herb garden exploration. The Chef guided us to each of the herbs that he grew and taught us the use of the herbs in cooking, as well as their practical use. For example, the Vietnamese coriander is used as a garnish in salads, but can also be used as a natural form of hormone control: it is used to stabilize menstruation cycles.
What did you learn? What were your most memorable experiences? What were the biggest disappointments?
Other than learning how to prepare traditional Vietnamese cuisine, I learnt the principles of cooking from Chef. He emphasised consistency in seasoning and servings, which is very helpful for a novice cook like me. The most memorable experience I had was exploring the herb garden with Chef because it was a true eye-opener and very educational. Through this experience, I really appreciated the work of people collecting the herbs, because it requires a lot of labour and diligence.
The biggest disappointment was the lack of time to stew the lemongrass chicken. This dish was supposed to be stewed for a few hours but due to the lack of time (our lesson was only for two hours), we only stewed the chicken for about an hour. Although it was tasty, it could have been better if we had stewed it for a longer time.
What do you wish you knew before you went?
I wish I had more knowledge about Vietnamese cuisine before I went. Chef is very knowledgeable about Vietnamese cuisine and he can cook a whole array of dishes. However, due to my lack of knowledge, I was unable to tell him the dishes that I could possibly be interested in, and left it to him to decide a menu that was manageable for me. Of course, it was still a very good experience overall.
Would you recommend other women travellers take this cooking class?
Yes I would recommend other women travellers to take this class. It is more than just learning about the ingredients and cooking methods, it showcases the beauty of Vietnamese cuisine and how the locals take a lot of pride when preparing food for their loved ones. If you are worried about coming here alone, don't be! There are many other students whom you can take classes with and friendly chefs who are very willing to impart their cooking knowledge to you. I am not sure if Chef has a website for his farmhouse but he has a platform from which he offers his cooking classes. Chef was an awesome teacher and I hope other travellers get to have this wonderful experience.