Travel to Indonesia: A Conversation with Liliia Tkach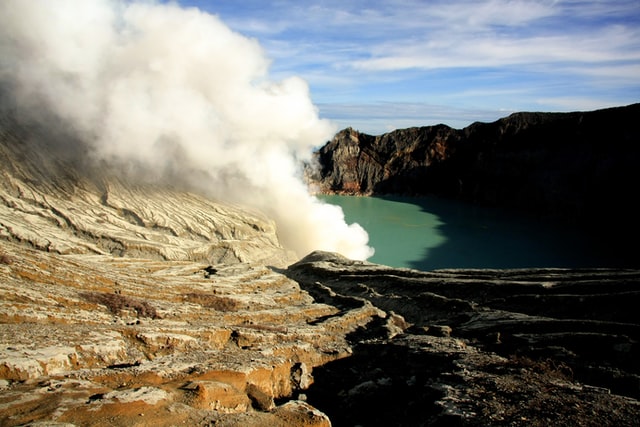 Tell us about yourself! What do you do when you're not traveling the world? Where do you live? What made you decide to go to Indonesia?
I have had a passion for design from my childhood and because of this I created with my sister the industrial design company CSDesign last year. We improve as well as create products guided by the special requirements of our clients and manufacturers, and often work within multi-disciplinary groups that include management, marketing, engineering and manufacturing specialists who help us provide better services and products for our clients.
My second passion is traveling. I love new destinations, amazing nature, unusual and tasty food, historical places; all of this together gives me a lot of inspiration for our design projects. I share sometimes my travel experience and inspiration on my Instagram.
I am from Kyiv, Ukraine and currently live between Ukraine and Asian countries, because I often need to visit our partners and clients.
How long did you go for? How did you spend your time?
I have visited Indonesia several times during different seasons. The weather was always hot, but I love it, and even the rainy season cannot spoil my travels.
I have visited factories in different part of Java and have rested on different islands. But even on my business trips I have had the opportunity to visit some interesting places. If you like a combination of traditions, nature and history, I advise you to visit theme park Taman Mini. It's near Jakarta. It consists of 26 houses from different parts of Indonesia. Also, the National Museum is an interesting place.
I like history and I have visited some temples. The Sam Poo Kong Temple is the oldest Chinese temple in Semarang. It is painted a magnificent red color and crowned with a triple-layered pagoda-style roof, typical of East Asian culture. The surrounding area is thick with incense smoke, giving the feel of being in China itself. Also interesting are the old Buddhist temples Prambanan, Kalasan and Borobudur, all of them on Java Island.
Mostly people come to Indonesia to enjoy the untouched nature, surfing, diving, and yoga. One of the amazing place for diving is Wakatobi, which is widely recognized as having the highest number of reef and fish species in the world. The islands are also famous as the largest barrier reef in Indonesia, second only to the Great Barrier Reef in Australia. Another is Raja Ampat, a fascinating marine paradise in West Papua.
If you're looking for peace and quiet, then Ubud, in the middle of Bali, is the place to be.
I'm not a fan of yoga but if you like it you should visit The Yoga Barn in Ubud. I just like it for the relaxed atmosphere, and apart from yoga they have a hotel and a lot of other interesting ways of relaxing.
What were your most memorable experiences? What were the biggest disappointments?
I don't have negative emotions and memories connected with Indonesia. Sometimes the service isn't great, but I can deal with it.
My most memorable experiences are the people who live there. Indonesians are very friendly and even if they don't speak English they will try to make a good impression, be hospitable and open. I remember some situations when old people or children came to touch me because they had never before seen a person with white skin and blue eyes. They shared some souvenirs with me.
What do you wish you knew before you went?
I can't say that I wasn't prepared for Indonesia because I am experienced traveler, but I would advise others to take a light blouse or shawl. I don't know why but Indonesians like freezing temperatures inside! I bought several wonderful Indonesian cotton shawls, which you won't regret buying.
I usually don't have any problems with my stomach, but I've been advised not to eat or drink milk products, so it's up to you.
I knew before my travels that people in the villages don't speak in English. You might want to think about getting a translator if you plan to go to remote places.
Any favorite restaurants/hotels/hostels/sites you'd like to recommend? Tell us what made them great!
Some of my favorite hotels in the jungle in Bali are The Royal Pita Maha and Maya Ubud Resort & Spa with a stunning spa center.
A good place to meet new people or experience an amazing sunset on the beach is Single Fin Bar.
The seafood everywhere is mostly great and you can try it in simple places or choose something more fashionable. Some of my favorite restaurants are Salt Grill by Luke Mangan, with a great view over Jakarta, as it is on a high floor of The Plaza; E&O is a popular Jakarta restaurant with expats, for Asian fusion food; Akira Back is one of the best modern Japanese restaurants in Jakarta.
To help plan your visit to Indonesia I recommend visiting the Wonderful Indonesia website, with a lot of useful information about destinations, historical places and so on.
Is there anything that women specifically should know before they travel to your destination?
Be ready for some unexpected problems with your health, like low or high blood pressure, angina, heavy periods, or excessive sweating.