Bali and the Gili Islands: A Conversation with Kassie Ricci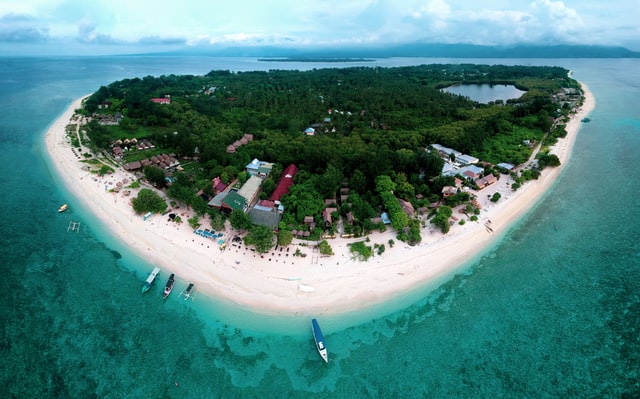 For a relaxed experience of Indonesia, you can't look past Bali and the Gili Islands, islands so small you can walk around them in a few hours. Here are Kassie's tips.
Tell us about yourself! What do you do when you're not traveling the world? Where do you live? What made you decide to go to Indonesia?
Hi there! I'm Kassie and I'm a Boston-based travel blogger adventuring around the globe and writing about it at TheFlyAwayLife.com.
About a year ago, I was working a 9-5 and feeling really trapped by my everyday routine. I had always wanted to travel so I saved up money, working several jobs over the course of a few months, and decided to take a career break to backpack around Southeast Asia. I specifically knew that I wanted to visit Indonesia, especially Bali and the Gili Islands, which are known for their amazing beaches and dive sites.
How long did you go for? How did you spend your time?
I spent just a little under a month in Indonesia, with about 10 days on Gili Trawangan and the rest exploring Bali.
My time in Bali was split between the land and the sea. Bali is known for its amazing beaches but has beautiful spots inland that are worth discovering. Ubud is a yogi's paradise, with many amazing yoga studios and countless healthy restaurants. It's also a good base to explore some of the amazing local sites, like rice paddies and the famed Monkey Forest.
The beaches of Bali are as stunning as the guide books make them out to be. Kuta is overrun with tourists but a fun place to learn to surf. If you are looking to party with a bunch of Australians it has amazing nightlife. A short ride away is Seminyak, with beautiful pristine beaches minus the tourists. If you are really looking for a more remote beach experience, check out Amed on the north-east coast. This little fishing village had stunning beaches and amazing coral reefs to snorkel. The diving is some of the cheapest in Southeast Asia and has some amazing wrecks to discover.
Gili Trawangan is a fun island that is known for its nightlife, but the big draw to this island it what is under the water! Gili has some of the best diving I've done. You're practically guaranteed to see turtles, sharks and rays! Even if you don't dive, come for the island atmosphere. There are no cars on the island so it's either take a horse and buggy or walk. Walking around the entire island only takes 2-3 hours and is a great way to see how the locals live.
What were your most memorable experiences? What were the biggest disappointments?
Learning to surf and visiting the Monkey Forest were definitely the highlights. It was really cool to watch the monkeys interact with tourists (though do be careful!). Turns out surfing isn't really my sport, but the first time I managed to ride a wave into the beach felt like a huge accomplishment!
I did a tour of the Balinese countryside from Ubud, and that turned out to be a bit of a disappointment due to our guide being rather dull and rushing us around. Looking back, I wish I had rented a scooter and gone independently.
What do you wish you knew before you went?
I wish I had a better understanding of the costs of things in Indonesia in general. Hotels were exceptionally cheap, with amazing rooms, including a pool, coming in at $15, but food was rather pricey across the board. Activities also varied in price, with an all-day tour of Bali costing $50, but two scuba dives costing only $35. I suggest that people research the exact things they want to do while in Indonesia and bargain hard. Don't be afraid to walk away if it isn't the price you want, you will eventually find someone who will match what you're asking, if it is reasonable.
I also wish I had known to be super diligent about checking for bed bugs in Gili T. I ended up getting bed bugs at one of the nicer hotels. Once I had gotten rid of them, I had to check three more places before finding a suitable bed. Always ask to see the room and check for anything that might be wrong before you pay!
Any favorite restaurants/hotels/hostels/sites you'd like to recommend? Tell us what made them great!
In Kuta, I definitely recommend staying at The Spot Legian. It is fairly cheap, it's a short walk from the beach and nightlife and, most importantly, has the strangest pool I have come across in all my travels. If you stay here, make sure that you visit Alleycats Bar, a great backpacker hangout.
Gili T has amazing restaurants all along the main beach but the best food can be found in the nightly food market right by the dock. Don't miss the sunset on the other side of the island at The Hotel Ombak Sunset. They have swings in the water that make for the perfect Insta!
Is there anything that women specifically should know before they travel to your destination?
Outside of Bali, Indonesia is a predominantly Muslim country. In tourist spots you can see many people in short shorts or bikinis, but out of respect for the local culture it is best to dress modestly. I packed an oversized shirt to wear at the beach for any occasions like these.