Being Location Independent in Bali: In Conversation with Zuzana Padychova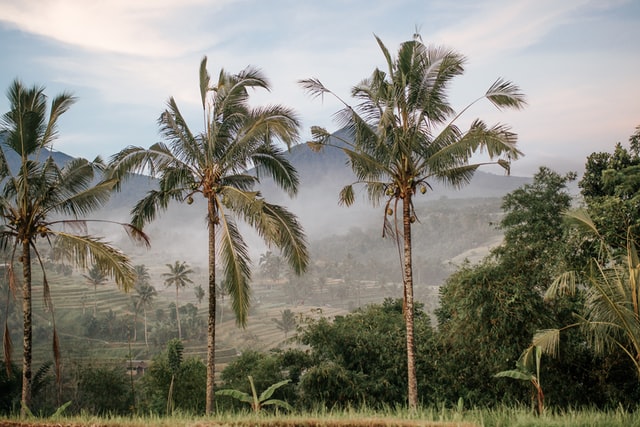 Being location independent in Bali has enabled Zuzana to explore every corner of the beautiful Indonesian island.
Tell us about yourself! What do you do when you're not traveling the world? Where do you live? What made you decide to go to your most recent destination?
My work is location independent, which allows me to live in different places anytime I feel up for some change. I create digital marketing strategies and help running several online coupon sites, such as the US site Coupofy. Working online, I take my laptop and my work with me wherever I go and I have never felt more independent than now.
Currently, I live in Bali, on one of so many beautiful islands of Indonesia. Before settling there two years ago, I had traveled to Bali several times. There is something special about this island. Whoever comes here once, keeps on coming back again and again. That's what happened to me as well. But the reason why I settled in Bali for a longer time was that I joined a UK startup team. Its team members work remotely in several countries. Some of us loved living in Bali so we decided to stay and keep on growing the company from there.
How long did you go for? How did you spend your time?
My first time in Bali, I spent four days on Lembongan island, a 30-minute boat drive from Sanur harbor. That time I lived in Singapore and visited Bali just for a weekend getaway to start learning surfing. Until this trip, I thought Bali was just a holiday destination. I didn't think it was possible to live and work from there due to an unstable internet connection. But my perspective changed after meeting some location independent people who already lived in Bali and worked online too. I found out about a fast-growing startup scene and people from different countries working from a coworking space, Hubud. So then, I came to Bali to live and work from here.
Besides my usual everyday work, I spend time growing myself professionally. I attend different kinds of events for entrepreneurs. Sharing experiences with them, listening to stories of more experienced entrepreneurs and helping out to those just starting up. In my free time, I travel around the island and enjoy as much as this amazing island as I can. I do what I like doing most – exploring new places, eating new food and having the experience of a lifetime.
What were your most memorable experiences? What were the biggest disappointments?
During my first trips I went to the usual touristic highlights of the island. Visiting several temples, including sunset at Tanah Lot, dressed in a traditional Balinese sarong. Searching for beaches with white sand and crystal clear water, of which there aren't so many in Bali. Surprise! Check out Dreamland beach on Bukit Peninsula, known also as New Kuta beach, or Virgin beach, just 8 km after Candidasa on the east coast.
The beaches Mengiat and Geger in Nusa Dua are beautiful as well, but I find them too touristy. Hopping on a boat and getting to the Gili Islands close to Lombok is also a great way of spending time on beautiful beaches, combined with some nightlife (Gili Trawangan) or undisturbed relaxing (Gili Air and Gili Meno).
Visiting the famous Tegalalang rice terraces just 10 km North of Ubud and trekking on the volcano Mt. Batur at night to see a sunrise from its peak are also popular activities among tourists. I enjoyed them anyway. Especially the volcano trip, which was great. Even though we didn't see the sunrise because of heavy rain and fog, it was an amazing experience climbing up the volcano with torches to light the path, and then eating breakfast close to a volcano crater while giving our legs some rest.
Being Location Independent in Bali: In Conversation with Zuzana Padychova.
My advice would be, check the weather forecast a day before your trip because the climate is a little bit different up in the mountains than next to the sea. Fortunately, we didn't forget to bring swimsuits and after coming down from the volcano, we immersed into one of the hot springs with pools overlooking Batur lake and volcano.
After doing all the touristy stuff, I started exploring more of the unbeaten paths of the island. Like camping on an empty beach close to Uluwatu, driving to Kintamani mountains in the morning just to have breakfast at one of my favorite morning markets, swimming in waterfalls in the jungles or just driving in any direction to any destination during my regular Sunday motorbike "expeditions".
One of my best Bali experiences is how I went from not driving at all to driving a dirt bike in one year. One cannot fully understand the Balinese people until joining the traffic madness. At first, I had the impression that there were no rules on the roads whatsoever. I was wrong. Obviously. The Balinese rules are just different from the ones I know from my home in Europe.
Before I started driving the motorbike in Bali I hadn't driven a motorbike anywhere else in the world, and it had been eight years since I had driven a car. You can imagine that my driving skills were… non-existent! I approached learning with a simple LFL strategy – Learn From Locals. Observing their driving styles and picking up road rules along the way. Two years and 25,000 km later, I cannot thank enough my old self for taking this leap. Without being able to drive a motorbike I would have missed on some of my best and most amazing experiences!
I would have missed dirt bike adventures with my friends exploring off-road paths through black lava fields, rocky roads, and jungles. Without a motorbike, I wouldn't have enjoyed driving around Bali with my brother and his girlfriend, who were having a vacation on this beautiful island. Sunny and hot days, the wind on our skin, long roads, beautiful beaches, rice paddies, local villages, delicious Indonesian food and Bintang beer.
Being Location Independent in Bali: In Conversation with Zuzana Padychova.
I love driving alone. I usually enjoy company, but if I need to clear my mind, get some perspective on life or just have some "me" time, I drive alone far far away. It's like a meditation on wheels! My favorite solo dirt bike trip is to Amed, a small fisherman village on the east coast. I combine this trip with chilling on a beach, reading a book and snorkeling in one of the best snorkeling spots in Bali. I love this trip especially because of the road, which goes from Amed to Candidasa along the seaside. The views are stunning, the road is a bit dangerous, and the sea breeze is exactly what I need.
Another perfect experience I have had in Bali are scuba diving trips. I'm a certified advanced open water diver and love to dive whenever there is an opportunity. Bali has such amazing and diverse underwater life! I enjoy diving at the USS Liberty shipwreck in Tulamben the most. This huge piece of history covered with colorful coral and hundreds of fish swimming around is breath-taking.
There haven't been many disappointments about the island itself. The only disappointment that really gets me down is sometimes getting cheated when buying food or other things. Some people consider foreigners to be walking wallets, and this is sometimes a bit hard for me to digest, but this isn't the case only in Bali, but more generally in many other Asian countries.
What do you wish you knew before you went?
I wish I had known that there are many ATM scams (scanning details of a card and then misusing them). If possible, withdraw money from ATMs that are inside of banks or that have a security guard, because they're less likely to have been "hacked". Also, most ATMs in Bali are old. That means that they give the money first, and only then release the card. The newer ATMs work the other way around. First the card, then the money. Many tourists are used to the newer ATMs, so leave their cards in the ATMs.
Make sure to arrive with enough money. Once I arrived in Bali a day before Nyepi, the Balinese "Day of Silence". I was too lazy to wait in the long queues in front of all the ATMs at the airport. I thought about withdrawing money from some other ATM on the way to Ubud. But it turned out that all ATMs were already closed for security reasons due to Nyepi. It was Thursday afternoon and I ended up without cash until Monday morning when the ATMs opened again. I wish I had known that they close the ATMs the day before Nyepi.
Any favorite restaurants/hotels/hostels/sites you'd like to recommend? Tell us what made them great!
Delicious restaurants in Ubud:
Bambu Indah – a beautiful bamboo restaurant and eco-lifestyle boutique hotel. Delicious food, amazing architecture and design by Ibuku team, led by Elora Hardy.
The Samaya Ubud – a fine dining restaurant and resort alongside the wild River Ayung. Great service, delicious food, and a beautiful experience, especially in the evening when there are many lights on river stones.
Moksa restaurant – Delicious, creative vegan cuisine with a permaculture garden. The best vegan meals I've ever tasted!
Dapurku warung – The real taste of home-cooked Indonesian food, so delicious! This is one of my favorite lunch places for nasi campur.
Seniman Coffee Studio – this is a must-visit place for coffee addicts! Great atmosphere, skilled baristas, amazing coffee. I come here for my regular cup of Sulawesi medium dark roast coffee.
Other interesting sites:
The Green School Bali – an international school made of bamboo with a focus on sustainability education. I booked a tour through their buildings and gardens and ended up pretty amazed.
Intuitive Flow – a yoga studio with large windows and a gorgeous view on Campuhan ridge and mountains. Come for a sunrise or sunset class to get the most out of the experience of practicing the yoga with such a great view.
Hubud – the best coworking space I've ever been to. Full of creatives, entrepreneurs and travelers from different corners of the world. Many interesting events and activities for getting to know new people.
Is there anything that women specifically should know before they travel to your destination?
Being considerate with your clothing is a way of showing respect for the local people. It's offensive to take pictures half-naked in front of temples or religious symbols. Also, women should not enter the temples during their period.
Only a few shops sell tampons in Bali. It's getting better, but it's a good idea to bring some with you.