Climbing Mount Rinjani, Lombok: A Conversation with Wulan Sastra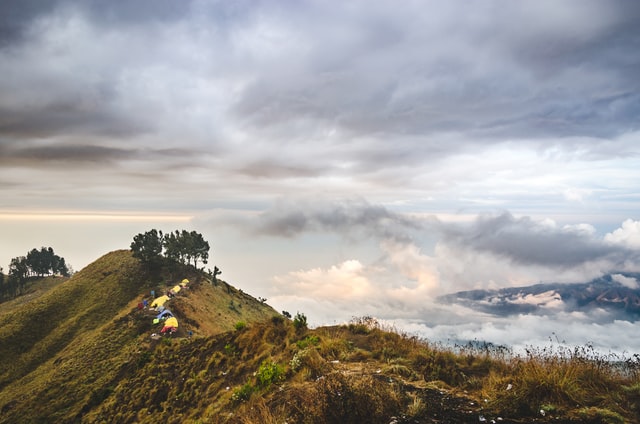 As a first-time trekker climbing Mount Rinjani, Wulan left the logistics up to her friends, and wasn't disappointed! Here's a glimpse into her experience.
Tell us about yourself! What do you do when you're not traveling the world? Where do you live?
My name is Wulan Sastra and when I'm not traveling the world I work as Head of PR & Marcom for Bisma Eight hotel located in Ubud, Bali, Indonesia, which where I currently live right now. I've been in love with Ubud since the first time I set foot on the island (1988/89 – I was still in the 8th grade). Since then, I had been dreaming about moving to Ubud (I went back a few times throughout the years, but for vacation only) and finally got the courage to do it 25-26 years later. Ubud has changed in so many ways, but the heritage is still highly embraced.
How long did you go to Lombok for? How did you spend your time?
Before I moved to Ubud, I used to live in Jakarta, one of the biggest and busiest metropolitan cities in the world. I met a group of people there who all happen to love exploring Indonesian mountains. The first hike we did together was climbing Mount Rinjani, North Lombok, West Nusa Tenggara, the second highest volcano in the country (it rises about 12K feet). The whole trip took us about a week and since this was my first time hiking a mountain, it never crossed my mind that I actually could do this. I didn't do any research on it, I didn't prepare any physical training, all I could think of was getting the proper equipment for the hike.
Practically, I trusted the group for the technical side of things. Usually, it takes hikers about 4-5 hours to reach the summit of Mt. Rinjani, but it took me 8 hours to finish and finally reach the summit, and it took me another 5 hours going down the mountain. I felt insanely liberated and yet humbled at the same time. It was one of the best feelings I felt all my life.
What were your most memorable experiences? What were the biggest disappointments?
I was having trouble with my shoes going down the mountain, they were hurting my toes really bad and the pain went up all the way to my head, so then I decided to take my shoes off and wear nothing but my socks. Believe or not, I was running down the mountain! No injuries, no bruises, the feet were free and I was so happy hiking downhill!
What do you wish you knew before you went?
Nothing really. If traveling with an experienced group, I would let them handle things that need thorough coordination. But, I guess, that has been my style, even if I travel alone or with only another person, I don't plan so much for my trips. Let the journey surprise you, those unplanned moments while traveling can be the best moments.
Any favorite restaurants/hotels/hostels/sites you'd like to recommend? Tell us what made them great!
After the hike, we stayed in Kuta Cabana Lodge in Kuta, Lombok. We got 2 of the family bungalows, each room size was big enough for 2 people, kept very clean, the bathroom was nicely designed, material used were mostly bamboo and stones. The hotel looked over Kuta Beach. The view was really good as the lodge was set on high ground, the service was excellent, the food was all fresh and delicious. Three of us booked a massage to relieve the muscles from the hike, and it was really good. I booked twice!
Is there anything that women specifically should know before they travel to your destination?
As a woman and a first timer, I expected the worst could happen during the hike, but fortunately, nothing did. The island, the village, the culture and the people are open to women hikers. There were 2 other women in the group and they had hiked a few mountains before. I can say that the other ladies and I have similar style of traveling, except when it comes to nature's call, I could indeed do it outdoors, where not all women could do the same.
Photo for Climbing Mount Rinjani, Lombok: A Conversation with Wulan Sastra by Unsplash.