48 Hours in Palembang Indonesia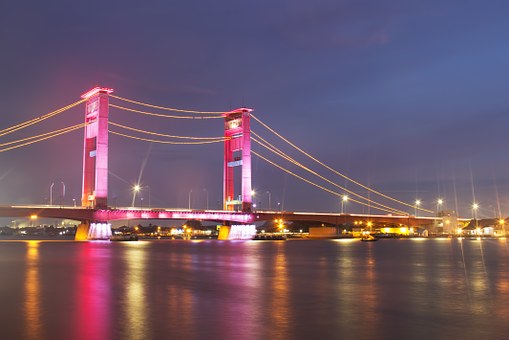 Palembang, my home for the past two years, is the provincial seat of South Sumatra in Indonesia and is thought to be the location of the ancient Malay kingdom of Sriwijaya. Located on the Musi River, it's rapidly growing, crowded, noisy, and jammed with traffic. It's easily accessible by air from Jakarta, Kuala Lumpur, and Singapore, among major Asian cities.
When asked to write about what to do in my current home base if you have only 48 hours, I immediately called upon my Palembang friends, especially Oktoryan William, or Ryan, a native who has lived here his entire life, has a formidable list of contacts on his two cellphones (not rare for communications-mad Indonesia), and has pretty much run my social life since I've arrived. Ryan graciously drew up an itinerary for me, so all the nitty-gritty practical details are his, and all the impressions of the activities and food are mine, unless stated otherwise.
As I've said before, Palembang isn't really a tourist destination akin to beachy Bali or artsy Jogjakarta in Java, but there's plenty to be found under the surface, especially if you have natives in the know like Ryan to show you around and ease the way.
Accommodation
There's a variety of choices, from guesthouses to hotels to Couchsurfing, on any budget. If you want to splurge, my favorite fancy hotel is the Novotel Palembang, which has a nightclub, spa, restaurant, bar, and a tropical paradise of a pool, among other facilities. The luxe, modern rooms go for about Rp 600.000.000 to 800.000.000, or $60 to $80, per night.
For a cheaper option, if you want to stick to hotels, I like the Tune Hotel. The rooms are small but comfortable with an attached bath, air-conditioning, cable TV, AC, and Wi-Fi at Rp 200.000 to 300.000 ($20-$30).
Transportation
Palembang has many options from buses to angkots (mini-vans) to becaks (bicycle carts, fun for trips of a few kilometers). If you're only visiting for two days, you're probably best off with taxis, cars, and ojeks (motorcycle drivers). Check in with the hotel desk to see if you can hire a car with a driver, and usually, bargaining is acceptable. There are also taxis (Bluebird is reliable and fairly cheap, starting at $3 or Rp 30.000 per trip) and sometimes, I've been able to negotiate a price for using the same taxi for multiple trips.
Also, if you're brave, you can find an ojek (again ask the hotel or look for a nearby ojek stand), and bargain a set price for the entire day. Ojeks tend to be extremely cheap, so starting the negotiations at roughly $20-$25 for the day is generous. Be sure to select an ojek with an extra helmet.

48 Hours in Palembang Indonesia
Day 1: City Tour
Morning
Grab breakfast at the Pasar 26 Ilir for a traditional market experience. The cafes, stalls, and restaurants there are cheap, and the morning traditional markets shouldn't be missed. Try your hand at bargaining for a kilo of beautiful and delicious fruits (it's currently rambutan season, a sweet fruit covered in red, hairy skin), although if you're an obvious bule, or foreigner, the sellers will probably jack up the starting price.
I also recommend martabak manis (sweet pancakes), roti bakar (toast with varied sweet and savory toppings), and mie celor (noodles with bean sprouts, shrimp, and a hardboiled egg in coconut milk soup). Breakfast usually runs about Rp 15.000 to 30.000 for me ($1.50-$3), including a coffee, fresh-squeezed juice, or tea.
Next, I'd recommend going to the songket place in Tanggo Buntung, where you can observe the weaving process and buy songket. While people usually think of batik when it comes to Indonesian fabrics, the artistic pride of Palembang is songket cloth, richly colored, textured, and interwoven with gold and other metallic threads.
The cloth shows up in everything from kitschy souvenirs to the elaborate, red-and-gold Palembang women's wedding outfits, with the most expensive handwoven songket going anywhere from Rp 250.000 to 1.000.000 ($25 to $100).
Then, I'd suggest hitting up the Bala Putra Museum, to get a dose of prehistoric history, which is open from 8 AM to 4 PM everyday. The entrance fee is Rp 10.000 or $1 per person. Or, go to Punti Kayu, the City Jungle, which is Palembang's version of a zoo with freely ranging monkeys, birds, and other animals.
Next head to Jakabaring Sport City and OPI Lake. Palembang has hosted several major sporting events over the years from the Southeast Asian Games to the Islamic Solidarity Games. Jakabaring has several paths, a pool, volleyball courts, a lake, and other athletic facilities. On the weekends, it's jammed with people riding bikes and walking around. Near OPI Lake, there is a mini-ice-skating rink, still a rarity in Indonesia, and a historical Chinese Muslim mosque, Cheng Ho Mosque.
Lunch
The most iconic structure in Palembang, the Ampera Bridge, resembles Golden Gate Bridge in San Francisco and was funded by Japanese war reparations. Next to it is BKB Plaza, which fills up with couples and families on the evenings and weekends, who ride bikes, mini-cars, and carts for rent and check out the items for sale by vendors. You can also visit Sultan Badaruddin Museum, which has artifacts from the Sriwijaya Kingdom, and Monpera Museum, located nearby. For lunch, there a few restaurants here, including River Side, an enormous restaurant right on the river.
The food is only decent and may be pricier than average (though still cheap for the Western traveler), but the view is worth it. Otherwise, there are numerous stalls selling Palembang staple mie tektek, spicy, Chinese-influenced noodles topped with eggs, for about a dollar. Legend has it the name comes from the tapping sound Chinese vendors made against their bowls to announce their arrival.

Afternoon
Pasar 16 is right next to the Ampera Bridge. A multilevel market, it can be an overwhelming experience. Everything is on sale here, from pet supplies to clothing to electronics to purses to shoes. Crowded and hot, it's fun to wander around and bargain for items, although watch out for pickpockets. Go to the top floor for a stunning view of the river and city.
Also, pop over to Masjid Agung, the biggest, grandest mosque in Palembang. It's not open to the general public all the time, so please check before going. Like all masjids, or mosques, make sure you're modestly attired. Women should bring a scarf to wrap around their heads.
For an afternoon snack, on the river, there are several floating boats, where you can drink the extremely sweet coffee and tea favored in Indonesia and eat gorengan, fried snacks, which including everything from bananas to spring rolls. Sip and be gently rocked by the river.
Night
Translated to "Fish Pond" in English, Kambang Iwak is a park with a large pond (whether fish is actually present, I haven't verified yet). On many Sundays, the city hosts a Car-Free Day there, where people jog and participate in senam, an Indonesian form of aerobics. There are numerous cafés and restaurants around the park, from KFC to more local joints, and there's usually live music or karaoke going on at some of the cafés. Have dinner here after a leisurely stroll around the pond.
If you're still awake, there are a couple of options: Rajawali Village, a shopping center on Rajawali Street, has a nice Western restaurant, Liberica, with bottles of wine. But at $50 per bottle (wine is imported and can be hard to find in Indonesia), it can be cost-prohibitive. A cheaper option is going to Palembang Square, one of the major malls, and going to one of several karaoke places. My favorite places are Inul Vizta and Happy Puppy, and the colorful karaoke rooms tend to be reasonably priced as long as you have friends to sing with. They also serve snacks and occasionally, beer. Bintang is the local beer I drink the most and is pretty cheap, although more expensive in the karaoke rooms.
Day 2: River Tour
After breakfast, go back to BKB Plaza. There are river cruise packages (check the tourism center), but these can be expensive at about $40 per person. You can instead look around and find a ketek, a small boat, with a pilot and negotiate a price, which usually comes to about Rp 200.000 or $20 per boat. From BKB, the boat will take you down the river. Going down the river (which, be warned, is pretty polluted, so don't touch the water!) is one of my favorite things to do in Palembang and is very relaxing.
You should stop at places like Kampung Kapitan, Kampung Arab, and 7 Ulu, where, you can find the oldest Chinese temple in Palembang.
Your major stop, though, is Pulau Kemaro. Another icon of Palembang, the island legendarily arose after a Sriwijaya princess threw herself after her Chinese lover into the river. The island is small but has a Buddhist temple and other colorful structures and a famous "Love Tree," where if you put a piece of paper with your name and the one you love on it, you will love each other forever. The best day to go is 14 days after Chinese New Year, Cap Go Meh, when the island is packed with worshipping Chinese Buddhists, food stalls, and fairground attractions.
From Pulau Kemaro, walk on the bridge towards the Fishermen's Village to fish and mingle with other fishermen, before heading back to BKB.
In Indonesia, there is a tradition of oleh-oleh, essentially gifts or souvenirs to give to family and friends after you return from a trip. Go to Dempo for oleh-oleh to bring back home and ask for the local specialties, especially bolu pandan, a green cake, and bolu lapi, a layered cake. Both are delicious. Also, if you haven't already, go to a pempek store like Pempek Candy to try the number one food in Palembang, according to almost all Palembang natives. Pempek is essentially seafood paste mixed with flour and rolled into a ball, then fried.
Varieties include stuffings ranging from eggs to tofu to papaya. If you're not fond of seafood flavoring, there is pempek dos, which ditches the seafood paste and tastes more like a dumpling. The name comes from the dosdosdos sound it makes while frying.

Night
I'd have dinner at Martabak Har, which has the most famous version of martabak har in the city. It's essentially a thick pancake stuffed with egg, which you can dip in a delicious chicken curry, along with sliced vegetables and peppers. Here, it's extra crispy, buttery, and rich, and the curry is just spicy enough to tickle your tongue and lips.
If you're still up for it, I'd end your sojourn in Palembang with a trip to Taman Pelangi,"The Garden of Rainbows." Here you'll find fair rides, including a ferris wheel, as well as a haunted house, and various attractions bedecked with lights, including giant heads and figures of famous Indonesian people and animals. My personal favorites are the giant Komodo dragon and Joko Widodo, or Jokowi, Indonesia's current president.
Or, go to BKB Plaza for a last look at the river. BKB Plaza really comes to life at night, with many vehicles decked out with lights, as well as a giant artificial ship beached by one of the restaurants. In particular, take one more look at Ampera Bridge, before saying goodbye.
There are numerous ways of saying goodbye in Indonesian, but my favorite is sampai nanti, or until later, because I don't believe that goodbyes are ever really permanent. So watch the bridge and say sampai nanti. Until next time.
48 Hours in Palembang Indonesia photo by Pixabay.
Have you traveled to Palembang, Indonesia? Email us at [email protected] to share your experience and advice with the Pink Pangea community. We can't wait to hear from you.