Cous Cous 101: Cooking in Morocco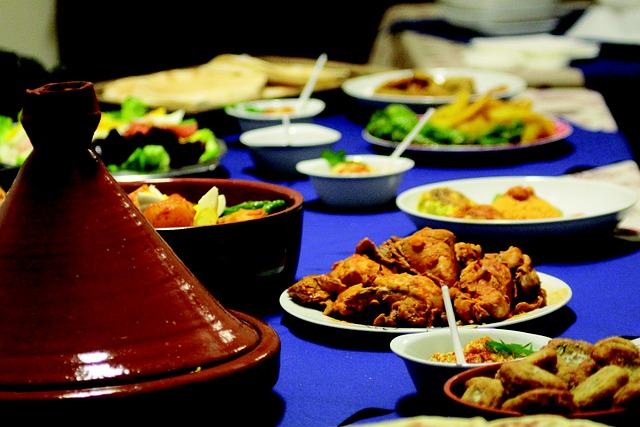 If you want to make a Moroccan laugh, tell them how we make cous cous in America. We generally make it from a box. We pour the dried cous cous in a bowl, add boiling water, cover the bowl and let sit for 10-15 minutes, then fluff with a fork. Voila! Instant, tasteless, sand-like cous-cous. I knew something had gotten lost in translation when the dish was imported to the US, so learning how to make a proper cous cous was one of my main goals when I planned my recent trip to Morocco.
I had heard that real Moroccan cous cous was steamed (steamed!) three times (three times!), but couldn't fathom how the teeny tiny pebbles of cous cous COULD be steamed, and why three times was necessary.
And so I booked myself and my three traveling companions a cooking class at Riad Dar Chrifa, on the outskirts of the Medina in Fes. Our cooking class began, as all good cooking classes do, in the souks, or markets. Our guide Fatima came to collect us at the hotel, and we spent the next hour or more winding through the labyrinth of Fes's medina and shopping at the local vendors.
Fatima calmly haggled with the merchants, settling on a fair price for everything we wanted. We bought lamb, eggs, an array of vegetables, olives, chickpeas, spices, raisins, and of course, fresh cous cous, which was sold out of open baskets and bins by the kilo.
We should travel like Moroccans make cous cous.
Arms filled with produce, we headed to the kitchen at Riad Dar Chrifa. Over the next few hours, I learned that a Moroccan kitchen differs from an American one in several ways.
A kitchen may not have an oven. The majority of Moroccan cooking is done on the stove.
A pressure cooker is a key component, and used daily.
Another important pot is one used especially for cous cous. It looks a bit like a double broiler – a deep metal stock-pot for the vegetables, and a smaller metal steamer that nestles on top.
When I saw this cous cous pot, suddenly the method of steaming cous cous became clear. I had been imagining my vegetable steamer at home, and couldn't fathom how it would work to steam cous cous. I asked Oeffa, our chef and instructor for the day, what this cous cous pot was called, and she said it didn't have a name.
It was just a pot, she said. Of course! An implement so ubiquitous to Moroccan kitchens, it is simply called "a pot." (I later learned that it is, in fact, called a cous cous pot, or couscousier. You can find them on Amazon, if your local kitchen store happens to be out of stock – if, in fact, they were ever in stock!)
With one of the mysteries of cous cous solved – its cooking vessel – Oeffa began to instruct us on the art of making cous cous. It is a long process, and it does, indeed, involve multiple steamings. The result is almost unrecognizable from the cous cous I'd always made before. When I explained to Oeffa how I usually made cous cous, she threw back her head and laughed and laughed, and continued to shake her head and giggle while she stirred the vegetables stewing on the stove.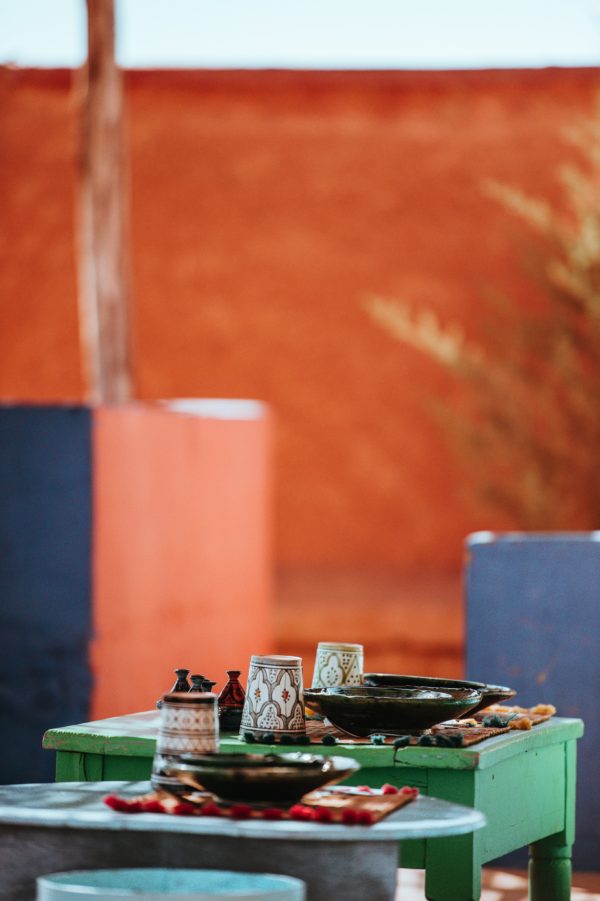 How do I get from cous cous to travel philosophy, you may (rightly) wonder?
What surprised me most that day was not learning the process of making cous cous, although I did certainly achieve my primary culinary goal for the class. My "aha" moment came when I realized what an appropriate metaphor making cous cous was for how we approach travel, and especially study abroad, which is my professional field. How do I get from cous cous to travel philosophy, you may (rightly) wonder? Allow me to explain.
When I make cous cous from a box, the cous cous itself is already dried, and has been sitting on a shelf for who-knows-how-long. Then, I shock the poor pasta by dumping boiling water on it. Sure, it plumps and fluffs a little, but is morosely bland and unexciting, an excuse for more flavorful things to be heaped on top of it.
However, when the cous cous is fresh, it is already more flavorful, and more open to becoming, well, more open! And with some gentle coaxing and support in the kitchen, it becomes the savory centerpiece of the meal. It is first rinsed, then drained, and almost doubles in size from this first step alone. Then, it is lightly massaged with olive oil, so that each tiny granule is gently coated. DO NOT PRESS DOWN – it will clump and you will have to throw it all out. Then it is slowly steamed over its partner pot on the stove, which is already simmering away with vegetables and water.
When I explained to Oeffa how I usually made cous cous, she threw back her head and laughed and laughed, and continued to shake her head and giggle while she stirred the vegetables stewing on the stove.
After this first steaming, the cous cous is removed to another dish, and cold water is poured slowly over it while the chef gently lifts and sifts the cous cous with her hands. Somehow, the cous cous absorbs all this water, and doubles in size again. Salt is added, and the cous cous goes back in the steamer on the pot for the final steam, "until it's done." The end product is light and fluffy, imbued with the tastes of oil, salt, and the vegetable broth it has been steaming in – a world away from its boxed and boiled counterpart.
We should travel – and study abroad – like Moroccans make cous cous. The younger and fresher we are when we start, the better, as we are more open to soaking in all the new ideas and perspectives we will encounter. We should not throw ourselves into boiling water and expect to magically emerge fluffy and more worldly; it is more likely we will be culture-shocked. Growth and understanding require planning and support – like prepping before departure, immersing oneself in a "first steam" of the culture through books, blog posts, videos, and language.
Cous Cous 101: Cooking in Morocco.
While we are traveling, we may need a little break from our steaming – a few minutes off the stove with some time to cool down, to let us regroup and reintegrate the changes that have already been taking place.
Ideally, on-the-ground local support is key – hosts, guides, and local acquaintances who can give context to our experiences and add more depth of flavor. With this thoughtful and deliberate approach, we may emerge more changed than we ever thought possible, which is, after all, why many of us travel in the first place.
I don't think Oeffa intended to impart a lesson in philosophy that day, but that's the most memorable lesson I took away from her steamy kitchen that day. That, and the absolute necessity that I procure my very own couscousier before I left Morocco. And so I did! Now, to find some fresh cous cous…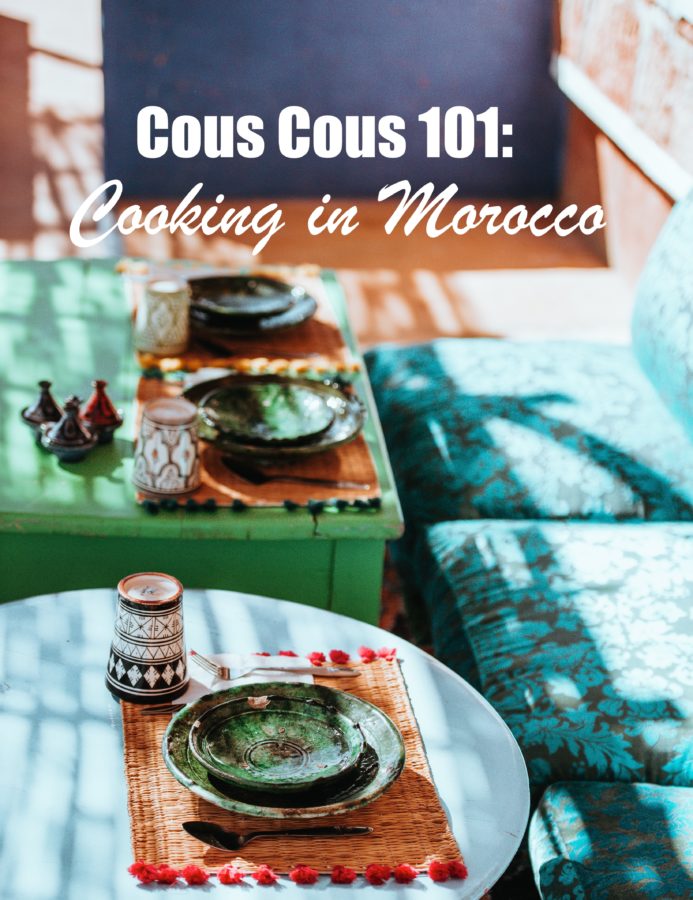 Photos for Cous Cous 101: Cooking in Morocco by Unsplash and Pixabay.