Cooking in Hanoi Vietnam: In Conversation with Courtney Ridgel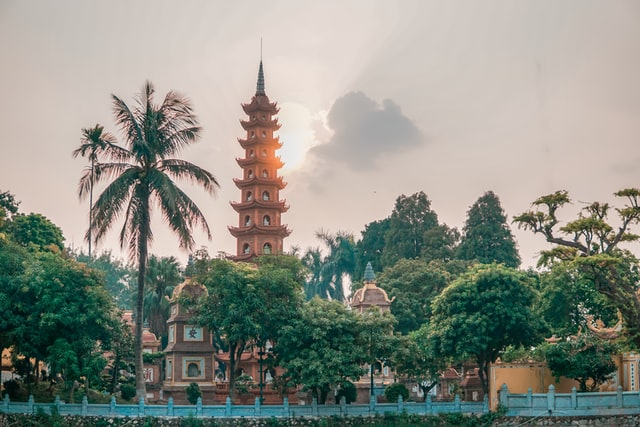 When Courtney signed up for a cooking class in Hanoi Vietnam, she ended up learning about much more than just Vietnamese food. Here's a glimpse into her experience.
Tell us about yourself! What do you do when you're not traveling the world? Where do you live? What made you decide to travel to Vietnam?
I live in beautiful Truckee, California, near Lake Tahoe, so I spend much of my time outside enjoying the mountains and the lakes. My passion is photography, so you might see me lugging a camera up a boulder somewhere for a particularly good view. Otherwise, I am up for any adventure!
I work for Journeys Within Travel Company and when I was given the opportunity to take a work trip to meet our ground operations teams in person, I chose to visit Vietnam and Cambodia (with a short pit-stop in South Korea). I was an International Relations major in college and I love history, so Vietnam in particular called out to me. I remembered my grandfather's stories from serving in the Vietnam War. He passed away not long before my trip and I really wanted to experience this fascinating country that had such an impact on his life, and to see modern Vietnam.
What kind of cooking class did you take? How long was it, and where was it held?
The cooking class that I attended was a custom experience where a Journeys Within guide took me to visit Dong Ngac Village, located on the outskirts of Hanoi. For this experience, I learned to cook from a local woman in her own small pink kitchen. Ms. Pham showed me how to chop and mix the ingredients, and how to soak the rice-flour wraps to make spring rolls before frying them together. We ate outside in the courtyard of her traditional home, overlooking the garden. While we enjoyed our delicious spring rolls, and a tasty salad, she explained about the altar in her home and how ancestor worship is extremely important in Northern Vietnam. The full experience lasted the better part of the day, but fetching the ingredients and preparing the food only took a couple of hours.
Did the cooking class include any extra activities, such as a visit to a marketplace or a restaurant?
After meeting my host, Ms. Pham, my Journeys Within guide, Mr. Nam, and I bicycled to the open-air village market to buy the vegetables and spices we would need. After lunch, Mr. Nam and I cycled around the village and nearby flower farms, stopping along the way to chat with other local families about their lives, history and family altars. We also paid a visit to the ancient Communal House, which serves as both a religious center and a meeting place, and discussed tradition, history and Feng Shui with the caretaker.
What did you learn? What were your most memorable experiences? What were the biggest disappointments?
I knew that Vietnam had traditions such as Feng Shui guidelines and that ancestors were revered. I hadn't realized that these traditions are not only alive and well, they are a daily (and very important) part of life in Northern Vietnam. Before eating the lunch we prepared, Ms. Mam showed me how to thank her ancestors at the family altar and to make an offering. In the local community house, the elderly caretaker told me that this cultural center remained untouched by falling bombs during the Vietnam War due to good Feng Shui and the spirits protecting the village. He also attributed his own good health and long life to the ancestral spirits thanking him for his service. I really appreciated how welcoming the local people were and in each house I visited, they offered me tea and asked me to sit while they told me their family histories.
What do you wish you knew before you went?
This is an ancient village but as with all big cities, Hanoi has expanded so that this village really borders the outskirts of Hanoi. Bicycling around the village out to the nearby farms was a great way to really see this area from a local perspective. (Most locals ride bikes or motos.) As I hadn't ridden a bike in a while, the other cyclists, motos and cars passing in any direction definitely got my heart rate up until we got out into the countryside.
I would also say that this experience is very real – that is to say that I was visiting local homes which are often quite simple, and the local market sells just about anything including roasted dog, which is a specialty in Vietnam. Mr. Nam, my Journeys Within guide, explained that as I had asked to see everything, he had shown me parts of the market that he generally tries to avoid with other travelers.
I do have a word of advice – It is considered extremely rude to point at people or portraits, particularly those of ancestors or emperors. Pointing is typically how you would chastise a naughty child or a dog, so this is particularly disrespectful to other adults, the elderly or ancestors who are revered in Vietnam. (Something I learned from experience…)
Would you recommend other women travelers take this cooking class?
As Journeys Within created this cooking class experience, it can only be booked through us, and it can be done as a full day tour or a half day tour. If you like, you can also learn to make tofu from a local family that specializes in the tofu-making trade. As you have a guide with you, feel free to ask plenty of questions and your guide will help translate when needed.
For travelers visiting over Vietnamese New Year (Tet), there is a special cooking class available where travelers spend a day with a local family celebrating the New Year by preparing Chung Cake (traditional New Year's Cake), and other New Year's dishes, and by decorating a traditional New Year's Tree with them.