Chile's National Holidays: Family, Fondas, and Fun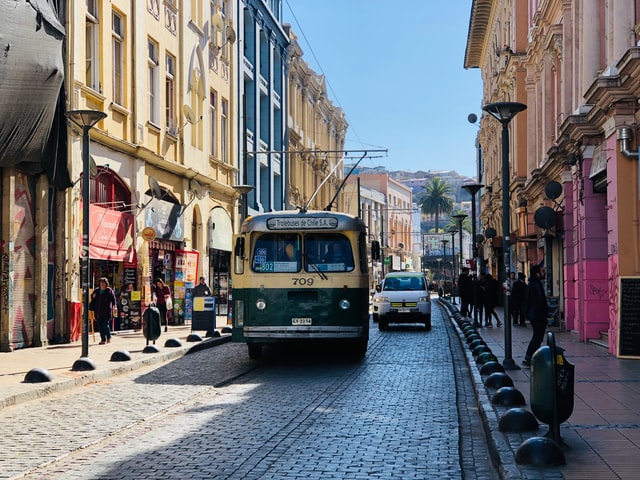 I fell in love with a Chilean man almost five years ago. In just a few months, I found myself immersed in his world, visiting his country several times a year, traveling through some of its many regions, discovering its contrasting landscapes and becoming a witness and a part of some of Chile's most popular traditions. I found out that Chileans are generous, resilient, have a strong connection to the geography of their country and that they absolutely love to celebrate among friends and, more importantly, family.
Chile's National Holidays are a testament of this. Every September 18 and 19, the country stops for a while and relaxes. Some years, the whole week is a holiday. This year (unfortunately for many), we only get one day off. The party, however, goes on.
Although some believe this holiday commemorates the country's independence, it is actually a celebration of its first independent government. Through the years, it has become a party to enjoy everything Chilean. With the temperatures slowly rising and some extra money in their pockets (some companies offer bonuses during this time of the year), most Chileans head back to their hometowns or their family homes to eat, drink, play games, and enjoy the local celebrations.
Will you be in Chile during this amazing time of the year? Forget about New Year's Eve, September 18th is the season to travel to Chile. Here are my tips for maximizing the celebration:
Find a Chilean family to celebrate with
In my experience, Chilean families love to welcome foreigners during this time of the year, and they truly enjoy sharing their celebrations and, of course, their table.
My first "18" was spent on the countryside, in the small town of San Javier, around 300 kilometers south of Santiago. My boyfriend has distant relatives who live there on a farm, where they grow vines and produce wine. We were all invited to their house, where we were greeted with a feast: a typical Chilean barbecue, empanadas (traditional meat pies), beef and chicken stew, and a wide array of salads. Although they didn't know me or some of my other travel companions, the hosts were happy to see more people had joined them for this special day: it was another reason to celebrate.
Besides eating and drinking wine, we spent the day flying kites (another "18" tradition), singing karaoke, playing with the kids, and resting by the fire, where a whole lamb was being roasted. We ate cakes, drank tea and coffee, and watched the sunset. I didn't step one foot inside the house: the whole day was spent admiring the green hills of the area, walking, climbing, and taking pictures of the cows and pigs that were also relaxing nearby.
When I said thank you and goodbye to my boyfriend's distant aunt, her gratitude was evident, although I had done absolutely nothing for her that day — except just being there and enjoying her hospitality. This is what Chilean families are all about and the main reason why it is always a good idea to find one to celebrate 18 with.
Chile's national holidays are a testament of this. Every September 18 and 19, the country stops for a while and relaxes. Some years, the whole week is a holiday. This year (unfortunately for many), we only get one day off. The party, however, goes on.
Head to the local fonda
The staple place to celebrate 18 is the local fonda, a sort of fair where people can drink, eat, dance, and play. If you live in bigger cities, fondas can get more diverse. In Santiago, for example, some fondas specialize in vegan food, others forget about traditional Chilean music to welcome international acts, and certain places are famous for being less family-friendly and more party-oriented.
The traditional fonda features local treats such as barbecued meat and sausages, empanadas, and the most famous drinks of the season, chicha (a rustic red grape distillate) and terremoto (a mixture of young white wine, grenadine and pineapple ice cream). My experience with the terremoto was not the greatest. While I spent an 18 at a local Valparaíso fonda, I decided to give this drink a go. As the ice cream starts melting, the beverage gets sweeter, which makes you want to drink it faster and faster. I won't tell you the end of the story as it does not end well.
The fonda is a place to relax, unwind, and enjoy life's greatest pleasures. I remember seeing whole families enjoying a nice meal or dancing cueca, Chile's national dance. Seeing traditions being passed on to the new generations in such a clear way was beautiful.
Go big and tackle a ramada
Although smaller towns usually host very traditional fondas, some go big and organise the infamous ramadas, which are basically bigger fondas. I visited the ramada in Colbún, an area south of Santiago renowned for its huaso charme (local cowboy charm).
Ramadas are not really photogenic: lots of people use this opportunity to get drunk and make a mess of themselves but they are also the place to understand what Chile is all about. While enjoying a beer and meat stick with my boyfriend, and his sister, nephew, and cousin, it was easy to understand why people look forward to this occasion. People go back to their roots, enjoy a nice meal and a strong drink, reunite with loved ones, and — why not — party their hearts out.
Photo by Unsplash.