Wonder and Surprise at the Atacama Desert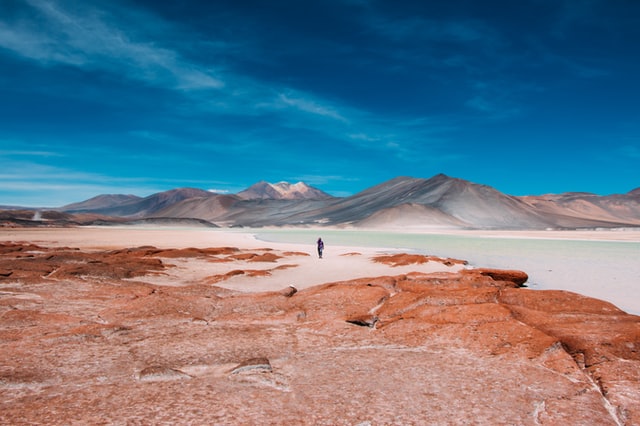 One summer day in February, I found myself agreeing to go on a trip to San Pedro de Atacama with my Chilean roommates and their friends. The Atacama Desert had been one of the places I most wanted to visit during my time in Chile—everyone I knew who went came back raving over its stark beauty and about how much fun they'd had, cameras chock full of stunning landscapes and exciting adventures. I thought I had everything about San Pedro de Atacama figured out from my research, but found myself surprised by several aspects of the world's driest desert and the town that acts as its host.
Wonder and Surprise at the Atacama Desert
Getting there and getting around
Getting to Atacama is pretty straightforward whether you're starting in Santiago, Peru, or Argentina. Buses will take you to this rustic desert outpost. If you look ahead at flights (as I did), you can find some reasonably priced flights from Santiago, which shaved eighteen hours off the trip (the bus is twenty). The closest airport is in Calama, and from there you can take a bus to San Pedro. Had I been traveling with other expats, I most certainly would have done this. Because I was with a big group of friends and renting cars for citizens is relatively simple, we rented a couple of pick-up trucks and road-tripped the hour and a half ride to San Pedro de Atacama. Getting around the town itself (San Pedro) can easily be done on foot, as the main road takes about 10 minutes to cross from one end to the other.
Reaching the various destinations and sights in the desert, however, is not so easy. Having our own cars made it easy for us to go where we wanted to go, whenever we wanted to go. The more typical route for travelers is to book tours with any of the various agencies that line the main stretch. During the daytime there are promoters planted on the sidewalks offering passers-by all kinds of trips – tours to the Geyser del Tatio, the Valle de la Luna, swimming in salty Laguna Cejar, sandboarding in Valle de la Muerte, excursions to the salt flats in Uyuni, Bolivia. You name a sight in the Atacama, and there's a tour company willing to take you there.
You don't have to go to the observatories to admire the stars
The Atacama has some of the most renowned observatories in the world, and as an ignorant but enthusiastic star-gazer, I was eager to visit one. However, many of the other people staying in San Pedro that holiday weekend had the same idea, and booked spaces before I could, so I had to settle for admiring the stars with my naked eyes. I was disappointed, certain that I was going to be missing out on one of my most highly anticipated Atacama experiences. But I have never in my life—not in the midst of Colorado's Rocky Mountains, nor on a tiny island off the coast of Panamá—seen the sky with such clarity and brilliance.
Using my friend's handy constellation identifier app, we ohh-ed and ahh-ed over the shimmery, pearly white Milky Way as we located various planets and constellations. We even saw satellites orbiting Earth! I'm sure that going to the observatories is well worth the visit, and its something I'd love to do someday. But no matter what you have time to do, or on how short notice you plan your trip—fear not, for all you need to do to admire the stars in the Atacama is look up!
The driest desert in the world is not a desolate place devoid of life
Even though I had seen many pictures, I remained slightly sceptical that the driest place on earth could be that beautiful. I hoped the Atacama would live up to what I had heard—and it certainly did. From observing vicuñas (cousins to llamas and alpacas) and flamingos, to watching the sun set over the Salar del Atacama (a salt flat) and the Valle de la Luna, to the landscapes of volcanoes and mountains that encircle the desert no matter where you stand, the Atacama is breath-taking in an other-worldly way.
The Atacama's charm means you'll want to visit again
As an expat living in Chile, there are many places I want to see before I leave. It seems almost silly to revisit a place I've already been. However, the Atacama desert has so much to see that even in four days I didn't see all I wanted to (you can chalk that up in part to the disorganization of my group, not to the impossibility of seeing San Pedro over a long weekend). Because of its accessibility from Santiago and its many attractions, I'll definitely return to that enchanting and unpredictable desert.
Top image for Wonder and Surprise at the Atacama Desert by Unsplash.