Why You Should Go on a Yoga Retreat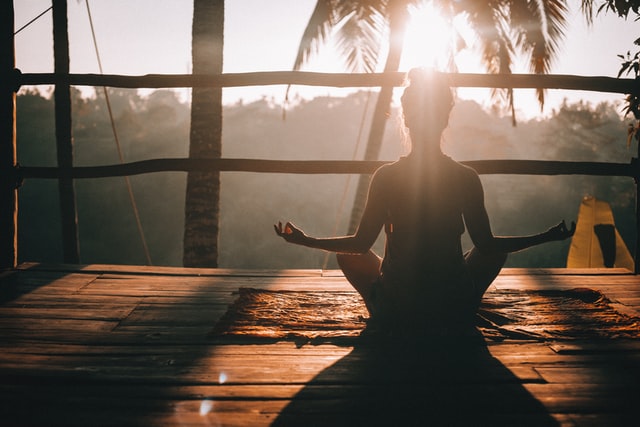 You'll forget all the hassles of life and simply be, on an unspoiled beach of Croatia or next to a deep blue lagoon in Belize. Yoga retreats allow for a holistic yoga experience, including a quiet ambiance, focused guidance from expert instructors and a motivated group of like-minded individuals.
For four years now, yoga retreats have been my go-to getaways. Nature helps me unwind as I deepen my yoga practice. The thing I enjoy the most is that group lessons actually push me to step outside of my comfort zone and try asana (poses) I never thought possible. I can't even describe the tranquility I feel while practicing floating yoga in the crystal clear waters of Medulin, Croatia.
You'll also get to dive deep into rich foreign cultures, quenching your thirst for travel. Yoga is so much more than staying fit and losing weight. It's about embracing a healthy yogic lifestyle. Here are four reasons why a yoga retreat should be your next getaway.
Be one with your body and mind
On my first ever yoga retreat, me and my friends set off to Belize. We were fortunate to come across a yogi who knew exactly how to make beginners like us feel comfortable. Deborah taught us that the secret to flawless beauty and vivacity is a sincere appreciation of our bodies, and the secret to a happy life is a strong mind. Yoga considers the body and mind to be two essential components of existence; neither can flourish without the other. I never thought that somewhere during our mediation sessions in the jaw-dropping Mayan ruins my perception of life would change. My locus of control shifted from external to internal as I learnt the art of becoming one with my body and mind. These are the important lessons I learnt:
Yoga is as extremely powerful tool for boosting self-esteem, confidence and self-love. Yogic asana entail blocking all thoughts and focusing wholeheartedly on your breath. This will teach you to feel the oxygen flowing through your nostrils all the way to your lungs, and give vitality to your organs. Through this, you'll begin to connect with your body in a way you never thought possible.
During our twenty-one days in Belize we also learnt how to keep ourselves in shape with poses aimed at enhancing posture, toning muscles, revitalizing skin and even slowing the ageing process.
Yoga lessons are an invaluable opportunity to learn how to fortify your brain against the effects of stress, and to regain your optimism. They will help you cleanse your mind by channeling out negative thoughts and enabling you to replace them with positive ones. So, you'll basically be learning effective ways of relieving stress and becoming a stronger and happier person by adding positive energy to your life. Moreover, yoga harmonizes the right and left hemispheres of the brain, which sharpens the mind by enhancing the correlation between emotions and logical reasoning.
Explore your spirituality
Yoga considers the soul to be the third crucial component of existence, which must be nurtured to attain inner peace. It took me a solo yoga retreat to the land-locked Bhutan to explore my spiritual depth. The six day retreat in Bhutan provided me the perfect setting to explore my spirituality, with its guided yoga and meditation sessions, trips to ancient monasteries and hiking in lush green mountains. Moreover, I was introduced to heart opening asanas like Ustrasana, Fish, Matsyasana and Camel, which aimed at increasing compassion towards all living things. Practicing these asanas allowed me to increase my emotional balance, enabling me to tackle life's challenges in a better manner.
Detoxify
Yoga retreats usually offer exquisite cuisine, which is aimed at the complete detoxification of your body. You'll be presented with local dishes, vegan cuisine and calming beverages, which will both tantalize as well as revitalize you.
Yoga retreats also encourage you to disconnect from your life by avoiding cell phones and laptops, so that your time at the resort is only and completely about you. Refraining from electronics will allow you to calm your nerves and get some perspective from a hectic life or unpleasant situations. This, in addition to a healthy brain and energy-boosting diet, will allow you to rejuvenate from the inside out.
It's all about new beginnings
A monotonous routine causes our thinking to become myopic, and we find ourselves unable to find solutions for life's issues. It is vital to get some distance from life and spend some time away, to set your thoughts straight and gain perspective. From my personal experience, a yoga retreat is probably the best option in such cases, as it offers all the ingredients for gaining perspective and giving your life a fresh start. I first decided to go on a retreat when I was at a challenging stage in my life. I was stressed out, my marriage was falling apart and I didn't know where my career was going.
It was then that a friend suggested that I take a break to explore what I really wanted in life. With the renewed sense of life that was inspired by the yoga retreat, I was able to turn my marriage and my finances around when I returned. I became more loving, compassionate and passionate in life and towards my partner, and it literally changed my life.
Photo by Unsplash.