In Conversation with Yoga Teacher Talia Sutra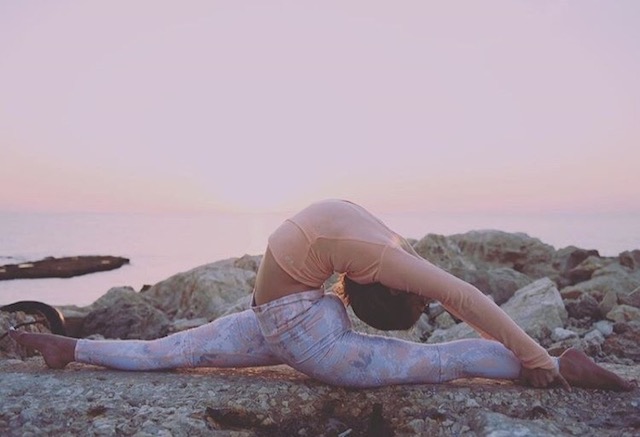 Each day, internationally renowned yoga teacher Talia Sutra sends out messages of love and hope to hundreds of thousands of followers. I had the chance to speak with Talia about her recent travels, her move to Israel and the inspiration behind it, and what it was like to let go of living in New York City – and of course, what she's up to next. Here's a glimpse into our conversation.
In Conversation With Yoga Teacher Talia Sutra
When we first featured you on Pink Pangea only a year and a half ago, you were making your mark on the NYC yoga scene. Then, you led a few retreats in Italy and France and moved your life to Israel. What brought on the big move?
A meditation! I think a lot of people have already heard the story of how I met Ezra and moved to Israel but it's such an awesome story that each time I write about it I rediscover it and appreciate it more deeply.
After a month of teaching in Europe (in which I also co-led a Pink Pangea Fearless Living Retreat in Tuscany), it was finally time to return home to New York. Excited, I arrived at the airport only to be told I was not on this flight to New York and must wait for the next one–in 28 hours. After a moment of frustration, it dawned on me that this change in plans was perfect and that my next destination would be Tel Aviv.
I arrived in Israel a few hours later, surprising my family and friends and was invited that day to a meditation on Rothschild Boulevard at midnight. I loved the idea.
When I opened my eyes, the first thing I noticed was Ezra.
I sat in meditation for a while, losing sensation of my limbs and thoughts. When I opened my eyes, the first thing I noticed was Ezra. He was dressed all in white, with a cut out heart pinned on his shirt. If it was a movie, this part would be in slow motion. I felt like everything around us stopped. Maybe it was the mediation but I felt pretty dizzy getting to my feet.
Ezra and I spoke about breathing and meditation and yoga as we walked down the tree-lined boulevard…he told me he learned pranayama and meditation from an old man in India and that he had organized a few of these street meditations in Tel Aviv.
I was so entranced that it was only days later when I was back in New York that I realized how fateful my meeting with Ezra was. We kept in touch through emails and Skype calls, Ezra always made me laugh and I thought about him often; though I was doubtful if we would ever meet again.
In Conversation with Yoga Teacher Talia Sutra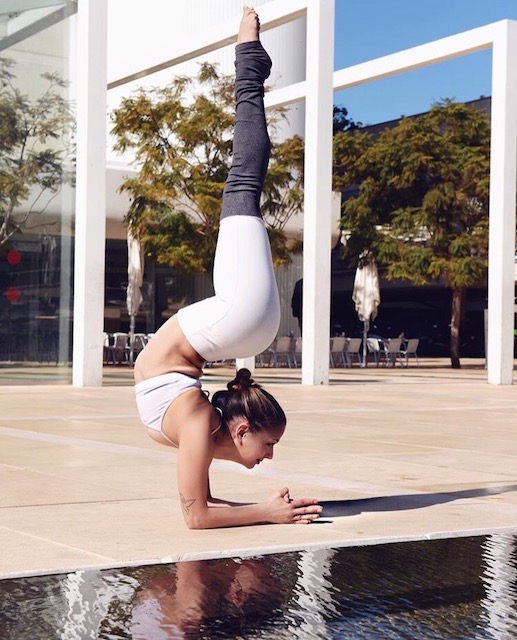 I happened to visit London (Ezra's hometown) in early September. He was also there and we were so excited to see each other. As fate would have it, as I stepped out of the cab with my friend Miriam, Ezra was walking down the street…! I dropped my box of theatre popcorn and we hugged.
A few weeks later he would make his official "aliyah" to Israel. We lived together in Neve Tzedek, Tel Aviv for a week or so and then I had to leave for a retreat in France.
After the incredible, weeklong retreat, my heart was full and open. It made it even easier to book a one way ticket to Israel. I wanted to be with Ezra as soon as possible. Ezra thought he would never see me again. He did not expect me to come back (and neither did I!) but I did and a few days later we were living in a cave-like apartment in Nachlaot, Jerusalem.
When you left NYC, you left one of the meccas of yoga–with endless classes available at any given moment. Tell us about the yoga community in Israel. What has it been like to adapt to it?
I'm still very much absorbing the energy here. Israel is a tiny country with so much diversity. Even within people you could superficially group together there are tremendously unique interpretations of culture, language, religion and opinion.
Right now I am teaching at Studio Naim in Jaffa: an ancient port city in the southern most, oldest part of Tel Aviv. The old city is beautiful. I get lost in its alleyways. The limestone and the market remind me of my neighborhood in Jerusalem.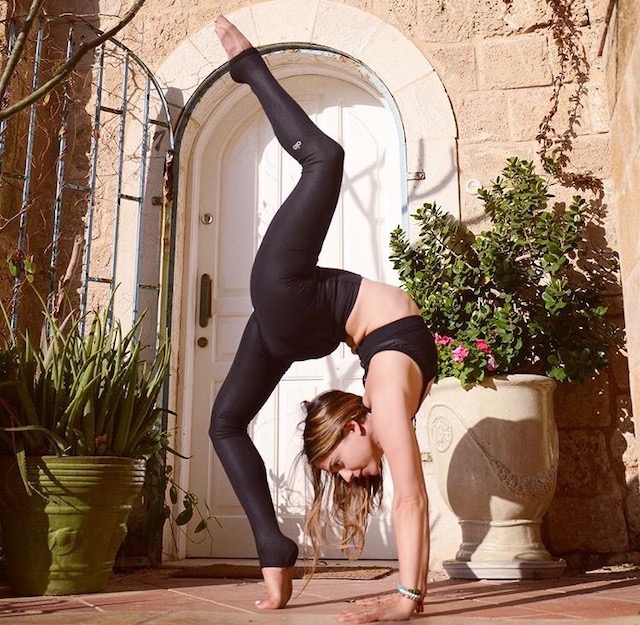 I've noticed many similarities between Nachlaot (where I live in Jerusalem) and Jaffa, where there are both international and Israeli artists, musicians, students and yogis living and working. My students at Studio Naim reflect that same diversity. The classes are taught in English and there is an almost equal attendance of men and women of all levels and backgrounds.
I love NYC for all of its colors and cultures and people. It has been a great teacher for me and I feel very blessed to be connected to it always. I'm excited to learn and observe and teach in Israel. I could spend lifetimes here.
What do you love most about living in Israel? How does life in Israel inspire your work?
I feel like I'm at a wedding, walking around the tables and meeting relatives and friends I haven't seen in a while. Israel feels to me like a giant extended family event–there are hardly any "excuse mes" to be heard if someone bumps into you, less formality or distance between people.
My eyes are opening to the incredible, endless wisdom of my roots, which I used to dismiss as ancient-impractical-irrelevant-sometimes-savage nonsense.
Through these daily realizations, as I walk through the streets of Jerusalem, I can't help but feel a tremendous connection and appreciation to my family, to my fiancé, to my teachers, to my students, to the past, present and the future. Life in Israel humbles and inspires me deeply. I almost can't believe how long it took me to get here.
In Conversation With Yoga Teacher Talia Sutra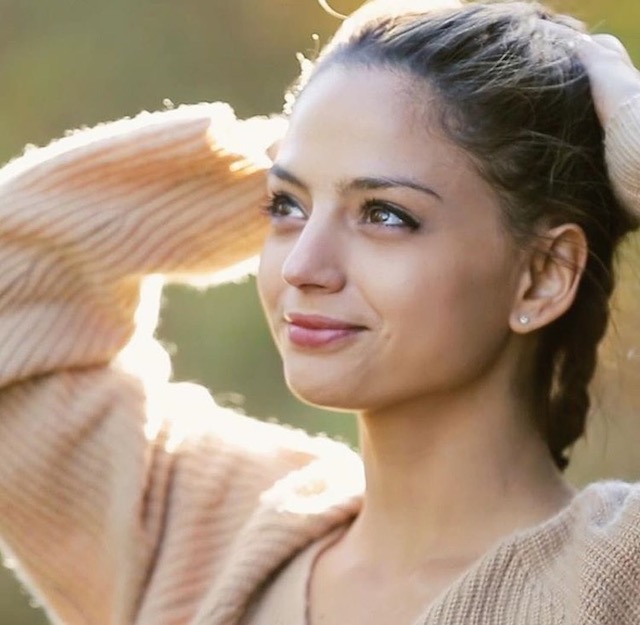 What, if anything, have you found challenging about moving to Israel?
Well, I had just finished my retreat in the South of France. I was looking online for tickets home to NY but then I just booked a ticket to Israel. I rented an apartment in Jerusalem and by the second week, I had no doubts that I would be staying.  In fact, I had to be back in the US for work a few days after announcing to my (shocked) family that I would be moving back to Israel.
It was perfect timing though–gorgeous early fall in NY. In the midst of work and saying goodbye to friends and students, I had just a few days to pack up three suitcases of clothes, shoes and books. Letting go of New York was expectedly sad. But underneath the nostalgia was the bubbling excitement of knowing I am living my truth.
I felt like I had extra strength or purpose somehow and it kept me going as I sorted through years of memories. Letting go of the city and my life as I knew it was challenging in moments, but my faith was resolute.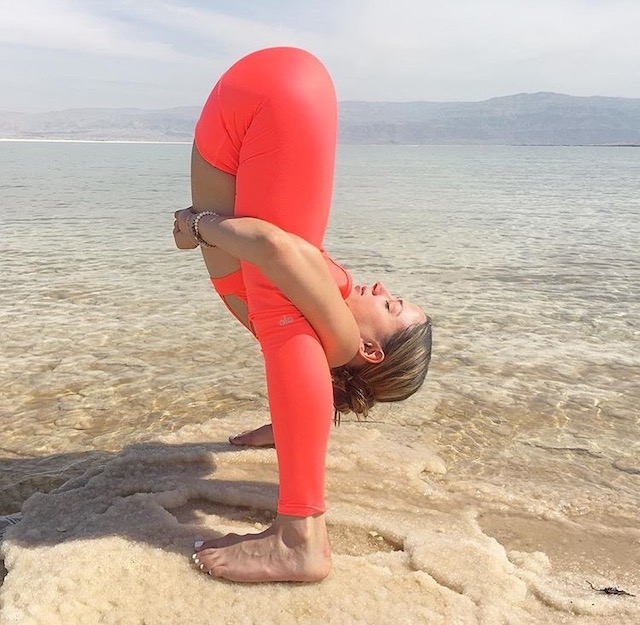 With hundreds of thousands of people reading your posts each day, what are some messages that are important for you to convey?
I'm interested in being as clear and specific as possible with my words. I try to send out messages of love and hope that speak to both the intelligences of the mind and heart.
Tell us about some of your upcoming projects.
My first ever weeklong retreat in Israel is coming up this June 28. I'm so excited to share this experience with yogis from around the world. We are going to yoga and tour our way around the incredibly charged, deeply intense (in the best way) and breathtakingly beautiful areas of Jerusalem, the Dead Sea, the Judaea Desert and Tel Aviv.
I realize a yoga retreat in Israel might not be everyone's idea of a relaxing vacation and that's okay because I'd like this experience to be deeply awakening in the best ways possible.
A Conversation With Yoga Teacher Talia Sutra
Okay, we're sold! Where can we catch one of your classes these days?
Monday evenings at 7:45pm, I teach at Studio Naim Yafo.
Tuesday evenings, I'm at Ella Yoga at 8:30pm. And Thursday mornings, I am back at Studio Naim Yafo at 10am. All of the classes are 90 minutes and open level. Hope to see you soon.
Visit TaliaSutraYoga.com for all schedule or retreat information.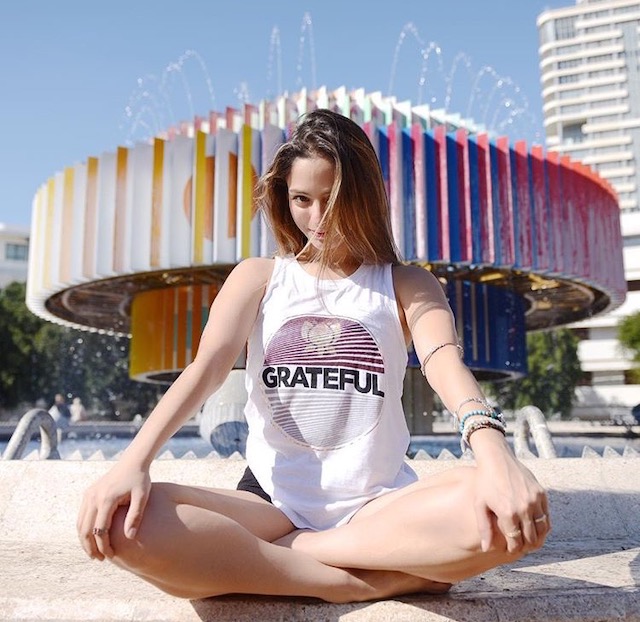 A Conversation With Yoga Teacher Talia Sutra photo credits by Talia Baderman.