Romance, Health and Safety in the Czech Republic: Kelley's Tips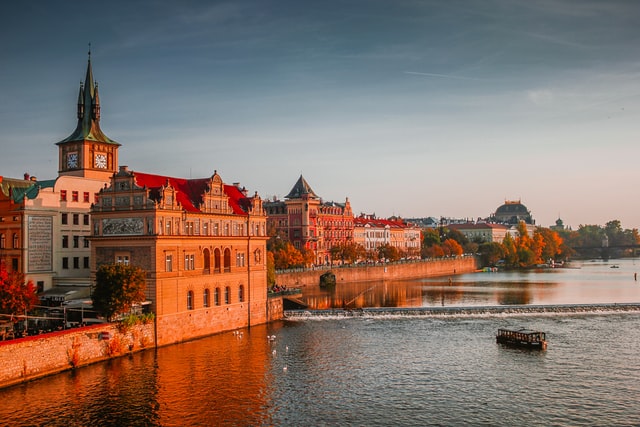 Health in the Czech Republic
Feminine Hygienic Products: What's available/what's legal/where to buy them?
Whatever your personal preference is for feminine hygiene, the Czech Republic will have it somewhere, but depending on where you are located in the country and the size of your local Albert/Coop/Billa/Tesco, you may not always find exactly what you are looking for. However, you will be able to find some form of hygiene products at Teta, DM or any Lékárna (pharmacy—it will have a green plus side on the storefront). You will be able to find pads, tampons and menstrual cups without any issues.
Birth Control: What's available/what's legal/where to buy them?
If you already have a prescription from your doctor back in your home country, do not throw out your prescription box! While some General Practitioners can prescribe you a prescription, I would recommend going to a gynecologist. They may not have the same exact brand you have at home, but they can look at the composition of the bill and give you the closest version of that here in the Czech Republic. When I went to the gynecologist here, she asked what prescription I had, and she had never heard of it prior. Thankfully, my gynecologist at home had given me enough packets to last me during my time here, but my Czech gynecologist was ready to do the research to find what prescription was best for my body.
Gynecologists: Are there any that you recommend? How, if at all, is a visit different from at home?
While living here in the Czech Republic, I knew I would be due for a Pap Smear and check-up. There were no English-speaking gynecologists that my host program could recommend to me, so I had to do some digging on my own. Really utilize the Expat Women in Prague group on Facebook—it has an entire document with gynecologist recommendations. I unfortunately do not have great health insurance here so I must pay out of pocket, but for my health, I had no issue spending top dollar to make sure the gynecologist knew my needs.
Be specific in asking what you need over email or over the phone—in the States, I am used to my "check-up" to include a discussion about my sexual history and menstrual cycle, breast and pelvic examinations, and a Pap smear once a year. Here in the Czech Republic, you need to ask what the "check-up" includes—depending on the office, some included the breast examination, while others did not. The Pap smear was additional and not included in the check-up, even if you are due for one.
Since cost was not a concern of mine, and since they allow for self-pay, I went to Canadian Medical Center in Prague 4. I saw Lukrécia Tatárová MD, MBA. I cannot recommend her and CMC enough. I arrived early to my appointment, was seen early, and out before the time of my scheduled appointment. Even though it was a quick visit, I felt that all my questions and concerns were addressed during the appointment.
Breastfeeding: What are accepted places for women to breastfeed? Is it accepted to do so in public?
I have seen women breastfeeding in public on a few occasions. The most common public places are those that have the most privacy—like a secluded park bench. I would not recommend breastfeeding on public transportation, however.
Romance in the Czech Republic
Dating Locals: What are the norms and traditions? What should women look out for?
Many Czech men will be very friendly to you, especially once they know you are a native English speaker. Most will use a dating app or going out on a date to practice their English. If you do decide to date a local Czech, I would say the two most important things to be aware of are PDA and family. People are extremely affectionate in public here—whether it is taking the elevator down to the metro or cuddling close and sharing kisses while dining. It is accepted as part of the culture, so feel free to kiss away! The second is that families are very close-knit. University students often go home on weekends to spend time with their families. Working adults will visit less often because of their schedule, but it is still very important. So if it becomes serious, know you will be spending a lot of time with family!
Types of Men: Describe a few "typical" types of men.
Most Czech men in Prague are well-dressed. Just like anywhere, there are various categories—adventurous, political-minded, environmentally-conscious, musical, tech-savvy, money hungry. Depending on your type, you will be able to find a Czech man that you find attractive, both physically and spiritually. Do note that the Czechs can be traditional in the sense of gender roles, although they are getting more liberal with each generation.
LGBTQ-friendly?
I definitely recommend staying in the larger cities, like Prague or Brno, for the best LGBTQ experience. The cities are generally very safe and I have seen on plenty of occasions LGBTQ couples being affectionate to each other in Prague and Brno. Additionally, there are various clubs/bars that are "LGBTQ-friendly," such as Boudoir U Sta Ran in Prague 2. In smaller towns and villages, it is still viewed as "different" or "other," so the experience in terms of body language or conversation may be different. I don't believe any physical harm would happen, but you should be aware.
Women's Place in Czech Society
Women's Rights: Do women have the same position in society as men? How can you tell?
In my experience in my small town, there are still a lot of traditional roles that women hold. For example, many of my female colleagues will talk about all the housework they must complete when they get home, meanwhile the male colleagues never mention doing housework or the cooking. I believe this is also perpetuated because of the progressive maternity leave program they have in the Czech Republic—when you have a child, you are allowed to stay at home for up to 4 years and receive some financial support from the government. Men also have the option to stay home with the newborn, although few do.
Local Women: What are some clear cultural differences between you and them?
I think Czech women are the strongest women in the world. Whether they are navigating the metro and trams with a baby in the stroller, or in a small town like mine near the mountains, where the roads and sidewalks are barely shoveled and plowed, these women are tough. In general, I find Czech women to be more pessimistic and more reserved, but that is part of the culture. Once you get to know them, they are the most loyal women you will ever meet.
Women-Specific Environments: Are there places where only women are or are not allowed?
From my experience, I do not know any women-specific environments, or any place women are not allowed to go. However, if you explore some Expat Women groups on Facebook, you will often find women and mothers organizing groups and events for women to attend.
Perception of Foreign Women: How do local men/women react to you when you say where you're from?
I've found the Czechs extremely friendly to Americans. Granted, you will be asked about all the stereotypes (i.e. "Do you eat McDonald's every day?"), but they are generally excited to meet Americans.
Safety in the Czech Republic
Transportation: Any that are safer/less safe for women to take?
All forms of transportation are safe. Like anywhere in the world, just be aware of your surroundings while on buses, trams and the metro. As far as taxis go, AAA taxi is reliable and will not overcharge you for being a visitor. Uber is also popular in Prague and is the cheapest option.
Dangerous area/s: Any specifically for women?
I would not recommend walking alone in any dark parks or streets. On Dlouhá, which is the street with many bars and popular touristic nightlife, you will be dealing with many drunk tourists. So proceed with caution.
Clothing: What to wear/what not to wear?
Whatever you wear at home, you can wear here. I have found workplace attire to be much less formal here than in the States. If you plan on working in the Czech Republic, it is better to overdress in the beginning and change your attire once you have a good feel for the office.
Photo for Romance, Health and Safety in the Czech Republic: Kelley's Tips by Unsplash.