7 Tips for a Spectacular Singapore Budget Experience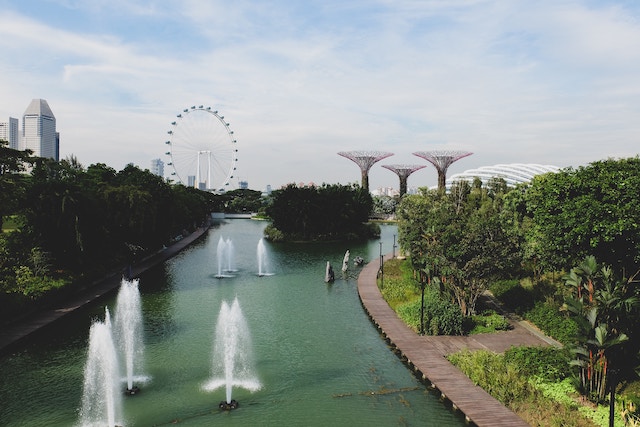 Ashamed, I walked up to the ATM for the second time that week. Mumbling to myself about emergencies, I bitterly pressed my pin code, and prayed that exchange rates had gone down. I hadn't even gone on a shopping spree yet, and money was still leaking out of my wallet like it had a hole somewhere. I knew what was happening, but how could I stop it?
Because Singapore is like one huge mall–a shopping paradise–that is filled with delicious food, tourists soon realize that maintaining a budget there seems rather abstract. During three weeks in the Lion City, I not only discovered the importance of staying hydrated, but also of being thrifty. It isn't easy finding cheap alternatives, but these tips will enhance your Singapore budget experience!
7 Tips for a Spectacular Singapore Budget Experience
1. Take public transportation
I cannot praise the MRT system enough. Besides being safe, clean, and fast, it's also cheap (and equipped with good air-conditioning!). If you're staying more than a weekend in Singapore, I advise you to buy an EZ link card; it will save you money in the long run. Please note that eating and drinking on board is prohibited, and if caught, you will be fined.
2. Fight hunger at hawker centres
In my Scandinavian upbringing, I've been taught that eating out is a luxury, unless it is at a colorful fast-food chain. So naturally I was hesitant about the idea of going out to dinner every night. But in Singapore? Just find a local hawker centre. It's tasty, cheap, and you won't have to starve. It's actually cheaper than splurging on fast food meals, and also a bit more unconventional, adding to your experience.
3. Walk
Despite having one of the absolute best public transport systems in the world, I still want to remind everyone of what's attached to the bottom of their legs. During the first week in Singapore, I made the mistake of occasionally taking the MRT only one station while traveling in the central area of the city. This is not recommended.
Riding the train even for just a two-minute ride costs a dollar, which will eventually start to add up.
Obviously, if you don't have the time to get a little lost, then go for the MRT. But if you want to save a few dollars, see the beautiful metropolis, and don't mind sweating a bit, then explore Singapore on foot! Just don't forget sunscreen and a water bottle before heading out.
4. Become a savvy shopper
If you need to buy something simple, whether it be a bottle of water, a red bean bun, or a mass-produced hamburger, buy it outside of the city center. Making your purchase in Little India instead of Orchard Road, will save you some cents, and those will matter more than you think.
5. Tap it up
There are not many places in the world where it's safe to drink the tap water, but luckily, Singapore is one of them. Bottled water isn't as expensive as you would think, but when you are sweating about half a swimming pool a day, then you'll quickly spend a lot. Buy a water bottle from time to time, and when it's empty, fill it up!
7 Tips for a Spectacular Singapore Budget Experience
6. Shop 'til you drop–at the right time
From late May until July, an amazing phenomenon grabs hold of Singapore: The Great Singapore Sale. Most stores offer good discounts on their products, and you can really get your hands on some great finds. Suddenly shopping in the metropolis won't lead to major anxiety.
7. Avoid tourist traps
Singapore is undeniably a haven for tourists, and for the major sightings, prices are set thereafter. However, if you don't want to pay money to sweat with a bunch of other foreigners in a crowded area, I suggest experiencing the country outside the typical hot spots. Hiking in one of the amazing nature reserves or relaxing in a park offer good options if you're seeking adventure. The beaches are free and always nice, and if you want to experience the city life, wander in the huge malls or just sit in a local café and people-watch.
Traveling shouldn't have to be a luxury hobby, and it shouldn't force you to sacrifice your basic needs. Your travel experience should about balance, as well as priorities. Treat yourself occasionally, and face the cutback on something else.
You may not have to choose between new memories or new shoes; with the right choices, you may get both. Spend money on what makes you happiest in the long term.
I left Singapore with a crammed suitcase, and gave up some air-conditioned taxi rides in the process. Honestly, it was well worth it in the end.
Have you traveled to Singapore? How was your trip? Email us at [email protected] for information about sharing your experience and advice with the Pink Pangea community. We can't wait to hear from you.
7 Tips for a Spectacular Singapore Budget Experience photo by Unsplash.