Perfect Powder at Steamboat Springs, Colorado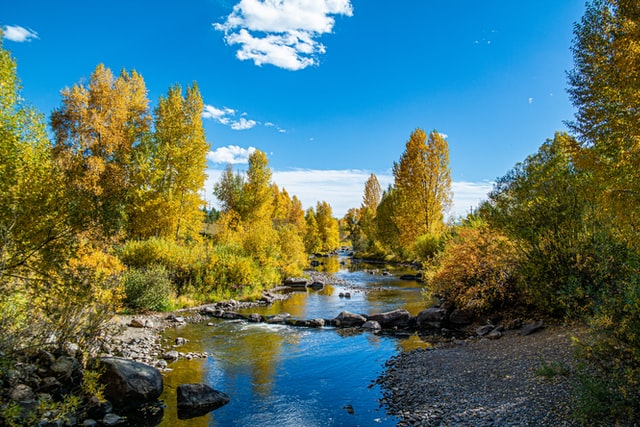 Feeling the need to scratch the ski trip itch, a fellow winter-loving friend and I planned a trip to Steamboat Springs, Colorado, in search of the famed Champagne Powder snow. Steamboat Springs is located 160 miles northwest of Denver, boasts two ski areas, three State Parks and more than 150 natural springs, lakes, and rivers providing a wide array of outdoor activity all seasons. The Champagne Powder snow, however, is the literal trademark of the Steamboat Ski & Resort Corporation, the only ski resort in the world with trademarked snow.
This perfect powder can be described as light, dry and smooth snow; so light, in fact, that you can't make a snowball with it. Legend has it that the term originated in the early fifties from a local rancher who claimed the snow tickled his nose like champagne.
It just so happened that our trip fell during Steamboat's annual Winter Carnival. This takes place in early February, and was started to help residents cope with cabin fever, and to celebrate winter instead of loathing it. During Winter Carnival you can see kids being pulled on skis behind horses down the main street, and groups of skiers with red lights descending the mountain, the last in line with roman candles shooting from his/her backpack. It's a great lead into the fireworks show that follows.
After a full day of skiing, there's nothing better than a dip in a hot tub, or–even better–natural mineral springs, which Steamboat has plenty of.
Our first adventure was to meet up with friends who live in the town for dinner. But we quickly learned that Uber wasn't operational in the area and cabs were extremely scarce. The way of getting around town is by bus, so we had to quickly learn the routes to avoid being late to dinner. Fortunately, bus stops are widespread and easy to navigate so we managed to only be fashionably late.
The restaurant where we headed, Ore House at the Pine Grove, is set in an old barn dating from 1889. The Ore House has been serving steak and seafood since 1971. The atmosphere is quintessential Colorado, with wood-burning fireplaces complementing the rustic ranch-style interior.
After an amazing dinner, we decided to check out downtown Steamboat's nightlife. The Main Street District consists of a few streets running parallel, and contains a wide range of dining options, shops, and bars. We started our journey at the eclectic Sunpies Bistro, which sits along the Yampa River, and is well known for its cheap, stiff drinks and Cajun fare. The next stop was Schmiggity's, which offers live music. On the night of our appearance an incredible 10-piece (or so) band was playing, containing what seemed like every instrument possible: trumpet, trombone, drums, bass, and so on. I was drawn to the dance floor.
I look forward to another winter trip, and more nose-tickling Champagne Powder at Steamboat Springs!
The next day it was time to hit the slopes and experience the famous snow for ourselves. Starting the ascent from Gondola Square (elevation 6,900 feet) up to Mid-Mountain (9,080 feet) was proof that altitude sickness is a real thing. I had an immediate, pounding headache and forced myself to drink two bottles of water in the chalet before skiing. Soon I was back in action and had a blast on the trails. Even though the snowfall for the year was below average, this snow was different from anything I've skied before and allowed for an easy ride–and even easier fall.
After a full day of skiing, there's nothing better than a dip in a hot tub, or–even better–natural mineral springs, which Steamboat has plenty of. Our local friends recommended Strawberry Park Hot Springs, located outside of Steamboat but worth the journey. No rental vehicle, no problem, as there are a few shuttle operators, including Sweet Pea Tours and Hot Springs Shuttle, with four wheel drive vans to transport you from your front door to the hot springs. There are several pools to choose from, all with varying temperatures, mostly warm to hot. But there's also a pool with runoff from the river, which is ice cold and very refreshing. The facilities include restrooms, a teepee and heated cabin for changing, as well as picnic areas.
Needless to say, there is something for everyone during every season in Steamboat Springs. I, however, look forward to another winter trip, and more nose-tickling Champagne Powder!
Photo for Perfect Powder at Steamboat Springs, Colorado by Unsplash.