The Best Markets in Delhi for an Authentic Experience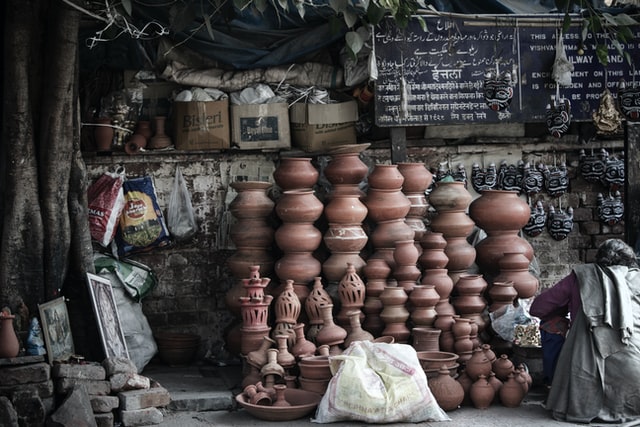 Delhi is a massive city with food, clothing, entertainment and other sights to suit everybody's tastes. Foodies and fashionistas will delight in Old and New Delhi's markets, and even travellers who are less inclined towards the sartorial or culinary will likely find sights, smells and flavours to interest them. Each neighbourhood has its own market, but here are some of the best markets in Delhi that you simply shouldn't skip while spending time in the Indian capital.
The Best Markets in Delhi for an Authentic Experience
Lajpat Nagar Central Market
Lajpat Nagar is a traditionally Punjabi colony (what Indians call a suburb) in the south of the city. Punjabis are generally known for their gregariousness and their no-holds-barred weddings, and the Lajpat Nagar Central Market is a popular place to shop for everything that is required for a big fat Indian wedding: red and gold saris, jewelled slippers, faux and real jewellery dripping with gemstones, and henna tattoos.
The market is also home to dozens of appetising street food stalls, popular with locals who will help you select a dish if you don't know what anything is, or can't read the Hindi menu boards. Try Tibetan momos, classic golgappe or Afghan naan.
Time to visit: Things come alive in the evenings. Shop in the early evening, and have dinner afterwards.
Getting there: The market is a ten minute walk east of the east exit of the Lajpat Nagar metro station.
Khan Market
More of an upmarket outdoor shopping complex than a market per se, Khan Market is a good place to go for high-quality restaurants and drinks. Come here to shop at high quality Indian boutiques, such as Anokhi and FabIndia, for books at Bahrisons or Full Circle, or for upscale dining options. Try Bombay Parsi food at Soderbottleopenerwalla, Mughlai at Khan Chacha, or café cakes and sandwiches at Café Turtle.
Time to visit: The shops of Khan Market are open all day, although some of the bars and restaurants won't open until later.
Getting there: The shops are a short walk from the Khan Market metro station.
Khari Baoli
Old Delhi's wholesale spice market is the largest in Asia. For most travellers this will be less of a shopping experience than a visual and sensory one! Sacks of colourful spices spill into the streets, making for great photo opportunities. A popular lookout point is from the rooftop of an old building near the corner—you can look down on Chandni Chowk, the courtyard of the seventeenth century Fatehpuri Masjid, and the market below. It can be tricky to find without a guide, but you can always ask around for the entrance to the rooftop.
Getting there: If arriving from the Chandni Chowk metro station, head down Chandni Chowk, away from the Red Fort, and turn right at the end of the road, by the Fatehpuri Masjid.
Time to visit: The market is closed on Sunday. On other days, visit in the daytime.
The best markets in Delhi for an authentic experience
Kinari Bazaar and Dariba Kalan
The lanes around Chandni Chowk in Old Delhi can be confusing, but they hide some serious treasures for those who are willing to get a little lost. Kinari Bazaar (the 'trimmings market') and Dariba Kalan (the jewellery market) are adjacent, and you will likely find one when looking for the other. Together, they sell many of the sparkles and trimmings needed for an Indian wedding. Try to find the hidden Jain temple down a side street—the calm and the highly detailed interior are worth the trouble.
Getting there: From Chandni Chowk, look for Dariba Kalan Road, on the right when racing the Red Fort end of the road. A point of reference is the Old Famous Jalebiwala on the corner.
Time to visit: Most hectic in the evenings. Try visiting in the late afternoons for a good balance between 'open' and 'too crowded you can't move'.
Dilli Haat
If you're looking for handicrafts and regionally designed and produced textiles, Dilli Haat should be on your shopping radar. The prices are high, but the atmosphere is less frenetic and the selection is astonishing. As well as stalls from around the country selling everything from hand-embroidered woollen coats from Kashmir to silk ikat weave saris from Andhra Pradesh (and everything in between), there are food stalls serving dishes from around the country, and some cultural performances. While there is a bit of a touristy atmosphere, in fact many foreign tourists don't venture here at all. It is an ideal place to go for some serious shopping, or just research into the craft traditions of India.
Getting there: The INA metro station is a short walk from Dilli Haat.
Time to visit: Open 7 days a week, 10am to 10pm.
Daryaganj Book Market
Every Sunday, hundreds of thousands of books are sold along the main street of Daryaganj and around the corner to Asaf Ali Road, Old Delhi. The books are mostly second-hand and rather dusty, but if you dig deep enough you might find some treasures. There are a lot of text books, but there are also vintage magazines, titles to add to your holiday reading list, and Indian classics.
Getting there: Take an auto or cycle rickshaw from Chawri Bazaar metro station.
Time to visit: Only on Sundays. It's best to go early to avoid the crowds, and get the best bargains.
Tips for visiting Delhi's markets
Always bargain—hard! If there's something you like and you're not happy with the price after a bit of haggling, shrug and walk away. This will often have the vendor shouting out a lower price as you walk away.
Take small notes for food. It's a constant struggle to find change in India.
Keep your valuables close. Delhi is a crowded city, and particularly so at markets in the evenings.
Many shops are closed on Sundays. This means it could be a good day to explore the market areas without the crazy crowds, although the shopping experience might be less rewarding.
Photo by Unsplash.