How Volunteering in Zimbabwe Changed Me for Life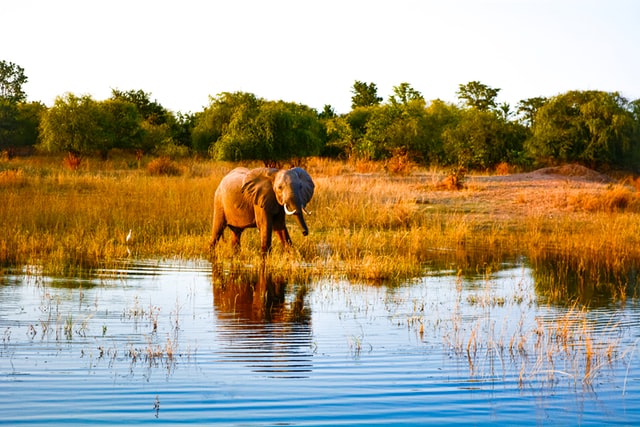 As a 20-something year old graduate with minimal travel experience, the prospect of spending six months working in Zimbabwe with the most iconic specie, the lion, seemed daunting but a challenge nonetheless. I volunteered at Antelope Park with ALERT, and nothing prepared me for the smiles and the happiness of the local people, the friendships that I made, and the country's natural beauty. Though not always easy to live there, Africa changed me for the better in the follow ways:
How Volunteering in Zimbabwe Changed Me for Life
1. Adaptation – Make a plan
'Make a plan' was a phrase regularly and calmly spoken by the Zimbabwean staff. They seemed unfazed and always prepared for the unexpected. A basic schedule was always made for upcoming days, however, last minute changes and unexpected hiccups would alter it on common occasion. As an intern, I was treated more as staff with such responsibilities. These changes would at first frustrate me, but they tested my ability to think on the spot and adapt necessarily. It taught me how to deal with situations in a more calm and collected way, taking on board the staff's no-stress, worry-free attitude which has allowed me to live life in a more relaxed way.
2. Patience –'Now Now' or 'Just Now'
Zimbabweans and South Africans in general have a complicated relationship with the word 'now'. 'Now now' and 'Just now' can mean anything from 5 minutes to 5 hours. In the UK it means the immediate past, in South Africa it generally means the immediate future, in Zimbabwe they take it as either. As a Londoner, impatience comes rather naturally to me, but I still found it challenging to cope with. Living in Zimbabwe I had no choice but to deal with this confusing jargon and the more laid back lifestyle. It allowed me to lower my expectations, lessen my need for control and simply let things happen the way they are meant to; overall making me a stronger believer in fate.
3. 'Shamwari' for life
Shamwari in the local Zimbabwean language, Shona, means friend, and I definitely made lifelong friends from my time there. When you go travelling, you don't realise how many people you will meet from all across the world. The most amazing, inspiring, funny people from all different countries came into my life. They introduced me to new things, their cultures, friendship, how to be nonjudgemental and how people CAN accept you for YOU. It is the ultimate lesson in life and I will take it with me for the rest of mine.
4. My outlook on life – being grateful
Many people have a stereotypical view of Africa from seeing adverts, or news about the politics, malnourishment, and its darker side. While I can't deny that, I can honestly say, from the deepest depths of my heart, that some of the best people I have ever come across in my life have been from Africa. I saw many of the locals living with the bare minimum which we, from the first world, take for granted. They have minimal materialistic things, but what they do have, they cherish, and make the most of. The people of Zimbabwe are the most generous, kind, and hospitable people I have ever met. They love their country, their continent, and all the beauty it radiates. That shared love was contagious and inspiring. I couldn't help but fall in love too.
5. Setting me up for my future
From as early as I can remember I have always spent my life surrounded by animals and wanted to continue this through my future career. Saying that I worked hands-on with the lions in Africa is an understatement. I cared for lions of all sizes, from a heavily pregnant lioness, and then her newborn cubs to fully grown adult lions, gaining valuable experience in all avenues of animal husbandry and welfare.
Later in my stay, I began to focus on research of a release pride, collecting data on the behaviour and dynamics of these captive bred lions. I had the unique pleasure of seeing them and their wild-born cubs live as a self-sustaining pride. I witnessed some of the most incredible scenes of lion and prey chases and kills. I had only ever seen lions in documentaries; so to watch their behaviour and complex relationships and dynamics with my own eyes – it's a cliché – but it was a dream come true.
The knowledge and skills I gained has given me the opportunity to successfully apply for a Masters in Conservation & Ecology. Without that experience I wouldn't be in the position I am today, looking towards the future and continuing my studies on a subject that I am passionate about. I will always cherish and remember my time in Africa; it has changed my life for the better and I owe it everything.
How Volunteering in Zimbabwe Changed Me for Life.
6. Untamed Natural Beauty
Describing Africa without talking about the animals, the breathtaking sunsets and sunrises, the sweeping savannas and their magnificence is impossible. Africa is known for its natural beauty and its unique wildlife. The nature found throughout Zimbabwe is remarkable, and I worked closely with 2 species in particular, lions and elephants. Walking with lions, looking into their piercing, fearsome eyes every day was the greatest privilege of my life. Standing next to and feeding an elephant was an inexpressible experience, and one I will never forget. Being close to these incredible creatures strangely became my norm, one which I never took for granted.
So much of Africa is the emotions it invokes, once you've been, and you get THAT feeling, you understand. It's otherwise difficult to explain to people who have never experienced it. Everything in Africa just seems more vivid, in its appearance, its sounds, smells and colouring. When you visit Africa, you want to absorb it all and admire the beauty as much as possible, even if that means staying awake late into the night to gaze at the stars, examine the Milky Way or the exploding fiery, sunrise at dawn. Words just don't do it justice.
You may think Africa is not for you, it may well not be, but if ever the opportunity to go arises in your life, take it with both hands and an open mind, see if you don't feel it and fall in love too. Photo by Unsplash.