Unparalleled Grandeur in the Yosemite Valley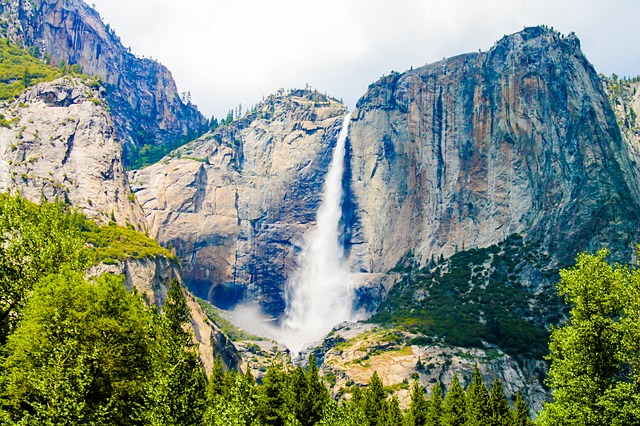 I lived near the Yosemite Valley for quite some time. I could feel its vast, pungent wilderness rising up out of the desert, where my home was. While Fresno is situated on the Central Valley floor, the park is so close that at least once a week I would ascend into Yosemite to feast my soul on that great dichotomy of forest and stone.
I have always had a serious fascination with the big trees, and while Yosemite's groves are small compared to the vast redwood wilderness of the far-flung northern California coast, it was incredible to be able to access this primal forest nearby. I would regularly go to the Mariposa Grove and lie on a gigantic log under the enormous stretch of a sequoia trunk and contemplate the smallness of our existence.
Living in the valley, the seasons do not change much. Fall is a bit cooler, but for the most part it is severely hot year-round. Yosemite rises up out of the Sierras and provides chilly mountain temperatures and unparalleled scenery. Every year, towards the end of fall, I would go up to Fish Camp, where the first touch of snow would arrive. Just past Fish Camp there are some pull-offs on the side of the road under giant pine boughs, where I would play in the snow like a child. Being a north-easterner who has lived half her adult life on the west coast, I will forever miss the lilting change of the four seasons. Yosemite provided me with that seasonal glow, the halcyon, nostalgic illumination of snowflakes on pines and the crispness of a new year on the horizon.
Unparalleled Grandeur in the Yosemite Valley.
The roads to Yosemite are steep and winding, and what may look on a map like it would take an hour's drive can turn out to take three or four as you stop to absorb the many woodland mysteries. When entering off of Rt 41 you will pass Fish Camp and then come to a strange, Victorian hotel called the Wawona. This place transports you back in time, and guests sit in Adirondack chairs on the sprawling lawn, like revenants of a bygone era. Across from the Wawona is a beautiful trail where I would hike with my dog when he was just a puppy learning to love the outdoors. The shaded path offered a fantastic respite from the central valley summer heat, which often exceeds 110 degrees.
In winter, many of the roads in the park are impassable, with the central Tioga Road often closing until May. Yosemite can be accessed from many different entrance points, and each leads you to a different journey. On the west side of the park, Arch Rock is just as it sounds: with two enormous granite boulder faces that have collapsed into each other, forming an archway through which the roadway curves. Wawona entrance takes you through the glory of the big trees, while Hatch Hetchy is a more off-the-beaten path entrance leading to hikes to Wapama Falls and Smith Peak.
On the eastern side of the park, Tioga Pass is the main entrance. This is the entrance to use if you want to hike the many domes of Yosemite, including the infamous Half Dome, as well as lesser known Lembert Dome and Medlicott Dome. One of my favorite locations in Yosemite is Tenaya Lake, which is framed by bald stretches of the Polly and Medlicott Domes, reflected in the mineral green gleam of its waters.
I can romanticize Yosemite and its beauty, which is well-known and has been heavily written about.
I can romanticize Yosemite and its beauty, which is well-known and has been heavily written about. But one of the most touching parts of my memories of the Yosemite Valley revolves around the sadder portion of its recent history. While California has suffered from drought for many years now, Yosemite was particularly severely impacted. Drought dried the mountainsides of sequoias, and a population of bark beetles invaded in such heavy numbers that in some areas at least a third of the trees have turned brown. If you see areas where the trees have browned out, this is the reason why.
Aggressive wildfires have also riddled Yosemite for the past six or seven years. While wildfires are natural, the drought conditions have caused wildfires of unparalleled magnitude. They have threatened lives and livelihoods, and burned hundreds of thousands of acres of the park. Human error and ignorance often lead to such fires. One day when I lived there, a teenager lit a match and tossed it and the forest went up in flames, burning for months. Residents in the towns surrounding the park were asked to not start up their lawn mowers on extremely dry days, as even a spark could cause a fire that could take out a neighborhood. Down in the valley, when the wildfires were burning, it would often rain ash. The lakes were so low that you could almost see the lakebeds, and docks that were once submerged now rested on land. Waterfalls like Bridal Veil were often just tiny rivulets dripping down Yosemite's famed granite faces.
This past year brought El Nino and heavy snowpack returned to the mountains, rain came, and spring brought ice melt that nourished the foliage and replenished the lakes and rivers. No one knows if the drought in California is on its way out, or only on a hiatus.
My time in Yosemite is so dear because my job at the time was with the local Red Cross chapter, who respond to home fires and wildfires, and provide shelters and assistance for those who lose their homes. Much of my time in the Valley was spent going to schools and community centers, Rotary clubs and community events in Oakhurst and Coarsegold and Mariposa and speaking with the public on how to lessen the likelihood and impacts of wildfires in the community, and how to be prepared should an inevitable wildfire effect their neighborhoods. When wildfires came, my time was spent assisting with shelters and volunteer coordination and staffing.
My memories of Yosemite are not just of its stunning beauty, which is undeniable. They are also of the communities who live in the presence of this beauty, ingesting the majesty of Yosemite every day. These people have experienced fires year after year that have wiped out the homes of those they know, but they choose to stay. I came to know many of these people, and their struggle and love of the land they lived on. Any place worth riding through decades of wildfire for must truly be a place of grandeur unparalleled, and Yosemite is that indeed.
Photo by Pixabay.