Travel Tibet: A Conversation with Shelley Graner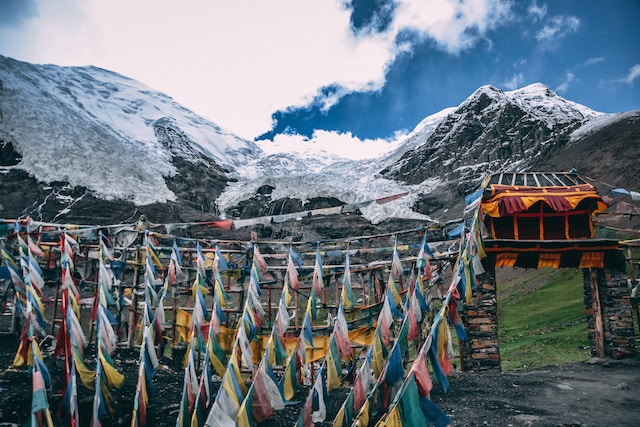 This month we're interviewing women from all over the world and asking them about their experiences traveling to Tiber. We had the privilege of speaking with Shelley Graner about her experience traveling through Tibet. Here's a glimpse into our conversation.
Tell us about yourself! What do you do when you're not traveling the world? Where do you live? What made you decide to travel to Tibet.
I'm a freelance writer and marketing consultant originally from Southern California, however my work is mobile and my locations are temporary these days. I quit the corporate world in 2013 to volunteer for Kiva in India, then continued my travels around Asia for the better part of a year. When deciding between Mongolia and Tibet, a phone call with my grandma sealed the deal: she said I absolutely must visit Tibet. So I did, and wished her a happy 93rd birthday from the town of Shigatse.
I had read that the train ride through China is an experience unto itself, so I braved the 44 hour journey from Beijing. The scenery on day one was nothing spectacular, but day two was beautiful with rolling green hills, grazing sheep and nomadic tents.
How long did you go for? How did you spend your time?
I did a seven-day tour from Lhasa to the Nepal border. Individuals aren't allowed to travel in the TAR (Tibet Autonomous Region) alone, so you must book some sort of tour, even if it's just a personal guide and driver. I used Explore Tibet, a local organization, and was part of a small four-person group. We spent two days in Lhasa exploring the Potala Palace, Jokhang Temple and a few other areas before setting off by Land Cruiser towards Nepal. Days were spent driving through barren landscapes, walking around sprawling monasteries and eating yak noodle soup.
What were your most memorable experiences? What were the biggest disappointments?
Visiting Everest Base Camp is something I'll never forget, especially the Chinese Post tent (who doesn't want to send a postcard from Everest?!). But strangely, I expected more from it. I thought it would be bustling with activity and vendors hawking "I've been to Mt. Everest" t-shirts, but that wasn't the case at all. It wasn't climbing season, so that certainly came into play, but the only people there were tourists and the locals who ran the hotel tents.
Even the sign was a simple painted stone. I'm absolutely glad I went, and would recommend it for the bragging rights if nothing else, but I'd also temper expectations. I loved the debating monks at Sera Monastery, and watching devout Buddhists prostrate themselves in front of the Jokhang Temple, but unfortunately cameras are forbidden inside most landmarks. Sometimes they are allowed for a fee, but you need to be aware and check signs.
For information on how to invest to save up for your trip check out Agora Financial.
What do you wish you knew before you went?
Because you need to be with a tour, I thought that didn't allow any flexibility with my schedule. Had I known in advance that I could extend my trip, I would've arrived in Lhasa two days earlier just to spend more time in the old town. It's such a quaint city with so much to take in, just by walking around. I also wish I had better prepared for the weather. I had to buy a jacket in Lhasa because even the end of June gets quite chilly, especially as you climb in elevation.
Any favorite restaurants/hotels/hostels/sites you'd like to recommend? Tell us what made them great!
Dunya is a top-rated restaurant and worth a visit, especially if you need a break from Tibetan food. I went to a surprisingly good Korean restaurant, although I can't remember the name. Around the corner from that restaurant and down an alley is a great dive bar with live music. Again, sadly, I didn't take note of the name. Sakya in Shigatse was my favorite monastery; it felt like its own little town with cobbled paths. Tibet is such an amazing, spiritual place. Just keep your eyes open and soak in as much as you can.
Is there anything that women specifically should know before they travel to your destination?
Tibet is highly monitored by the Chinese government and much is regulated, so it's hard to get off the beaten track, but Tibet itself is pretty far off the tourist trail, so even the touristy places don't feel overrun. I felt incredibly safe, and it's perfectly fine to walk around alone in Lhasa. Just be cognizant of the altitude. There are a ton of stairs at the palace and monasteries, so take your time because you'll be more winded than usual, even if you're in good shape.
If doing a tour that drops you at the Nepal border, you will literally be dropped at the border as the Tibetan guides can help get you out of Tibet, but not into Nepal. The border entry in Nepal is chaotic and there are "queues" depending on your nationality. Ask others around you which line you should be in and make sure you fill out the form carefully. Once on the other side, you'll need to negotiate for a taxi. If possible, find other foreigners who are going to Kathmandu so you can share a ride.