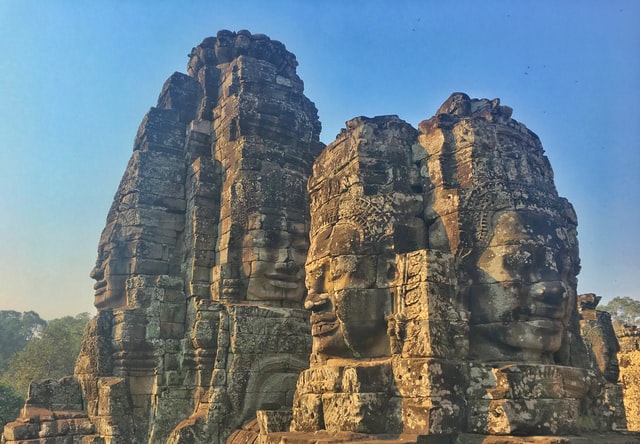 For my first bike ride in Phnom Penh, I rode to get sugar cane lemonade. The seller crushed the cane until its sweetness filled my cup of lemons. I took a drink and sat on the curb, surrounded by bees, while watching the motorbikes. In Phnom Penh, my goals were simple: to live on less, eat less, and worry less.
When I was a teacher, I worried a lot, wondering if I was doing enough. In the fall, my classroom was full of students, young women and men, some coming back to school after work and a family—full of hope. Such was the ebb and flow then.
I rode a bike past fish drying in the heat, women chopping vegetables in the shade, and monks leaving the pagoda in search of breakfast. I learned about the routines of my neighborhood and worked to become part of them. I limited my bike route to a few places. I went to the Thai Hout Market twice a week. I went to Flicks Community Theater to see American films. I visited Boeung Keng Kang Market (BKK1) Market to see the "barang" fortune-teller and buy tofu. Although I am not white, in Phnom Penh I was a "barang"—a white outsider—too. She told me that I was starting over. I went to Deja Café near one of the NGOs where I volunteered. I went to Muscle Fitness and worked out next to an ancestor's shrine.
In Phnom Penh, my goals were simple: to live on less, eat less, and worry less.
To find my house, I turned left at Saint 95 by the hanging tooth of the dentist who was advertising his services. That single tooth welcomed me home after a long day. Further down the street, I went to Nika, the non-sighted masseuse at Nika's Seeing Hands Massage Therapy Center, so she could work the anxiety from my body. I listened to her stories about her childhood. She called me "sister."
I traveled past Boeung Keng High School and its empty yard. Sometimes I saw students in uniform on the street. Although I did my best for them, some stopped coming. Some made it though: Mirella, Marilyn, Eddie, and David. Their excitement about the future made for really good office hours.
In Phnom Penh, I rented a room at Tina's Place, a house on Saint 376. With European touches here and there, I tried to imagine the woman who owned the house. Although I welcomed the hazy morning light that I could see through the bars on my windows, I didn't care for the lonely back room. I heard someone crying or singing—the sounds of street seller songs. I also learned how to get to the Russian Market, the best market for silk scarves. I knew that it was important to go out early, stay out of the sun, and wear SPF 75 whenever possible. It was important to ignore things that I disliked.
New experiences were never easy. New experiences meant new expectations.
In the kitchen I met my housemates. Although I met an unfriendly man from Moscow and his sweet filmmaker boyfriend and another woman who emphasized the two n's in her name, a small cat named Tiny who kept me company on the terrace was my favorite roommate. The ants ran around the corners of my breakfast tray, going in circles. Because of roaches, I never ate in my room. The thought of my plans not turning out, that I had made a mistake, scared me.
New experiences were never easy. New experiences meant new expectations. This was the one thing that I never had to teach my students. We understood struggle.
In Phnom Penh, I wish I had known to bring my own pillows because my rented ones were the most terrible pillows in the world. I wish I had known how not to get angry each time a car nearly hit me. Rush hour in Phnom Penh was never easy, especially in the rain. Storms lit up the skyline and the downpour flooded the streets. On my bike, I travelled back from a yoga studio. I waited in a doorway of Thai Huot Market, but the waiting went on for too long. The city streets were rivers. The intersection at Mao Tse Tung Boulevard was underwater: floating trash, a drowned rat, and a "barang" with an umbrella, taking pictures. I lost my shoe. The water brought us together like a family.
I smelled the fish sweating on the ice; rotting things were a delicacy.
On an evening at Nika's I sat in her waiting area, listening to two European women complain about work, realizing that the city had made me a little crazy. I saw a woman—mother, grandmother, or sister—bathe a baby in a large plastic bowl.
The shops put out rice in the shape of the cooking pots, golden semicircles. I smelled the fish sweating on the ice; rotting things were a delicacy. After the rain, the sunset was beautiful. When bats flew at dusk, a woman on the opposite balcony brought in the family's laundry. I loved the reflections when the night came that showed off the decades of neglect and years of indecision.
So, I left my stable job, working with students who I grew to love, doing everything that my parents expected of me, to make a huge leap, which meant fear, uncertainty, and ultimately meant more. I wasn't sure where I was going or where I would end up as I rode my bike in Phnom Penh. For me, though, choosing Cambodia was worth it.
Related Reading
Explore Cambodia by Bus
When I Finally Realized I Love Cambodia
Facing Culture Shock in Cambodia
Living in Cambodia: 7 Reasons Why it's Hard to Leave
Visiting Cambodia: 4 Days in the Country
Cambodia Travel: From Cambodia With Love
Have you traveled to Cambodia? Email us at editor@pinkpangea.com to share your experience with the Pink Pangea community. We can't wait to hear from you. Photo by Unsplash.