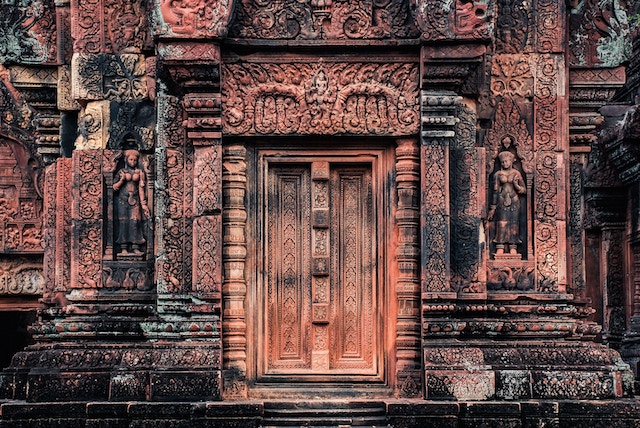 God might have created the world in seven days, but he wasn't working in Cambodia. When my husband and I fell in love with Cambodia and its people during a trip to the magnificent temples of Angkor Wat, the search began to find a place to volunteer. One needs to be careful as there are many phony organizations purporting to work with children in "orphanages," while what they are really doing is taking your money for the "privilege" of volunteering, and are exploiting the children they are meant to help.
ConCERT, a non-profit organization based in Siem Reap, matches people who want to help with local organizations that need their kind of support and expertise. They directed us to Anjali House, where we could work with children while using our talents in the arts, since I am a former childhood education dance teacher and my husband, Gerald, is an artist.
Cambodian public school is dominated by academics, and the inclusion and promotion of the arts make up one of the exceptional aspects of the program at Anjali House. We planned a four-week project working on a play based on a traditional Cambodian folktale. Gerald would teach art and work on the backdrops with the students, and I would be responsible for the script and choreography. Folktales have the advantage of not only being entertaining, but also reinforcing the value of cooperation, as well as continuity of tradition.
Self-confidence is important for these children in order to be able to succeed in life and we didn't want them to feel like failures.
Anjali House targets street children from six to seventeen years old who are sent out by their families to sell souvenirs, postcards, and trinkets to tourists, rather than attend school and get the education they so desperately need. It functions as an after-school center where the children get enrichment classes, and help with all of the social challenges that can arrive in impoverished households. The children often come from families who do not value them. Here, each child receives free healthcare, education, food, and clean drinking water. "Let adults earn, and children learn" is their motto.
Our first week was chaotic. The children were a wild bunch, not used to discipline or focus, except for the older ones who had been coming to Anjali House for a few years. It all started when Buntha sweetly asked if she could take on some of the narrator's role because, in the role of Princess Sita, she only had two lines in the play. Sokli, as narrator, had a much bigger speaking part.
I didn't realize it would be a big deal, but when I agreed to give Buntha four more lines, Sokli bawled her eyes out and was inconsolable. Quickly I dispatched Sophea, the Khmer teacher, to talk to Sokli. "No, I don't want to be in the play at all. Buntha can do the whole thing," she whimpered, her body heaving with sobs.
Girls are very proud of their achievements and are usually the best and most disciplined students, while boys are another story. While working on costumes with the girls, from the corner of my eye I saw the younger boys hitting each other with the monkey masks for Hanuman's army that we had just finished making out of paper plates. Sokli was still sulking, but had finally joined in.
Cambodia Travel: From Cambodia With Love
By the second week, I laid down the law and told the children that they were capable of far more than they were giving.  One of the six-year-old girls, Sok, whom I had identified as "slow," was particularly unruly.  I considered telling her she could not participate, but when I gave her the role of Mermaid, I saw how attentive she became, and the seriousness in her face told me she would be fine.  She beamed when I told her how well she played the part.
On the final day before the play, half the students in the main roles were absent, due to Khmer school obligations. Self-confidence is important for these children in order to be able to succeed in life and we didn't want them to feel like failures. I did a group-rallying cry of "WE CAN DO IT" to keep the students motivated. Both Gerald and I had butterflies in our stomach, worrying whether they could pull this whole thing off.
We were not prepared for how well it turned out, or for the level of commitment on the part of the students. After the curtain, the children were very emotional, unusual for Cambodians who do not show feelings easily. Two of the girls hid in a corner, and couldn't say goodbye because they were ashamed that they were crying. The older boys, whom Gerald, as teacher and mentor, had pushed to dig deep inside and let their spirits inhabit the roles, hugged him tightly.
The children said it best:
"When I am acting, it helps me feel confident and trust myself. Maybe when I grow up, I will be brave enough to do things," said Peng Li.
"Gerald told me no one makes a mistake when you draw. I remember this and it makes me brave to draw and not to be afraid" said Say.
When it was time for us to return to our lives, I was sad to leave the students and wonderful staff behind. And I was humbled, reminded that HUMILITY, COMPASSION, NO EXPECTATIONS and AIM HIGH are the lessons these students taught us.
Cambodia Travel: From Cambodia With Love
Related Reading

Explore Cambodia by Bus
When I Finally Realized I Love Cambodia
Facing Culture Shock in Cambodia
Visiting Cambodia: 4 Days in the Country
Have you traveled to Cambodia? Email us at [email protected]pinkpangea.com to share your experience and advice with the Pink Pangea community. We can't wait to hear from you.