Bangkok to Cambodia: How to Cross the Border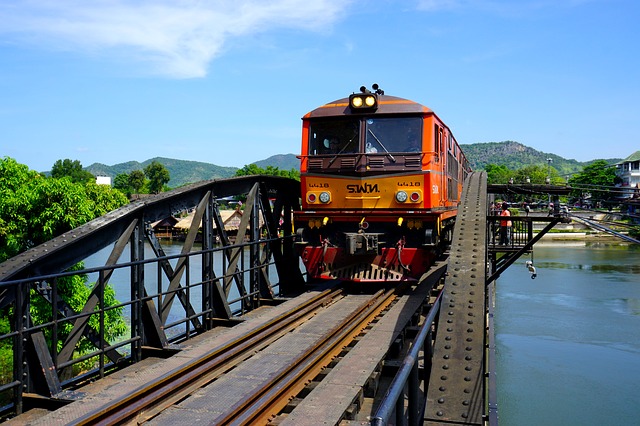 I had been travelling full-time for about a year when I got the opportunity to go to Southeast Asia. My friend and I were on our way to Australia from Europe, and we realized it would be cheaper to stop in Thailand and then go on from Cambodia. I didn't know much about Southeast Asia, but by that time I felt I had established myself pretty well as a low-maintenance traveler, capable of going with the flow and navigating my way through different cultures with little drama.
We first flew into Bangkok, then north to Chiang Mai instead, but when it started to rain after a couple of weeks we knew it was time to leave Thailand and continue on to Cambodia. The ancient temple of Angkor Wat had long been on my bucket list. I did a quick Google search for the best way to get from Bangkok to Siem Reap, home of Angkor Wat. Most travel blogs suggested that if you were too cheap to fly (um, yes) you should take the train to the border town of Aranyaprathet, get a tuk-tuk to the border, and walk across to Poipet, Cambodia, where it would be easy enough to get a bus to Siem Reap. A train ticket was by far the cheapest option, at 48 Thai Baht, less than two US dollars.
We then boarded the slowest train to have ever existed. It took forever. It was hot, it was rickety, it was crowded, but mostly it was just slow. Every time we slowed down, I thought "this has to be it," but it never was.
When I was buying our tickets the attendant asked me if I also wanted a bus ticket from the train station in Aranyaprathet to Siem Reap. She assured me that the bus would be waiting for us at the train station when we arrived, take us to the border and pick us up on the other side. This hadn't been our plan, but she made it sound so easy and it was only ten dollars more, so I took it. We figured that we would make it to the station by about dinner time, maybe the bus would stop long enough for us to grab some noodles, and hop across the border and be in Siem Reap in time to go out for a beer. Easy peasy.
We then boarded the slowest train to have ever existed. It took forever. It was hot, it was rickety, it was crowded, but mostly it was just slow. Every time we slowed down, I thought "this has to be it," but it never was. It made about 20 stops along the way. We didn't arrive until well after sunset, about three hours later than the schedule had indicated.
We stepped off the train and squinted as our eyes adjusted to the darkness. We looked around, and guess what? No bus. I went in search of someone official-looking. A man sat in a tiny office wearing a uniform. I called to him and showed him our bus tickets. He laughed and told me the bus was gone. Great. But then he said that the bus had just gone across the border and we could catch it when we got through. It seemed a bit dodgy, but we wanted to believe him. We caught a tuk-tuk and told the driver to take us to the border.
Everything I had read about crossing the border said that you can purchase a traveler's visa for 25 US dollars at the Cambodian immigration checkpoint, after you leave Thailand. They warned about official-looking "visa offices" that would try to sell you a visa at a higher price. Sure enough, our driver pulled up to an office and announced that we had arrived at the border. Someone was waiting with forms for us to fill out and told us our visa was 35 dollars. Nope. After we had argued with the guy for a while, he pointed us in the direction of the actual border.
Cambodia is not Switzerland, things are not always organized or on time. Once you realize this, you'll be fine."
When we got through and our passports had been stamped out of Thailand, we walked through the weird in-between-zone to Cambodia. My first impression of Cambodia was memorable. The immigration checkpoint was an empty room with a couple of plastic chairs off to the side. The door was propped open, letting the hot muggy air in, and a little box fan was whistling feebly in a corner. About five guys were milling about behind a glass partition. I don't even think they had a computer back there. I had heard there could be long lines, but I guess we were lucky. There was no one else in there. We filled out an entry form, gave them the 25 dollars, and they stapled our visas to a page in our passports.
When we stepped back outside I braced myself for our next challenge: finding a bus to Siem Reap. Poipet is not exactly charming. I got the feeling that this was not the kind of place we wanted to be wandering around at night. But as soon as we stepped out of the office and into the street, a man waved to us and yelled "Siem Reap?!"
Bangkok to Cambodia: How to Cross the Border.
He was standing next to a plain white van and we could see that it was nearly full of people. We hesitantly showed him the bus tickets we had bought a hundred years ago, at the train station in Bangkok, and asked him if maybe he knew where that bus was. To our surprise he told us this was the bus, and gestured for us to get in. I was reassured when I saw that the other passengers were backpackers who I recognized from the train. We made it to Siem Reap that night and checked into a lovely guesthouse.
Now, I look back on that night as an experience that really tested me as a traveler. I could have done more research about what to expect from traveling in Southeast Asia, but I think it can be summed up by what one of my fellow backpackers said on the bus to Siem Reap. After detailing how he had been scammed into paying for his visa twice, he paused thoughtfully and declared "Cambodia is not Switzerland, things are not always organized or on time. Once you realize this, you'll be fine."