How to Make the Most Out of Traveling with Friends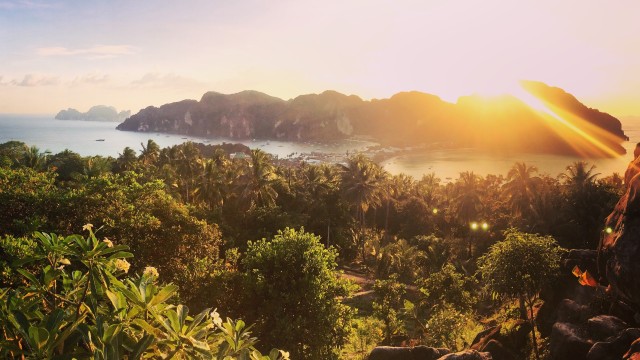 Group Travel: How to Make the Most Out of Traveling with Friends
What does it mean to travel with a group, let alone a group of your closest friends? The answer is an adventure of a lifetime. Having just traveled with my three very best friends to Thailand and Cambodia for three weeks, we planned as much as we knew how to do ahead of time, but during our trip learned several tips that definitely would have made group travel a little easier.
Group Travel: How to Make the Most Out of Traveling with Friends
Budgeting
Discuss up front what everyone's individual budgets are for the duration of the trip. How much is everyone willing to spend on food, travel, accommodations, alcohol, and general activities? It's likely there will be some slight differences in who is willing to spend money on what. A prime example is when we went to Koh Phi Phi Islands and really wanted to snorkel in the crystal clear water with the fish.
There are an overwhelming amount of guided snorkel trips that range anywhere from $30 to $65. As much as I wanted to snorkel, if I had to make a choice, I would choose to do a free hike and opt for a less expensive tour option. Although relative to how much things cost in America, it was extremely affordable, but I had limited myself to roughly $1,000 for the whole trip (roughly $40 per day) and wanted to stay as close to that as possible.
Risks
What is everyone's personal threshold for taking risks? This one may be hard to determine up front, but if you're good enough friends you can probably get an idea. In Koh Phi Phi we walked around the beaches, found a boat driver unaffiliated with a snorkel company and asked him how much it would cost us to get on his boat for a few hours. Was it a good idea to get on a boat with a random stranger? Luckily, there were four of us. We felt like we could take him if we needed to.
The best advice I can give is to do your research, ask other tourists for advice for general safety rules, and always use your judgement!
When renting motorbikes in Pai, they wanted to keep our passports as collateral for returning the bike. I have read, been told, and felt like we should NEVER hand over our passports, even if that's protocol. We simply asked if we could leave a cash deposit instead, left $30, and rode off with our passports still in hand.
In Phuket we learned taxis are not regulated, therefore they do not have meters, and you pre-negotiate a price and then hop in. We stood at the street flagging down cabs, when a gentlemen came up and asked us if we needed a taxi, there was a long line of cars labeled "taxi" behind him so we said sure!
Of course the one we hopped in had a cardboard sign that said taxi and as soon as we got in, the sign came down. I sat in the backseat constantly making sure the door would unlock if we needed to bail, although we didn't need to, our driver took us exactly where we needed to go. We did opt for a tuk tuk on the way home, for the pure benefit of the fresh air, and ability to jump out quickly if need be!
Luckily, traveling with a group alleviates a lot of risks due to pure strength in numbers. The best advice I can give is to do your research, ask other tourists for advice for general safety rules, and always use your judgement!
General decisions
Outline up front what the most important activities are for each person. This will make making small decisions much easier. For a group of four of us, there were different things everyone ABSOLUTELY wanted to do. For one friend it was snorkeling, for myself it was motor biking in the mountains, others it was biking Angkor Wat. If you define those and build a plan, it makes the smaller decisions easier. I was not super excited about the Grand Palace in Bangkok: it was our last day and I was exhausted, desperately missing our Marriott hotel beds we had splurged on, but another friend really wanted to see it. I had gotten to motorbike, so I went to the Grand Palace.
Also determining the risks and budget up front will help make decisions as well. There were several times we were just so hungry we stopped at an overpriced restaurant in Chiang Mai, when some of us would prefer to eat street food on the curb. There is too much good street food: I felt like I could eat all day long.
One of our friends really wanted to bike Angkor Wat, but with the 9-mile bike just to Angkor Wat, plus the 500 acres of available terrain to bike through, not all of us felt like we could keep up
It's okay to not do everything together! From the beginning, we wanted to all stick together and never split up, but the reality is you will want your alone time, and not everyone will want to do everything and that's okay. In Cambodia, two of us really wanted to go to the Angkor National Museum and others preferred not to spend the money on admission (see, budget decisions and priorities!) so they explored the markets while we explored the museum. Everyone was happy and we met up at the hostel a few hours later.
Transportation
How are you getting around and how much are you willing to spend to do it? I would have preferred to take trains and buses to save money and see a bit more of the countryside, but we were on such a tight timeline we decided to fly. Luckily, the ASEAN pass through AirAsia was extremely affordable.
Even just throughout the city, how do people feel about walking several miles per day? I always preferred to walk, but in extreme heat and sometimes challenging terrain, spending the money on a tuk tuk was worth it. Is biking an option? Many hostels in Chiang Mai and Siem Reap offered bike rentals but that depends on how comfortable you are on a bike. What about renting motorbikes?
Three of us rented motorbikes in Pai, while our other friend preferred to ride as my passenger. Explore all the options. In Bangkok, we were feeling adventurous and took the local bus for 7 cents each way and had zero issues. There was a slight complication in figuring out the route to get back to the hotel (because why would it be the same bus that makes a circle?), but a short stop in a place with WiFi let us quickly determine the bus we needed to get on.
My general feeling after returning is that, yes we got on each other's nerves (I might have had a breakdown hiking to the Phi Phi Viewpoint, frustrated with how much snorkeling was going to cost) and some people might not have gotten to do everything they wanted (one of our friends really wanted to bike Angkor Wat, but with the 9-mile bike just to Angkor Wat, plus the 500 acres of available terrain to bike through, not all of us felt like we could keep up).
I wouldn't trade it for the world to have this adventure with my very best friends. It's telling and exhausting to not be able to just wander by yourself and make every decision I want to, but being able to share the amazing experiences with my dearest friends is unmatchable. Every moment of anger and frustration was immediately offset with enjoyment and awe as we looked out from the Big Buddah in Phuket and the Phi Phi Viewpoint on the Koh Phi Phi Island. It humbled and reminded us of this rare experience.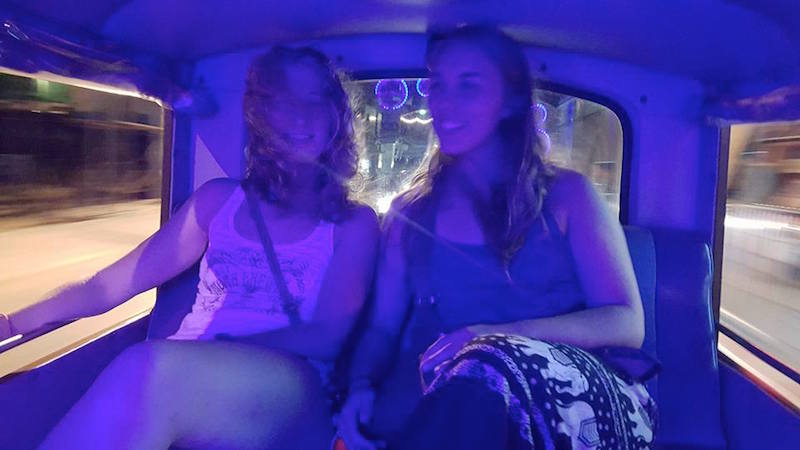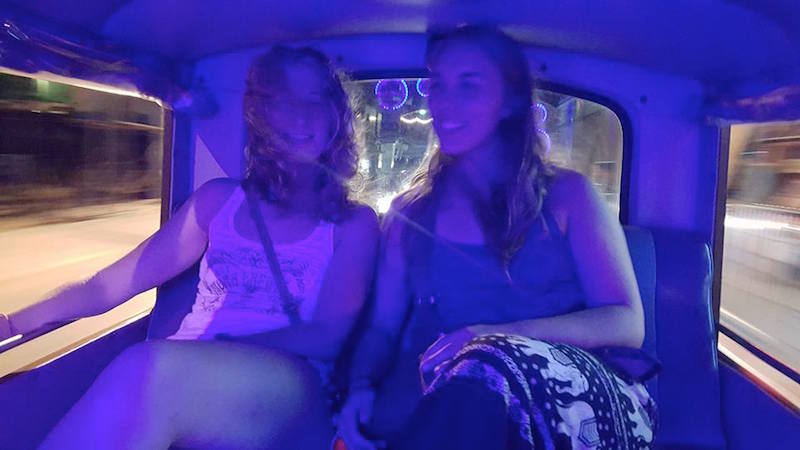 Group Travel: How to Make the Most Out of Traveling with Friends