7 Friends Take On Croatia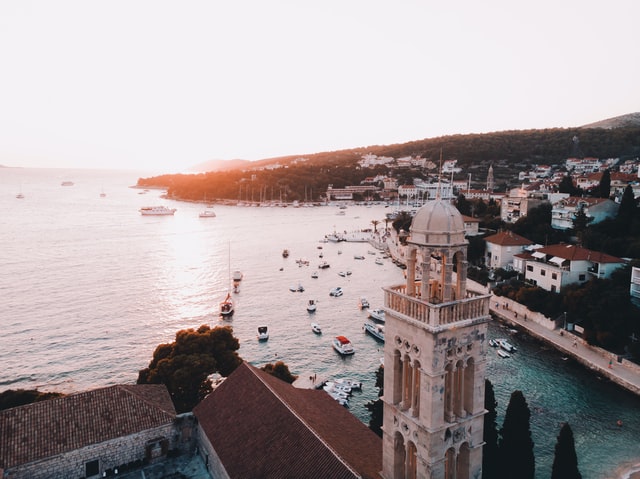 For those who have ever organised a successful group trip, I salute you. Back in August 2014, I attempted to drag six other 19-21 year olds around a country that was not quite as touristy as we initially thought – Croatia.
In recent years, holidays to Croatia have become popular. And in fairness, our first few destinations felt comfortable and easy to navigate. We started in Dubrovnik and arrived to beaming sunshine. We walked the famous walls, explored the island of Lokrum and ate glorious food.
We then ventured up to Split, crossing briefly into Bosnia and Herzegovina and back out again, where the sun followed us all the way to Hvar. Next was Skradin, just a one night stop to take full advantage of the nearby waterfalls. Lounging on our private roof terrace in the only hostel in the village, playing cards and drinking cheap beer, is one of the warmest memories I have of our 10-day trip.
So then what happened? Well, then we went true backpacker and 'off the beaten path', as they say. Even the sun disappeared as we boarded our next coach, refusing to move another inch further into the north.
For those who have ever organised a successful group trip, I salute you.
The grey cloud and rain then descended as September hit. 'Did we not know that high-season was over now?' the weather seemed to say. Perhaps that explained why our hostels had been so cheap. We wobbled for a bit, not expecting the rain and certainly not packing for it.
We also began to realise just how different all our needs were. Eating out was just one problem. Has anyone ever tried catering for a:
Vegetarian
Gluten intolerant (me)
Milk allergy sufferer
Extremely fussy eater
Someone with a 'sophisticated palate'
Someone who had budgeted for soup
And thankfully, someone who didn't really care?
The fussy eater usually dictated where we ate each night.
We soon turned to shopping in supermarkets as everyone's budgets (and patience) began to dwindle. We also very quickly took to the alcohol – we were university students, after all.
"You sound like you're part of Monty Python" laughed one bartender in Rijeka (or was it Zadar?) when I drunkenly asked for extra tequila in my Long Island Iced Tea. In another bar, a grinning Croatian family sent us over a strange concoction of berries and booze. Was it nice? I can't remember, but I do remember that I didn't really care: the bar sold glasses of wine for the equivalent of 70p. We had already been there a few hours.
I return to the point I made at the beginning – the difficulties of organising a group trip.
As the most travelled member of the group, I had been tasked with the organising. Honestly, I didn't mind. I only cared when my plans began to unravel. No one can prepare for the weather, and we hadn't prepared for the fact that barely anyone spoke English in the lesser-known areas. You can't prepare for coach delays and cancellations, yet it took me a few days to realise this and laugh at the misadventures we experienced.
In fact, one of our fondest memories is of a coach cancellation due to bad weather. There were no trains and our destination was a four-hour drive away. We had to get a taxi – not so easy for a party of seven. After some haggling from the most charismatic member of the group, we secured a minibus for a reasonable price and were on our way. It was truly the most bizarre four hours of the holiday.
We soon turned to shopping in supermarkets as everyone's budgets (and patience) began to dwindle. We also very quickly took to the alcohol – we were university students, after all.
We stopped for sandwiches around halfway there because the driver was hungry. Fair enough, but his poor English had meant we didn't really know this was happening until he returned with said sandwiches. In the space of a few hours, he also became addicted to the cigars one of our group members was smoking. And when we eventually arrived in the city, it was clear none of us had any idea where we were going. We were dropped off at the train station in a hurried panic and a need to escape the cramped vehicle. Of course, it was raining.
It was a trip of disasters, unexpected mishaps but also amazing memories. Whilst we were all good friends, we had never lived together or spent this much time around one another. The holiday was meant as a kind of bonding activity before we moved into a seven-bedroom house for the next university year.
Our trip ended at a simple children's park in Zagreb. Like the kids we still were, we'd grown bored of museums and aimless sightseeing. We resorted to a game invented by the males of the group back in Split – sneakily tip a bottle of water over each other. It was aptly named 'water wars.'
As I started recording and photographing the final moments of our quick run around Croatia, I realised just how much fun we'd had over the previous ten days.
I thought back to the giggling in the pitch-black dorm rooms, the bickering when we were all hungry and couldn't decide where to eat, the time we were all called into action when one of us got cramp whilst swimming, and the day we accidentally wandered onto a nudist beach.
It's a holiday we still look back on nostalgically now we've graduated and are getting old (and less tolerant of alcohol). I wouldn't change any of the questionable hostels, grey days or delayed buses for anything. Although I do slightly wish I could have eaten gluten.
Photo by Unsplash.