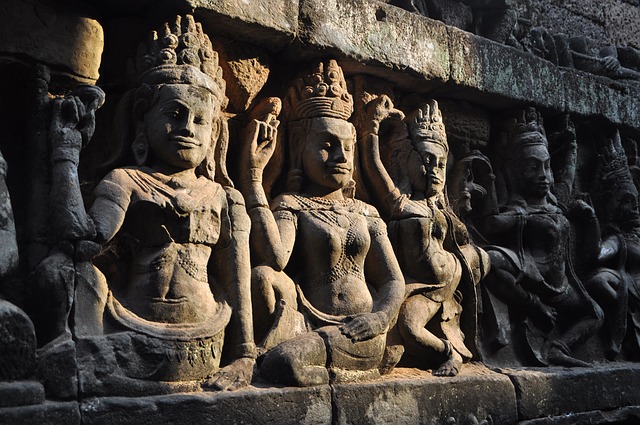 Most people immediately think of Phnom Penh and Angkor Wat when they think of Cambodia. But through living here for almost five years, I've discovered that there's more to see in Cambodia when you form a friendship with the locals, who can recommend the best off-the-beaten-path locations. And one of the top local tips is to travel Cambodia by bus. When my friends first suggested this, I was hesitant.
Highways are still under development. But as my local friends pointed out to me, this mode of transportation is more comfortable than taking a shared taxi (which often squeeze in more than six people plus luggage!) Traveling by bus is also convenient, as most operators provide water and free Wi-fi for the long journey.
As there are plenty of bus operators around Cambodia, you can either do a quick search online or check the local bus apps. Start in either Phnom Penh or Siem Reap, as these cities have international airports. These bus journeys allow you to enjoy the local scenery on the way.
Here are a few places to check out while traveling around Cambodia by bus.
Explore Cambodia by Bus
Kampong Som (Sihanoukville)
Where: South coast
What: Premier beaches and islands. Beaches, waterfalls, seafood, and island-hopping tours. When you stay in the hotels along the seafront, you'll be able to walk directly to the beach.
While this province is currently experiencing mass development, visitors still flock to Sihanoukville for its private island beaches. Backpackers head to Koh Rong, which has plenty of pubs and cheap hostels, while other travelers prefer the quiet Koh Rong Samloen.
How to get there: Buses go to Sihanoukville from Phnom Penh daily via National Road #4. The journey takes 4 hours and costs around US $7-10 one way (depending on the bus operator).
Battambang
Where: Northwest

What: Home to the finest rice and popular Bamboo Train, Battambang is one the largest towns. It is also close to Siem Reap and has similar Angkor-era temples, a museum, beautiful rural countryside and old colonial buildings. I found the province to be more laid back than Phnom Penh, with less traffic. This makes exploring the town by motorbike or remork (scooter rickshaw) easier.
Check out a Phare Circus performance, see the Battambang Man monument, and watch millions of bats leave a cave at sunset at the Phnom Sampov Resort.
How to get there: Buses to Battambang depart daily from Phnom Penh. The journey takes 6 hours and costs around US $8-12 one way.
Kampong Cham
Where: North

What: Cham refers to the Muslim community of Cambodia, many of which live in this province. Kampong Cham is home to a famous bamboo bridge that is built entirely of bamboo. It allows people on the mainland to cross to Koh Paen, an island across the Mekong River. The bridge is made of 50,0000 sticks of bamboo and built during the dry season. It can hold cars, bullock carts, motorcycles, and trucks.
However, just before the rainy season, locals dismantle the bridge and store them before the river floods. When dry season arrives, they rebuild it.  
How to get there: Buses to Kampong Cham depart daily from Phnom Penh. The journey takes 3 hours and costs around US $5 -7 one way.
Kirirom, Kampong Speu
Where: Southwest
What: The Kirirom National Park is located in Phnom Sruouch in Kampong Speu province. The name Kirirom means 'Joyful Mountain'. It covers an area of 35,000 hectares and includes waterfalls and lakes. The Kirirom area is cooler than the city. We stayed at a forest resort surrounded by tall pine trees, tents, and cabins, which made a perfect weekend escape from city life.
How to get there: Buses to Kirirom depart daily from Phnom Penh. The journey takes 2 hours and costs around US $2-8 one way.
Kep
Where: South

What: Kep is 40 minutes from Kampot town and has its own pretty beach. Visitors especially enjoy the fresh crabs from the Crab Market. Here, you can watch local women walk into the water to pick up cages of crabs. They will provide you with locally made chili to eat with the delicious seafood.
During festive celebrations, locals visit Kep to spend time at the beach, bringing their picnic mats and home-cooked meals, or visit Rabbit Island, a boat ride away from Kep pier.
How to get there: Buses to Kep depart daily from Phnom Penh. The journey takes 4 hours and costs around US $6.50-8 one way.