Argentina in My Blood: Part I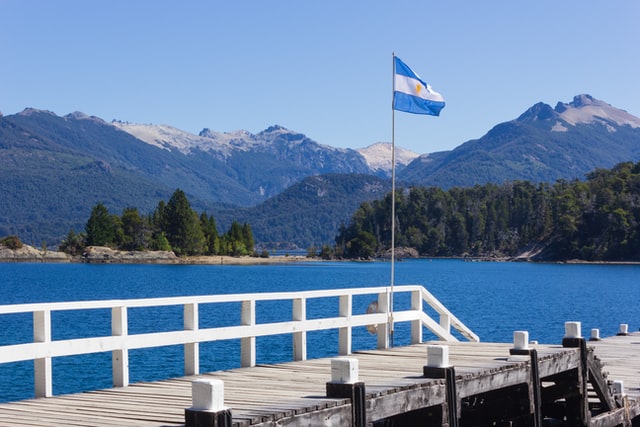 From the moment we stepped off the plane, my father would not stop moving. I, on the other hand, was fussy and didn't like this time change and found myself feeling dizzy from all of the plans my father had arranged.
While observing my father who, at 52, was filled with energy, I learned an important travel trick. If you arrive in a new country, power through the first 12 hours and don't sleep. Then, as the evening approaches, shut those tired eyes and wake up on schedule with the rest of the continent. Just be sure to down a few cortados (espressos)!
The itinerary of this trip included some father-daughter bonding, business, visits with family, and the possibility of seeing Patagonia.
First my father showed me the family business. In a factory that smelt of leather and dye, we spent 12 full hours drawing, touching textiles and discussing the practicality of handbags. Then, drained yet trudging on, we set out for the town of Rosario, where most of my memories in Argentina rested.
Argentina in My Blood: Part I
We arrived early in the morning, and my Tia Betty picked us up from the train station. At this point of my life, I was not fluent in Spanish. I was 19 years old, and despite my years of Spanish classes, the Castellano accent was foreign to my ears. I found myself misunderstanding my Tia as she squeezed, shook and kissed my cheeks.
"¡Rena! ¿Me entiendes?" scoffed my tia as she looked over her lenses at me. (Little highness, do you understand me?)
She had wavy, strawberry blonde hair, light eyes, and many wrinkles that showed she'd spent most of her life smiling. My Tia Betty was warm, yet aggressive with a great sense of humor.
"¡Si! Yo te entiendo Tia. Lo siento, no hablo mucho español pero si yo te entiendo." Yes, I understand Auntie. I just do not know how to speak so well.
I felt ashamed that I wasn't able to express myself to my family.
She stared over her glasses at me, and then my father. She pinched my cheek and said, "¡Ay, Que bonita estas! ¡En tiempo, todo va a ser en tiempo!" (Oh, how beautiful you are! All in good time.)
While observing my father who, at 52, was filled with energy, I learned an important travel trick. If you arrive in a new country, power through the first 12 hours and don't sleep.
They continued to talk in a series of words filled with sh and ch sounds, as I nodded off on the table. With a slight jolt, I was awoken and wobbled down the hallway into the room my father and I would share. Two little girl twin beds and toys everywhere. Although the room looked new, it was a home I knew from distant childhood memories.
The following evening, we celebrated our reunion at El Bar Toni, which was the building next to my Tia's house. Here you could always find my Great Tio Silvio, sitting by the window with a group of friends. A comedian of very few words, he had the voice of the Godfather if only he could sing in baritone. With only seven fingers on his hands, he liked to tap his knuckle nubs on the table. This was my crazy uncle's favorite place. I also knew it as the place with the best sugro di carne ravioli in all of Argentina.
One by one my family members arrived. Though their faces had slightly changed with time, we recognized each other instantly and greeted one another with hugs and kisses. I spoke English to some of my cousins and listened intently to their stories in a language I could barely speak yet almost fully comprehend. One of the newest members of my family, Charito, took a liking to me. Her precious smile and obsession with Tinker Bell gave us lots of material to play with.
For four years, there had been a great distance between us and my Spanish had not improved. Despite these factors working against us, I loved spending time with my extended family. No matter the time spent apart nor the distance between us, we would always be bound by blood. If you extend an arm to extended family, you'll likely receive a helping hand and learn more about your own identity. And if you don't reach out to them, then you will never get to know these compassionate people who long for you to remember where you come from.
Argentina in My Blood: Part I photo by Unsplash.