Freediving in the Philippines…with Sardines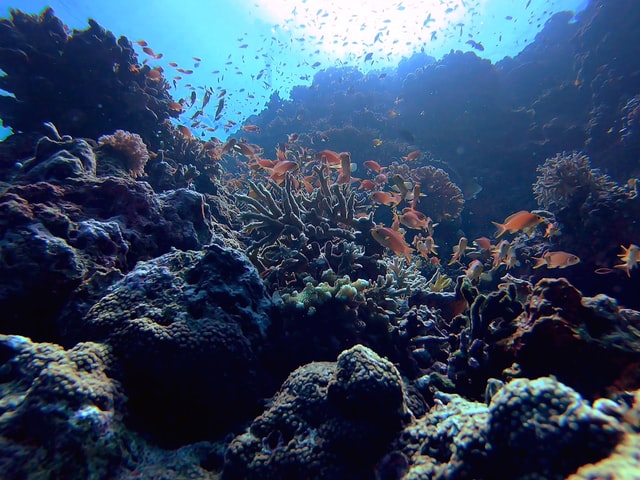 Just ten metres from the shore in Moalboal, in the Cebu province in the Philippines, you can swim with shoals of sardines year-round. Moalboal is a coastal resort on the western side of Cebu, a popular little town with a handful of bars, restaurants and hostels. I stayed there for one night while travelling from the south to the north of Cebu. When I heard about the sardine run I was keen to see what it was about, but I wasn't prepared for just how spectacular the experience would be.
I was in the Philippines for three weeks in total, beginning and ending in the capital of Manila on the island of Luzon. I booked an domestic flight to Cebu, an island to the south. It sits right in the centre of the Philippine archipelago. Cebu is largely known for its whale sharks, and a whole industry has grown out of the feedings in Oslob. Tourists pay to float in life jackets near the shore while locals feed the huge creatures. I chose to bypass this experience, and continued to travel south via bus and ferry to the island of Negros where I got my PADI qualification. I visited Moalboal on my way back to the airport in Cebu, where I would catch a return flight to Manila.
I went to Moalboal with the expectation that I might put my shiny new PADI to good use, but it wasn't necessary. The best thing about the sardine run is its accessibility. There is no need to pay for a tour and you don't even need to be able to dive, simply hire a snorkel with loose change and enter the clear, blue water from the beach.
I took deep breaths and bowed down through the water to get closer, but the huge shoals parted around me as I approached them. I spun around horizontally, watching the silvery fish as they darted all around.
I hired a snorkel from my hostel and crossed the road to the shore. Leaving my clothes on the beach I stepped into the sea. The beach was narrow and the sand was coarse. As soon as I could, I pulled my mask over my eyes and put my face into the water. I was shocked to see that I was a metre from a sea turtle grazing happily on the sea bed. Relieved I didn't step on it, and with my heart pumping, I floated in the water and watched the turtle for a while. I gesticulated excitedly at another tourist nearby, but in turn he began to beckon me over, pointing at something else. I couldn't understand what he was saying so I swam over, and there was another turtle! It was crazy, I was just metres from the beach and barely out of my depth.
After watching the turtles for some time, I let them be and swam out to sea. I didn't have to go far before I began to see a variety of fish. I saw shoals of larger fish deeper down before I came across the sardines. When I did see them, they were instantly recognisable due to their silvery sheen and the scale of the shoals. They looped through the water like flocks of birds making beautiful patterns. I took deep breaths and bowed down through the water to get closer, but the huge shoals parted around me as I approached them.
Freediving in the Philippines…with Sardines.
I spun around horizontally, watching the silvery fish as they darted all around. Beyond the throngs on each side and below, different varieties of fish also rode the currents. It was breathtaking to be right in the middle of it. My biggest regret is that I didn't have a underwater camera to capture the amazing scenes.
I didn't return to shore until I was worn out from swimming and holding my breath. But if I'd stayed in Moalboal another night there's no doubt I would have gone back the next day. Unfortunately, I had a plane to catch from Cebu. If I'd known about Moalboal beforehand I might have stayed there on my journey down the island too, rather than in a randomly-placed hotel with dorms near Oslob, which was nice but a bit pricey for my backpacker budget and quite isolating, as many of the guests were holidaymakers in groups. Moalboal had a much more bustling and sociable vibe. There's also canyoneering on the west coast of Cebu at Kawasan Falls, not far from Moalboal, which I heard great things about.
I'm sure that diving around Moalboal is awesome, but you don't need to dive to see the sardine run in its full glory. It's a unique wildlife experience in a beautiful part of the world that is relatively unknown, and almost free to enjoy. For this reason and many more, Moalboal definitely deserves a spot on the Philippines travel itinerary, particularly for cash-strapped backpackers. Why not skip the east coast of Cebu and the cynical shark feeding and visit the west coast of the island instead?
Photo for Freediving in the Philippines…with Sardines by Unsplash.