Dubai Travel: In Conversation with Regina Siles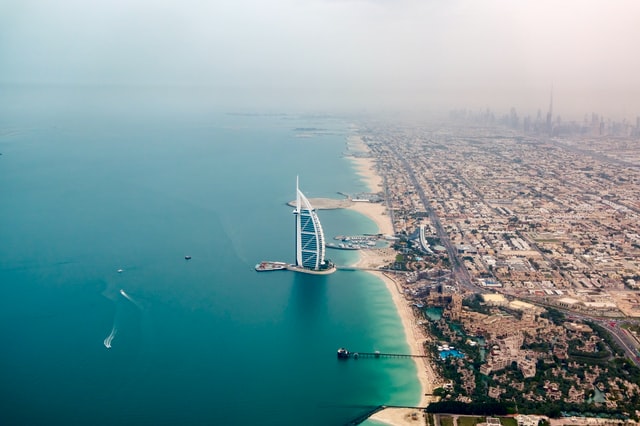 Interested in traveling to Dubai? Here, Regina Siles shares the highlights and challenges, as well as her tips for an amazing experience abroad.
Tell us about yourself! What do you do when you're not traveling the world? Where are you from? Where do you currently live?
My name is Regina Siles. I'm 29 years old and I'm a teacher. I am originally from Philadelphia, Pennsylvania, and I currently live in Dubai, United Arab Emirates. I'm a wife and a mommy to a beautiful one-year-old baby girl named Stella.
I love teaching so I created a teaching blog with posts of my experiences and creative ideas for teachers. When I'm not traveling the world, I really love to draw. My Instagram is filled with sketches of things that inspire me, mostly cartoons.
What made you decide to move abroad? How long did you live there for? Tell us about how you spent your time in your new destination — whether you worked, studied, traveled, or did something else.
I moved to Dubai because of my husband. To make a long story short, I was working in Philadelphia, and I didn't really like my job. I went to Atlantic City with my girls for New Year's Eve and I bumped into an Italian man at the casino. We ended up talking all night and exchanged numbers. We kept in touch over a few months and he invited me to come visit him in Rome, Italy.
We had such a great time, he asked me to stay with him for the summer. So I packed up my things and stayed with him in Italy. A month later, he got a job in Dubai and I followed him over here. After exploring all of the tourist attractions, I found a job teaching English to first, second and third graders. We have been living in Dubai for 2 years now.
What were some of the biggest challenges you experienced while living abroad? What were some of the greatest highlights?
I've experienced quite a few challenges, such as the language barrier, adapting to some rules, culture shock, and an overdose of sand and sun. The people in Dubai do speak English but some are really hard to understand. The culture is very different from back home.
In Dubai, they pray five times a day and they play a prayer song that can be heard all over Dubai from the malls to the schools, and even from the street. It was a little weird when I first heard it but now I'm used to it.
Some of the rules are were a little hard to adapt to. In fact, one of the reasons my husband and I got married so fast was because it was illegal it live with my man out of wedlock. It can get extremely hot over here specially in the summer. The temperature can reach 40 degrees Celsius.
Some of the highlights are the beautiful beaches, beautiful hotels, safety, and kid friendliness. There are cameras all over Dubai–on the street, inside and outside of buildings, and even in the bathrooms (just joking). I also love that I can go to any place and find fun things for my daughter, like playgrounds, fun centers, and arcades.
Dubai Travel: In Conversation with Regina Siles.
What do you wish you knew before you moved?
I wish I had educated myself more on the rules of living in Dubai before I moved here. I wouldn't have been as surprised as I have been over the past couple of years. I made the assumption that Dubai was as free as America, and I shouldn't have.
Travel tips: There many stunning Dubai hotels. When searching for one, there's no need to settle!
Any favorite restaurants/events/sites that you'd like to recommend? Tell us what made them great!
I really enjoy going to City Walk with my family. It's a nice family setting filled with restaurants, cafés, shisha, and stores. It's outdoors so it's a perfect place to visit at night and just walk around. There is also a nice indoor and outdoor play area for kids so you can have dinner with your family and friends while your child plays where you can see her.
I also love the water show at the Dubai mall. It's very cute, and my daughter loves to watch the water show as we dine outside. Dubai has a lot of great restaurants from all over the world. It's also great to find places from back home that I'm familiar such as Fridays, Applebee's, California Pizza Kitchen, and PF Changs.
One of my favorite restaurants in Dubai is a seafood restaurant called BowlFish, where they serve fresh seafood. It's so good! I also love Fratello Di Bufala, an Italian restaurant where they serve all types of pastas and pizzas.
Are there any tips you'd give someone else considering a similar move?
Research the rules of living in Dubai and make sure you are comfortable with them before you make the big move. Also, if you're coming from a western country, I recommend looking for housing in Silicon Oasis, Arabian Ranches, JBR, Marina, and Bur Dubai.
Is there anything that women specifically should know before they move to your destination?
Ladies are very restricted here, specifically in clothing and job placement. A lot of things need your husband's permission if you're married. It's illegal to be pregnant out of wedlock so be mindful of that. However, it's okay to be a single mother with children.
Women should cover their arms and legs in public places. Some buildings request that women cover their hair. However, tourist attractions are very lenient.
Don't be surprised or take offense if some men don't acknowledge you or if some men over-acknowledge to the point where you feel uncomfortable. A lot of the women and men are separated here even in the school.
Lastly, only wear bikinis on private beaches!
Photo for Dubai Travel: In Conversation with Regina Siles by Unsplash.