Sacred Space on Maui's Kaanapali Beach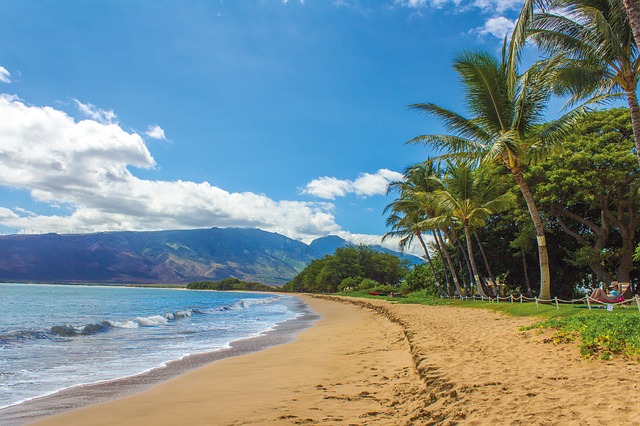 My days at Kaanapali Beach in West Maui are soothing as salt water rushes over my skin. I calm my mind with each paced breath I take during snorkel sessions. In my mind I murmur humuhumu, as the locals do, when I see humuhumunukunukuapua'a swim below me. This is the official state fish of Hawaii, a brightly colored character that's easy to identify for its geometric patterns. It's a triggerfish, and the Hawaiian translation of that beautiful gargantuan word is "triggerfish with a snout like a pig." As I glide in the water, I spot humuhumu, yellow tang, trumpetfish, and Moorish Idol, all distinctive in their coloring and shape.
In no way am I a fish expert. I've come to recognize these local critters through visits to Maui Ocean Center, which is so much more than an aquarium. This local oceanography center has incredible tropical reefs to explore, and their educational programming isn't just for kids. Each time I visit, I am in awe as I linger over the feeding sessions, as divers swim below the surface and glide past sharks and rays in a harmonious ballet, all visible to me on the other side of the glass. I'm able to fully appreciate my own shallow dives with snorkel gear thanks to these visits.
Just above where I snorkel, teenagers and adventure seekers take a different approach to enjoying these same waters. Alongside my favorite snorkel spot is Black Rock, a hefty formation of lava rock jetting out from Kaanapali's sugar-sand beach. The brave swim out into the water beyond snorkelers, climb up the pointed landscape, take a deep breath, and leap or cannonball into the depths below. This rocky cliff is where Chief Kahekili demonstrated skill in lele kawa, cliff diving, as he earned respect and regard from other warriors on the island.
From sampling regional cuisine and celebrating the bounty of this island, to melting into a relaxed state of being and making eye contact with sea life, I am at peace here on Kaanapali Beach.
Visitors casually test their own skills throughout the day, but all these years later an honorary tradition continues with a nightly cliff diving ceremony performed by skilled local divers. First, modern day warriors run through the landscape to light tiki torches. Then visitors witness a diver climb to the top of Black Rock to make a graceful entry into the sea below. It's a tradition that's been reenacted for years, and one I always look forward to seeing on each visit.
From its development as a native community, lauded by Hawaiian royalty as an ideal retreat, through years of plantation harvesting, and now as a popular vacation destination, Kaanapali Beach is rich in history. On this particular trip, as in the past, I took a stroll along the Kaanapali Historical Trail, a free historical walking tour, to visit ten lava rock monuments detailing the area's history.
This is where I see taro plants noting the long history of agriculture on the island. Considered sacred, taro has sizable leaves in the shape of hearts, and poi is made from its underground plant stem. Taro is a Hawaiian staple, yet visitors most often encounter poi—sort of like a pale purple mashed root vegetable—at luau dinners. I've also dined on taro hummus with taro chips at local eateries, eager as I am to sample regional foods.
Each day during my retreat on Maui I savor local fish dishes at restaurants dedicated to serving long-line caught fresh fish. I not only want to try these distinct flavors—of Monchong, Mahi-Mahi, and Ono—but also want to support the local fisherman intent on sustainable practices. Eateries are sprinkled all along Kaanapali Beach, and I take turns sampling what each resident chef has on offer.
Sacred Space on Maui's Kaanapali Beach.
I try Mahi with a macadamia nut crust, topped with crab and served with coconut sesame rice and just the perfect hint of pineapple. I dig into pan-seared Hawaiian snapper served with creamy coconut grits and a punch of citrus. And I linger over Monchong fish encrusted in parmesan with a lemon-caper reduction, served alongside fresh local veggies. I pay attention at these eateries, recognizing their commitment to serving produce from local Maui farms and keeping the island's agricultural traditions alive and thriving.
So much of my time in Kaanapali is about retracing history and connecting tradition with the present. From sampling regional cuisine and celebrating the bounty of this island, to melting into a relaxed state of being and making eye contact with sea life, I am at peace here. My pace is slowed, my mind is clearer, and my senses tune in to the stunning landscape of what Hawaiian royalty knew all along: this place is sacred.
Photo for Sacred Space on Maui's Kaanapali Beach by Pixabay.