Maui Travel: 48 Hours in Paradise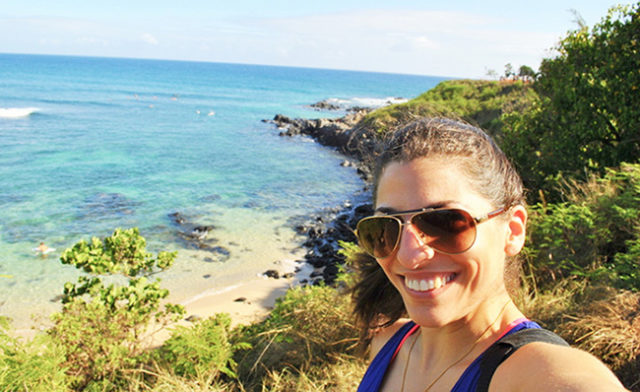 Hawaii has captivated the world's attention for over a century. With lush rainforests, towering volcanoes, and beaches with all kinds of sand colours, it's no wonder this paradise has been a top tourist destination for so long. It's said that there is an island for every taste and yet most tastes seem to flock to the second biggest of the eight main islands: Maui. What's the hype all about? On my Maui travel adventure, I took 48 hours to find out.
Maui Travel: 48 Hours in Paradise
Day One: Lahaina & Lanai
7:30 am
Sounds early, doesn't it? Don't worry, jet lag will wake you up long before this starting time. Head over to Cafe Cafe on Lahainaluna Road, where the menu is health-conscious and the coffee is roasted in Maui by the Maui Oma Roasting Company. Enjoy your breakfast on the front patio and enjoy a rare quiet moment in the streets of Lahaina.
9:15 am
Pack your swimwear, towels, and snorkel gear, and head to Lahaina Harbour, to catch the ferry over to Lanai. Known as the Pineapple Isle, Lanai is not on the usual Hawaii itinerary. Blame the pineapples, really. They were the island's main industry but are now gone to make way for intrepid tourists looking for a break from the crowds.
Make the most of your day on the island. Take a road trip into Lanai City and head back to Manele Bay to laze on Hulopoe Beach. The roads are winding but once you hit the top of the hill, the landscape opens up to the flat Palawai basin ahead and the majestic and often cloud-covered Munro trail to the East.
In contrast to the dramatic landscape of the drive up to Lanai City, Hulopoe Beach is quiet, with only a handful of people sharing in the isolated calm. Tidal pools, surfing, and the occasional whale popping out of the water in the distance make for a peaceful retreat. The fabled Puu Pehe (Sweetheart's Rock) is also a short walk away, and offers great views of the rocky cliffs that make up most of Lanai's coastline.
4:30 pm
You may have noticed that the ferry ride offers stunning views of both Lanai and Maui. This is true especially at magic hour, where the peaks of Pu'u Kukui and Haleakala are lit up in the warm setting sunlight. Don't forget your camera!
6:00 pm
With the setting sun beating some serious heat down on you, cool down under the Banyan tree. The entire block is covered by one tree that has expanded over the years, enjoyed by tourists and locals alike. Sit down on one of many benches with a cup, cone, or mo'o of Hawaiian gelato from Banyan Treats across the street (Kona mud pie is highly recommended).
6:30 pm
To counter the day's isolation, head to Front Street in Lahaina. There you will find restaurants, shops, art galleries, historic buildings and museums, and lots and lots of people. Make sure to take in the spectacular sunset at the harbour around 7 pm.
7:30-8:00 pm
You're spoiled with culinary choices in Lahaina. There's nothing better to savour than some seafood! We're on an island after all. I walked into Lahaina Fish Co. to get my fill of seafood. The macadamia-nut crusted Mahi Mahi with Moloka'i sweet potato mash was to die for!
Day 2: The Road to Hana
7:00 am
This morning, we're trading the sunny and dry west side of Maui for the moody, unpredictable, and wild northeast end. The road to Hana is one of those epic road trips that take you through some of the most beautiful landscapes you will see on the island. Twisting through rain forests, passing sheer cliffs, waterfalls, and small towns along the way, it's one of the top Maui experiences, so the sooner you hit the road, the less crowded it will be for all the stops you'll want to make. Check for mile markers on the side of the road for the nicest spots to see.
Paia Town (Mile marker 1) & Ho'okipa Beach Park (Mile marker 9)
The town of Paia is known for hippy surfer crowds, parties, and the beginning of the road to Hana. Grab a light bite to eat in town, or pick some pastries and coffee up and head over to Ho'okipa Beach Park at the edge of Paia for a morning picnic along the turquoise coastline.
Ke'anae Arboretum (Mile marker 16)
You'll first come across Aunty Sandy's roadside bakery where they sell warm mini loaves of banana bread. Grab one (and if you're like me, another coffee), walk on over to the rocky coastline and taste the sea salt spray as the waves pound against the rocks.
Wai'anapanapa State Park (Mile marker 32)
The state park is just outside Hana town, and is a stop not-to-be-missed. Black sand beaches, freshwater caves, blowholes, and sea arches can be found here, surrounded by lush greenery and maybe even some sea turtles swimming in the turbulent waters.
O'heo Gulch (Mile marker 42) & Wailua Falls (Mile marker 45)
Before I went, these two were on the top of my must-see list on the road to Hana. Unfortunately for me, the day before I went, Maui was hit with a tropical storm and the O'heo Gulch was not safe for swimming. But don't let my luck deter you from going.
While it doesn't sound like a long drive, there will be lots of spontaneous stops you'll want to allow time for. Unfortunately, car rental agencies don't allow you to head much further past the Wailua Falls, so you'll have to double back. If you're interested in going the full way around, tour companies are your best bet.
After a long day on the road, a casual dinner at Cheeseburger in Paradise on Front Street followed by some more gelato (it's a favourite of mine, can you tell?) from Ono Gelato will perfectly seal the day.
Maui Travel: 48 Hours in Paradise
Related Reading
Visiting Hawaii: A Conversation with Connie Pearson
Have you traveled to Maui? What do you recommend for an amazing Maui travel experience? Email us at [email protected] for information about sharing your experience and advice with the Pink Pangea community. We can't wait to hear from you.
Photo by Tamar Nalbandian.