A Tent with a View in Florence, Italy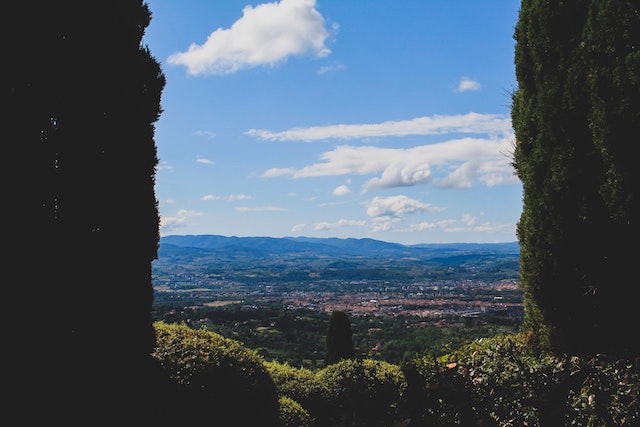 "One doesn't come to Italy for niceness, one comes for life!"
-E.M. Forster, A Room with a View
And so it is.
I had wanted to visit Italy all my life, as my mother's family is Italian. We gathered for Sunday dinner every week back in the States over gigantic bowls of my grandmother's buccollote, and we made hand-made cappelletti every year for Christmas dinner. My mother spoke about the family farm back in Gualdo Tadino, and I arrived to Italy carrying a letter with me that contained the address of that farm. However as I made my way from Portugal through prior adventures by foot and train transversing European landscapes, it was Forster's conveyance of Florence in my ragged, traveled copy of A Room with a View that held me.
"It was pleasant to wake up in Florence, to open the eyes upon a bright bare room, with a floor of red tiles which look clean though they are not; with a painted ceiling whereon pink griffins and blue amorini sport in a forest of yellow violins and bassoons. It was pleasant, too, to fling wide the windows, pinching the fingers in unfamiliar fastenings, to lean out into sunshine with beautiful hills and trees and marble churches opposite, and, close below, Arno, gurgling against the embankment of the road…Over such trivialities as these many a valuable hour may slip away, and the traveller who has gone to Italy to study the tactile values of Giotto, or the corruption of the Papacy, may return remembering nothing but the blue sky and the men and women who live under it.," Forster wrote.
Florence was a location I never would have gone to without Forster.
I arrived at night after having taken a quick train from Milan's train station that reeked of urine. I was happy to get out of that cosmopolitan city smog and to arrive to the antiquated, cobbled streets of Florence. A light mist was upon the air, diffusing the neon lights of caffes that wafted scents of savory dark roast coffee and cinnamon tiramisu. Around me emerged eternal sculptures carved by master's hands from marble. I hauled my pack through the streets until I finally caved and hailed a cab up to the hillside above the city, where I laid my head in my accommodations: a canvas tent in a Tuscan olive grove.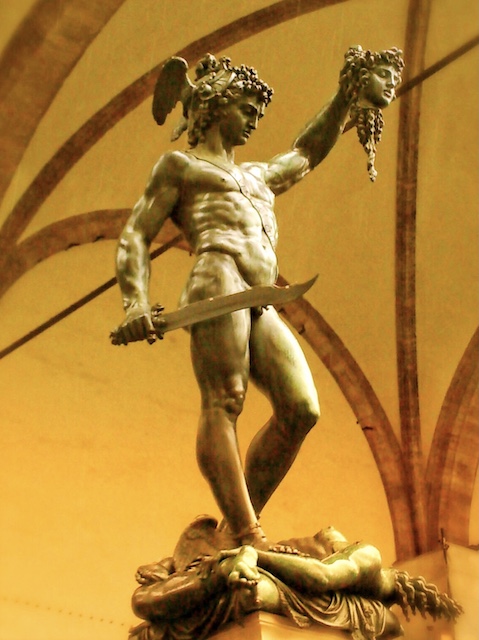 In the morning I awoke and stretched, then stepped outside into the soft green of olive leaves all around me. The sky was an exquisite shade of blue and a neighboring camper strolled down the hillside towards the latrine singing, "buon giorno!" he called out, almost a part of his song. "Buon giorno!" I sang back. For I was looking down the hillside on the most lovely site: Florence below and its glorious terracotta Duomo punctuating a break in the olivine leaves, held in an epic tromp l'oeil of landscape.
All these years later, it is still images like this that speak to me of Florence and of Italy. Florence was a location I never would have gone to without Forster. My plan was to go Milan then to Umbria then Perugia to try to see the family farm in the outer countryside. Afterwards to travel the small Tuscan towns until I would pick up a train to Rome. But after reading Forster, Florence became an intrigue. For one does come to Italy for life, and Florence was a robust embodiment of all that it is.
A Tent with a View in Florence, Italy
After brushing my teeth at the campsite tap, taking my valuables (believe me they were few) and securing my pack in my platform tent, I hiked down the hill through the olive trees and into Florence. I crossed over the Ponte Vecchio, taking in its blocked architecture of cream, ochre and shutters of vibrant green that looked down upon the hazy turquoise Arno. To be young and free and in Florence was as romantic a thing as could be.
I wandered to the Duomo and was lost in the gilded, cast Ghiberti doors of the Gates of Paradise afront the baptistry. I came upon the dark church of Santa Maria del Fiore and lit a candle for my famiglia on an ethereal tree-like candelabra that was ablaze with wishes. I wandered the stone streets, until I reached the Santa Croce, whose interior was humorously depicted by Lucy Honeychurch in A Room with a View as being like a barn. It is here that Lucy loses her comforting "baedeker," her guide, and begins to find herself. This is perhaps where her ability to think of her own truly begins, in the place where the bodies of Michaelangelo and Galileo are laid to rest.
The persona of the flaneur was brought to light. I was wandering the streets of Florence each day, taking in fountains of mythic horses crafted by master sculptors, yet the people just as engaging on their motorbikes and playing cards on the street at night and squeezing by hollering "mi scuzi!" Gelati in front of the Fountain of Neptune and olive oil riboletta soup at the Ristorante Nuti on a chilly, rainy evening while I chatted with the chef about wine and the countryside. Meeting my then lover at the Piazza Michaelangelo and looking down on the dusky ceramic orange tiles of the roofs of the city. Learning to think just as one person, what you see, what intrigues you, what you want.
The moments fade and the years go by, but these are the memories that keep.
The moments fade and the years go by, but these are the memories that keep. The history is fascinating, but the feeling of growing is where the life is. Forster captured this so poignantly in A Room with a View that I could not help but go to Florence. Oddly my pack was lighter here than when I had arrived to Europe three nations past, and my copy of E.M. Forster's a A Room with a View (that also came in triad with Howard's End and Maurice) was slimming daily as I read my way across the European train stations, tearing out each page deliciously as I read it and leaving it behind. The ephemeral page, the lasting word. Weight without weight.
I return to my tent on the hillside in the olive grove alone and look out at the gorgeous view.
"Let yourself go. Pull out from the depths those thoughts that you do not understand, and spread them out in the sunlight and know the meaning of them." -E.M. Forster, A Room with a View
Photo credits of A Tent with a View in Florence, Italy by Lindsay Valentine and Unsplash.