Sloths, Raccoons and a Red Tide in Costa Rica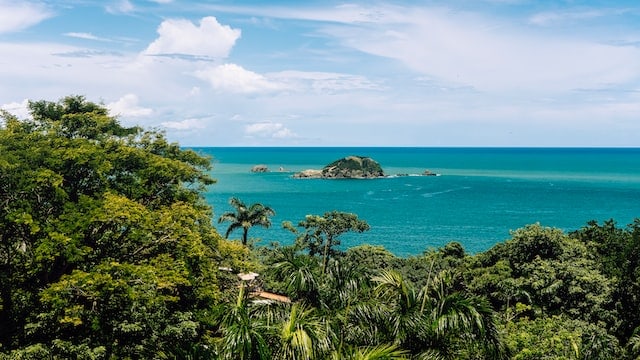 My friend Margaret and I were traveling in Costa Rica and had just enjoyed a wonderful naturalist-led tour of Parque Nacional Manuel-Antonio on the Pacific Coast. It was known for sloths hanging from high branches in the tropical rainforest, capuchin, squirrel and howler monkeys playing among themselves and multiple toucans, parrots including macaws and other colorful, often noisy, birds. Crocodiles basked on the banks of the river whilst some of the iguanas lazed in the hot sun.
After 2 hours on the trails, we were hot, and the turquoise water with several bays and beaches enticed us. I wanted to swim and Margaret wanted to go for a long beach walk. We didn't stop at the beautiful but popular beaches, but kept going along the coastal trail.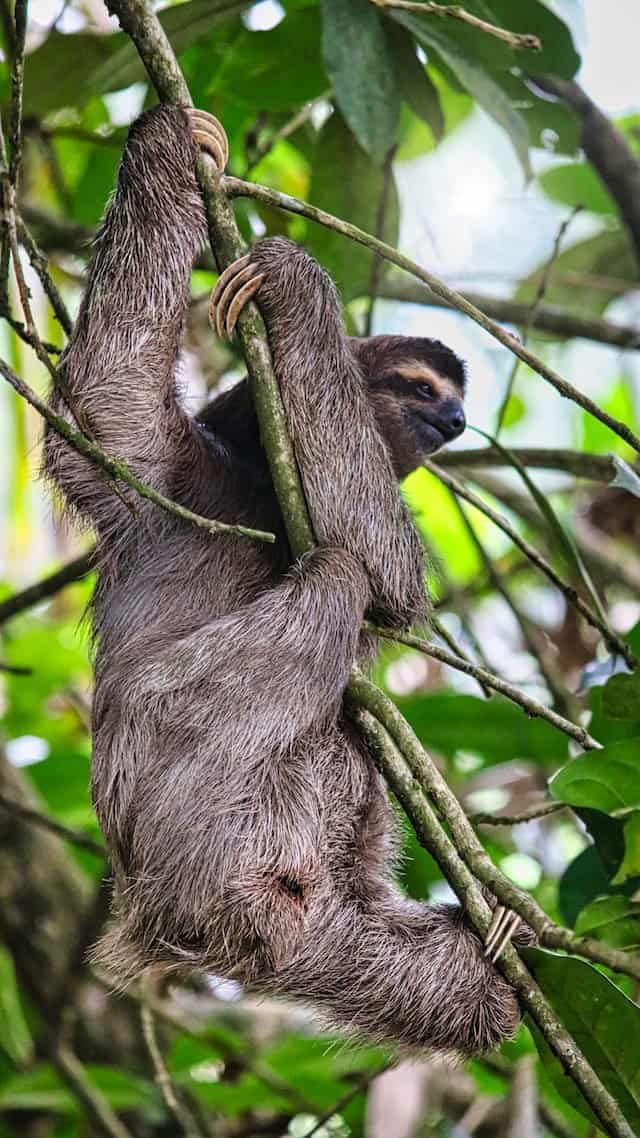 I needed to change into my swimsuit under my towel since I hadn't seen anywhere else to change, and I wanted more privacy.
We found it – not the most attractive beach but it was almost deserted and the bay was long, with palm trees and some bushes between the trail and the beach. Margaret took off on her walk and I changed, stuffing my clothes into the top of my backpack which contained my cameras.
I didn't want to leave it on the ground fearing dampness could hurt the camera, so I secured it to a low branch of a bush and turned to go down to the water. Almost immediately I became aware of movement behind me. Was someone trying to steal my backpack? As I turned around, I saw 3 raccoons fighting over it, trying to pull it from the bush.
Almost immediately I became aware of movement.
I tried to shoo them away but they were having none of that. One had its teeth into the bottom which fortunately was reinforced. I tried to take the arm straps and yank it away but did not succeed. We had a real tug of war which eventually I won, and the 3 of them scattered into the bushes.
I really wanted a swim. I was hotter than ever, and the waves at the edge even more enticing. I walked a little way until I found a tree with a higher branch to hang it on. I could just reach it, and believed it was too high for the raccoons. I saw Margaret half way around the long bay and swam on my back to keep an eye on the backpack. I didn't get very far out when I heard a faint yell.
I looked over to see Margaret gesturing to. me to come in. I rolled over thinking I would swim parallel to the shore. Perhaps she was worried I would go too far out or hit a rip tide. I didn't want her to worry about me. Then I saw what she could see better from the shore. The tide was coming in and it was a red tide. I had never been in close quarters to one but I was now right on the edge of it and I needed to get back to the beach as quickly as I could. I did not want to put my face in the water but turned to swim in as quickly as I could, making it without getting completely caught up in all the red algae.
The tide was coming in and it was a red tide.
Margaret returned soon after I had been reunited with my slightly-torn backpack – fortunately the raccoon had only damaged the reinforced outer layer so it was still protective and the cameras were all intact.
We made our way back to our beautiful hotel, a little further down the coast. La Mariposa was built on a hilly promontory with terraces on several levels. The dining terrace, with views over the long bay looking towards the National Park was stunning. White linen tablecloths, European-style cutlery and glass settings under the umbrellas, with a hibiscus or other flower arrangement on every table, created an intimate ambience, which was enhanced when the delicious a-la-carte food was served. The chef's creative presentations were most appealing setting the gastric juices flowing.
Mischievous squirrel monkeys played on the red-tiled roofs. Occasionally, macaws shouted from the palms and tropical landscaping around the sizable pool and circular hot-tub terraces, overlooking craggy rocks jutting from the other bay, but mostly it was peaceful. The staff were exceptionally helpful so one really felt this was paradise and a fitting last chapter in our interesting, fun vacation in Costa Rica.