Nightlife in Queenstown, New Zealand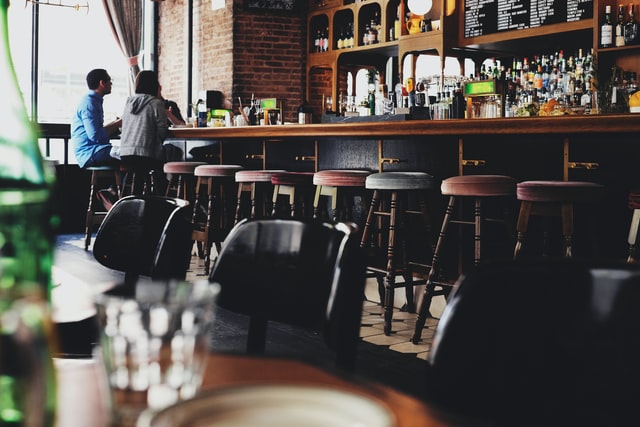 Here in New Zealand, the drinking age is 18 and as an 18 year old, I was very excited to go out with my girls and enjoy the nightlife in Queenstown. The night before my friend Kelsey left to go home, my new friend Ginny, a New Zealand-native, gave us the grand tour.
Nightlife in Queenstown, New Zealand
World Bar
Our first stop was to The World Bar for dinner. The three of us plus three of the boys from our camp enjoyed a long dinner with some live music. The singer was a beautiful New Zealand man who played the guitar and had a fabulous voice. What more could a girl ask for? The bar/restaurant was rather dimly lit with an orange essence. The furnishings were black and red. One wall seemed random and was covered in about 20 different telephones. There were booths and free-standing tables. People stopped in for a beer before their night out or sat around to listen to music.
While it did take a while to get our food, when in good company and listening to music, I couldn't complain. I ordered the vegetarian lasagna because I was craving vegetables and it was very good. It was served with French fries, or chips as they call them here, and a side salad. There were also things like chicken Caesar salad and fish 'n chips on the menu.
After dinner, the boys went off to a house party and us girls had to go get ready and primped. We had originally planned to stay at the X Base hostel located right in town in the "Sanctuary," which is an all-girls bunk room with hair straighteners, blow dryers, Hollywood-style mirrors, and the comfort of being with all girls. However, one of the boys at the camp lives in Queenstown and his parents were nice enough to let us sleep on their couches!
Unable to get to our friend's house, we had to come up with a backup plan for getting ready. We decided on the public restroom. I know what you may be thinking. "Ew, that's gross." You'd be quite wrong though. The three of us girls stepped into a VERY large bathroom that was very clean, not smelly and well-lit for makeup doing. We took about a 1/2 hour in there to put on our faces and pick shirts, which as you know can be quite a process.
DeBajo
Once we deemed ourselves reading and looking like "normal humans," meaning that we weren't wearing sweats and ski hats, we headed to DeBajo, a small bar with bumping bass, crazy lights, and conveniently, a small sitting room slightly sheltered from the traffic in and out. When we arrived, all the bar seats were taken but we didn't have to wait longer than five minutes for the bartenders' attention. It was $16 NZD for two drinks. (One of the girls was the sober designated driver, but it's very easy to catch a taxi in town.) We sat in the side room gossiping, singing to the music, and eventually got on the dance floor.
Minus 5 Bar
Because there is only so much time in one night, it was time for the next stop and what I see as the highlight of the night. We walked to the Minus 5 Bar, which is a bar completely made of ice. It was $31 to go in, which includes a drink. You can pay $35 NZD for a drink and a shot, and there are some other options as well. You can also have "mocktails" if you choose.
They provide you with large jackets, Uggs, and gloves to wear into the bar where EVERYTHING is made of ice, even the glasses, which you have to hold with two hands. You are given your own bartender for your group who makes you your drink of choice off a list of about 10. I had the "Polar Blair," which was a tropical drink with orange and grapefruit flavors. Our bartender was very talkative (and attractive), and we had a great half hour of taking a pictures and socializing.
If you are out in Queenstown, I highly recommend going there! It's worth every penny and I would definitely do it again!
After the "ice bar," we spent the majority of our night back at DeBajo. I was so sad when the night ended, but it truly was one of the best nights I've had while I've been here and I can't wait to see more of Queenstown.
Queenstown Nightlife: Nightlife in Queenstown, New Zealand photo by Unsplash.com.