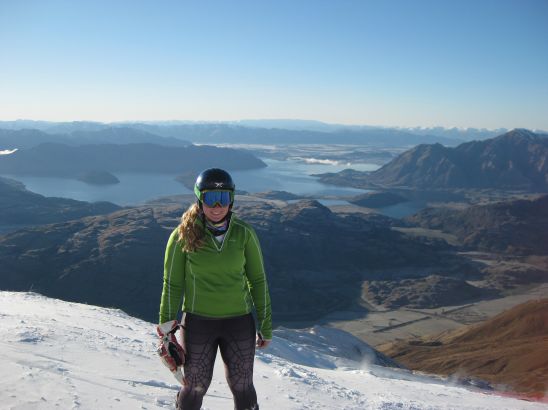 Hello from the Lookout Lodge, the headquarters for Treble Cone Racing Academy!
I am currently skiing in New Zealand as part of six-week trip before I head to school again!
Treble Cone
Since arriving, there are two main ski areas I have been frequenting. Treble Cone is our primary location, located about 40 minutes outside Lake Wanaka (pronounced Wan – i – ka). You can take a shuttle up to the mountain using a service or you can drive yourself. If you want to drive yourself, know that the mountain road can be muddy and if you get carsick easily make sure to sit in the front!
However, once you make the trek, the view is absolutely breathtaking. I've been describing it as pre-historic because of the huge boulder-like mountains and lake that lie in the valley below. New Zealand truly has some of the most random and picturesque geography. An all-day lift pass is $91 NZD (Attention Students: there is a student discount). If you choose, you can also buy multi-day lift passes. If you are here for a long time, just buy a season pass! You can also take lessons and rent equipment at the mountain.
When you hit the trails, there are two sides to the mountain with runs for all levels of skiers from beginner to experienced backcountry skier. Unfortunately, there was a monsoon here last week, so we lost quite a bit of snow, but what is left is good and hard for race/training.
As far as food, there is a full array of food available in the day lodge, but I would recommend packing lunches and snacks as food at the mountains is rather expensive and over the course of a trip it can really add up. I've noticed food is really where you can save a lot of money.
Snow Park
Another area, Snow Park is located about 30-40 minutes from Lake Wanaka. This area is significantly smaller than Treble Cone and is focused towards "park rats" also known as the skiers and snowboarders who live in the terrain park. I believe some of the events for the World Junior Freestyle Championships are being held there. One of the only free-ski runs is often reserved for Treble Cone Race Academy, which is great for us, but not great for anyone looking to simply ski down a mountain. (If you want that, near Snow Park, there's a resort called Cadrona with equally beautiful views and it seems to be more "touristy.") In my opinion, Snow Park is for the teen/young adult crowd and it's not a family resort.