Attempts at a Parisian Life in Paris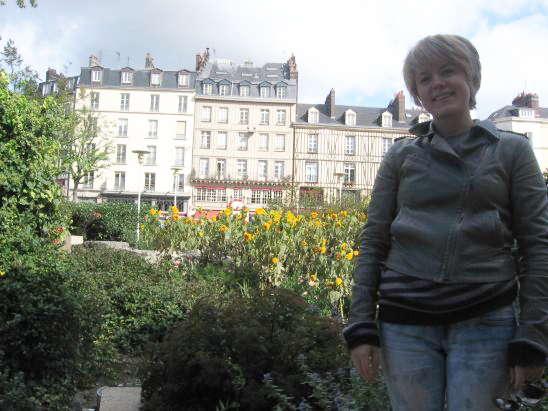 Wizened travelers have told me the most effective way to learn a language is total immersion and given my dissatisfaction with my French speaking skills after seven years of study I figured the veterans were correct in their advice. So, I'm spending my junior year in Paris with the intention of learning the language and the culture as back-to-front as possible.
On the final day of my three-week crash course in French, I found myself desperate to discover a quintessential French spot. While it's been comforting to have time to adjust to moving, get settled in my home-stay and practice French, it's also been an odd limbo period. I've been largely sequestered with other students in the same program (MICEFA-a coordinator of exchange programs between the Paris Universities and North American partner schools) and was suddenly ready to push the envelope of my comfort zone and truly immerse myself in the Parisian way of life. So, I decided to go to a cafe-how much more Parisian does it get?
So, I decided to go to a cafe-how much more Parisian does it get?
I chose a cafe described in Adam Gopnik's Paris to the Moon, a Bible for Americans in Paris, which touches on the struggle of learning a second language and the melancholy of things being almost but not quite the same, and offers quirky anecdotes about misfit Parisian destinations. The cafe, Les Deux Magots has long been involved in an entrenched rivalry with The Flore. Historically, Les Deux Magots was the more popular of the two cafes, frequented by intellectuals like Hemingway, Joyce and Oscar Wilde, but somewhere along the Parisian timeline, The Flore, which is right across the street became more popular.
In the 1940s, the two cafes became caught up in l'esprit de politique. The partie resistance was très a la mode; leftists crowded into one shop, rightists in the other The Deux Magots was over-run by intellectuals like Camus and Satre, but these great thinkers were followed by tourists hoping to catch a glimpse of the revolutionaries. When all was said and done, new ideas and new revolutions replaced those that surrounded the cafe rivalry and the veteran intellectuals needed an escape from the masses, so The Flore became the new go-to cafe on rue St. Germaine-de-Pres.
Because it's always been my nature to favor the less appreciated of two entities (I'm a horrible athlete; I feel bad winning a sporting event because I know the other players lament the loss), I decided to pop into Les Deux Magots. The cafe was rather overpriced, the average age of the people dining seemed about 50 and the mood was certainly one of retired relaxation tinged with a certain middle-aged haughtiness.
Attempts at a Parisian Life in Paris.
Nevertheless, I attempted to fit in as well as possible, sipping ever so delicately on my cafe au lait, smoking a cigarette and staring pensively at the church across the street. My eyebrows drawn back and eyelids relaxed, I feigned a manner of indifference and pretended to be au natural at a cafe where my drink cost me more than my entire lunch earlier in the day.
Feeling rather out of place in my new context, it dawned on me that I was almost done with Paris to the Moon and needed new reading material. It's always good to have a book or magazine on hand to appear occupied and not the fish out of water that I really am. I left the cafe, still somewhat downtrodden, in hope that I might find a bookstore with English text for sale. My day transitioned from needing to escape my American peers, to needing English books as a prop for discreet coffees in posh cafes. The answer to my prayers came in the form of Shakespeare and Co., a bookstore très connue (famous), known for selling English books-the place where Americans go to escape Americans, right?
The bookstore really is one of the more quaint sites in Paris. The rooms are tiny (as many things in Paris tend to be), stacked floor to ceiling with books. The narrow hallways wind in a circle from the front of the store to the back, branching off into little nooks and crannies and usually accented with a fluffy cushion, which seems to say, 'Take a load off, read a book, and engulf yourself in an imaginary land for hours so that the sight of human beings speaking a foreign tongue might appear even more alien than they already are!'
In the far right corner of the shop there is an uneven rickety staircase leading to a second story, which is divided roughly into four rooms. This floor is chockfull of books that people are welcome to read but which aren't on sale-a little library of sorts. One of the rooms has a piano, which people are invited to play. There is also an ancient typewriter on display, guarded on all sides by piles of books reaching towards the ceiling.
Attempts at a Parisian Life in Paris.
Generous seating is located throughout the other rooms and at a large table in front of the shop, studious lyceen can view the square and an overhanging tree strung with colored lights. Across the busy street, Quai Saint Michel/Quai Montebello and over the bridge that connects the banks of the Seine River, there stands the Notre Dame Cathedral. The only detail that the bookstore seems to lack is a coffee vender, because what makes reading in a wingback chair, smelling the mustiness of books, and listening to Tchaikovsky tinkling in the background-even more cozy than a good cuppa joe? But, if one's energy, stamina, or attention medication begins to wane, there are two cafes situated just next door.
So if, like me, introversion and the occasional antisocial inclination are traits that always manage to get packed for the journey, even when you're traveling to one of the most lively, convivial and talkative cities in the world (because we all know the French spend most of their lives debating in cafes), look for Shakespeare and Co. Then you'll get a moment to yourself…and even find cashiers who speak your language.
Photo credit by Clair.