Uncorking comfortably in Cork City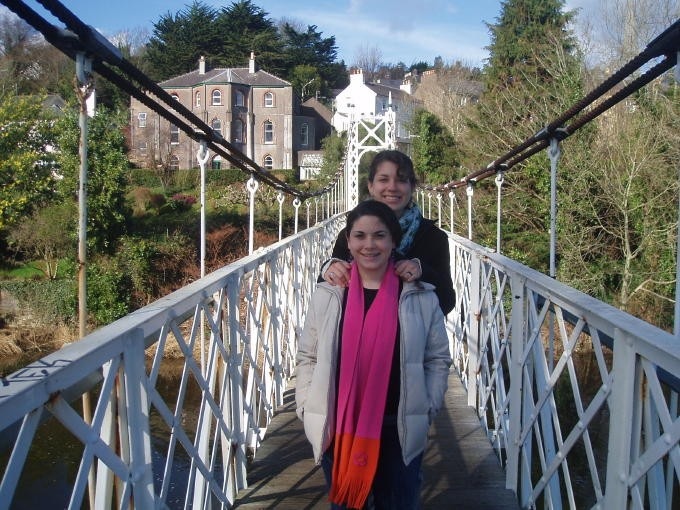 Here I am in Cork City with my sister in February. I traveled all around Ireland and much preferred Cork to Dublin and even Galway because it is walkable, safe, less touristy, more interesting, and has amazing food. I lived in Cork for 5 months a few years ago and it is a perfect city. It is small enough to walk through the entire city and out into farmland, has an incredible and huge market (the English market which also hosts a great restaurant), great restaurants, more pubs than people, many with traditional Irish Music sessions (go to Sin e or the Corner House on the north side), pretty parks, and even occasional seals swimming in the river Lee.
Although its a small city, it has a large Eastern European immigrant population (everyone assumed I was Polish since I do not look Irish), which for Ireland, is as diverse as it gets. It also has a thriving theater and sports scene and makes a great base to explore the rest of the county and county Kerry, and there is even an airport with Ryan air flights to the rest of Europe.
I lived near an old convent sandwiched between the Beamish Factory and St. Fin Barre's Cathedral, a 900 year old church. I studied at UCC, on its beautiful campus a few blocks from my apartment. Since I was part of an American study abroad program, it was hard to meet Irish young people, but overall people in Cork are incredibly friendly to the point of offering strangers a ride in the rain. I spent a good part of my time there cooking, going for walks, skipping classes and traveling around the countryside, listening to music and hanging out in pubs.
Although there are many modern more bar/clubby pubs in cork, there are still old school ones with comfortable couches and people of all ages, something hard to find in America. As for the infamous Irish rain, I maintain that the weather is better in Cork than in Dublin, and although it rained most days, it was also sunny on most days and everything shimmered in between.