Falling in Love with Connemara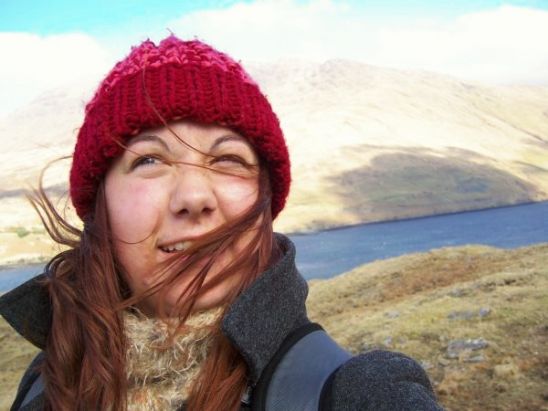 The bus was bumpy on the ride from Galway to Leenane when I first fell in love with a place. Connemara opened before me in large hills that took up the expanse of the bus windows. They were brown and lumbering and only dusted with a hint of the emerald that beckons travelers to more obvious parts of Ireland. Glass lakes spread below the mountains, creating perfect mirrors of each scene as we drove, and I snapped photos that never should have been so good from a bouncing bus.
Five days in a hostel situated inside a reconverted old house overlooking Killary Fjord was enough to woo me completely. I was traveling alone, and when you travel alone you meet plenty of interesting people, sure, but really, you learn to interact with your surroundings. You have conversations with the scenery, let the architecture play tricks on you and, occasionally, get into a fight with narrow alleyways that let you lose yourself and, for a few minutes, fear never being found again.
My conversation with Connemara was an immediate love story. Not one of fireworks and Hollywood-timed musical interludes, but a silent one. A mature love that grew gradually with each successive visit. I was completely disarmed by Connemara – the way the wind howls unnaturally against the brown hillsides, the way the leafless trees carve up in eerie black spirals, the way the sheep stare at you from some forlorn hillside and accuse you of being an intruder with their stares.
Falling in Love with Connemara.
For a while, I talked to the fjord. It was my first time at a fjord and the choppy waves and tunneled winds made me feel like a better, stronger version of myself. I didn't speak to anyone in the hostel, just myself and the fjord and the hillsides, and I began to understand that love is more about speaking and knowing when to be still than it is about feelings and jittery excitement and good looks.
If the Irish counties were celebrity men, then County Kerry would be Brad Pitt with its gorgeous green cliffs and charming coastline. And County Dublin would be Johnny Depp – handsome, stoic and enigmatic. But Connemara is unpopular and unpretty, with its little stout tufts of grass and its soft, muddy brown landscape. Ever the recluse, Connemara would be Kevin Spacey who, only after gently revealing such depths and talents, could ever woo only the dedicated with quiet humor and understated elegance.
Connemara is still my favorite place on earth. It is a place to write. A place to discover yourself. A place to just be.
Have you traveled to Connemara? We want to hear your tips. Email [email protected] for details. Falling in Love with Connemara. Photo by Megan Eaves.