8 Funny Life-Changing Lessons Learned in Paris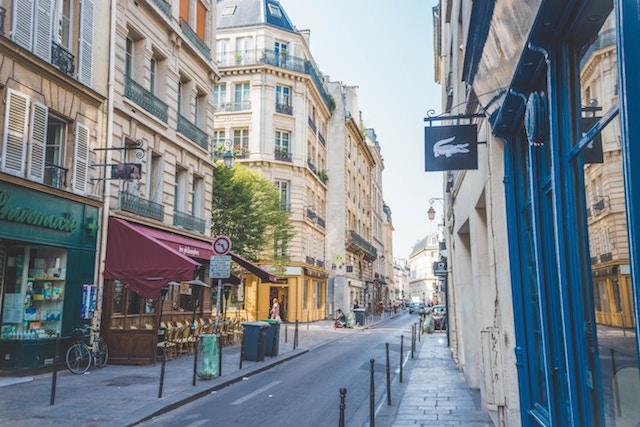 Last spring, I spent a semester in Paris. After having lived there for a while, I came to realize how many things about France are simply…funny. Not necessarily haha-funny, just a little…funny. Anyway, just thought I would share some of my random musings about this funny country.
8 Funny Life-Changing Lessons Learned in Paris
For example:
Lesson 1
When doing laundry at home, expect to have a washing machine at your disposal and nothing more. Dryers do not exist. Neither does water softener. This leaves your clothes with this almost starchy feel to them – that is, after they have spent the good part of two days air drying.

Lesson 2
When you are ready to go home after a night of fun and it is 1:30am, don't expect to find the metro open. DO expect to find at least one or two crepe stands open every few blocks. Delicious!
Lesson 3
When sitting in your home, expect to have spotty cell phone service. When sitting underground, on the metro, expect to have flawless cell phone service.
Lesson 4
Never have I seen more cowboy boots than in France – no joke.
Lesson 5
It is possible to walk down one street and see eight shoe stores for every non-shoe store. Many of these shoe stores are simply called "Shoestore." – the French are creative.
– On that note, fashion in France is NOT funny. It is true: pretty much everyone you see walking down the street is beautiful. Students show up to class (even at 8am! looking beautiful). Is there a pressure to look "fashion forward" and "hip" in Paris? Absolutely. It's almost impossible not to feel it. HOWEVER, living in a high fashion city makes it very easy to hop on the fashion train and fit right in!
Lesson 6
The pastry/coffee shop, Paul, may know what it's doing in terms of delicious treats, but they still have a lot to learn about the "to go" concept. A Cafe Mocha is typically served with chantilly cream (fancy shmancy whipped cream). However, when you get it "to go," you will receive a to go cup, filled with cafe mocha, and topped off with a small mountain of chantilly cream about 4 to 5 inches tall – very practical for an on-the-go customer.
Lesson 7
Many times, while on the metro, you will encounter performers. Some of these performers choose to do a karaoke-style performance. There is one man in particular, who works the 1 and 2 metro lines, sings songs in Spanish, particularly "Besame Mucho." This man, however, has not bothered to learn the actual words to the song. Though I have seen him perform repeatedly, he never gets the words right, and usually ends up repeating the same three sentences for the song – but hey, we're in France, no one will notice.
Lesson 8
Back when ice skating rinks were still up and running, it would not be surprising to find a large group of young children (ages 3 – 13) skating along to Lily Allen's hit, "F*** U." Always a great, kid-friendly song.
Oh France. You are too funny.
Top photo by Unsplash.