Taking in the Tribal Homes in Hanoi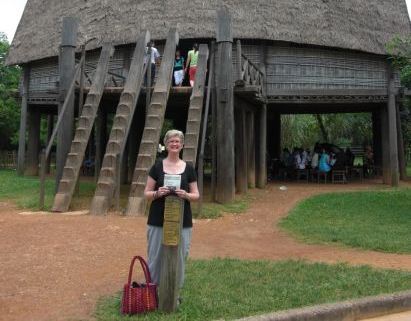 My two favorite museums in Southeast Asia are: the Asian Civilization Museum in Singapore and the Museum of Ethnology in Hanoi. The photo is taken at the Hanoi Ethnology Museum and captures one of the several stunning tribal village structures located there. Skilled villagers were brought to Hanoi with their traditional materials, tools, and methods to construct these buildings. As modern materials and building methods replace the traditional ones, these buildings are becoming rare finds. Majestic and approachable, refined and rustic, every time I see this particular structure, it takes my breath away.
Another building equally elegant and appealing, if not quite so stunning, is the house from the Ede tribe, an unusual matriarchal tribe. Their building is very long, with a common room followed by a number of separate bedrooms, and has an almost Polynesian appearance.
I am not a sophisticated student of architecture, but I do have a favorite architect author, Christopher Alexander, who co-wrote the wonderful book, A Pattern Language. This book features short essays on essential building or neighborhood elements that create good communities-whether they are in historic cities, rural areas, or contemporary developments. I'd like to know what Alexander would say about this tall, elegant, useful building, or the long Ede family building, and I plan to do a bit of research when I get home.
These tribal houses command attention immediately, and inside the museum are wonderful, colorful, interesting exhibits on the life and habits of the numerous tribes that have provided Vietnam with so much ethnic diversity and character. Because it is located to the west of central Hanoi, few tourist itineraries include it.
To get there, take a taxi or a motorbike (not for the faint of heart, and wear a good helmet). From my guesthouse in the Old Quarter, it took about 20 minutes and my driver had to ask locals along the way for the exact directions, so bring a map.
Along the way, the route to the museum passes through a street with shops that sell gardening and botanical products. It's a cool, shady street, so it's a welcome relief on a sunny day, and a great place to stop on your way back from the museum.
Photo by Barbara B.