Sri Lanka Travel Guide for Solo Women with Monica Ehman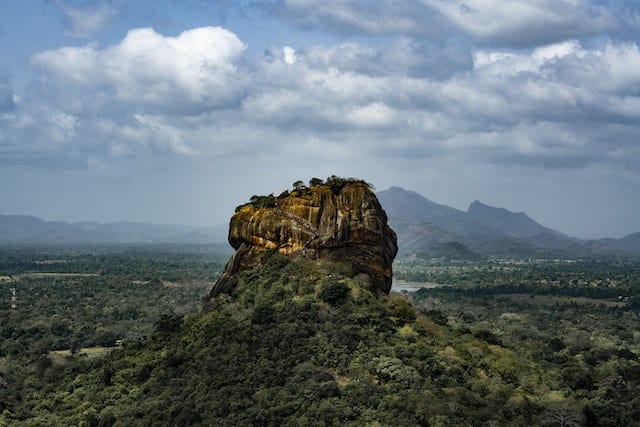 As a solo female traveler, Monica had some wonderful and terrible experiences in Sri Lanka. We spoke with her about her experience traveling through the country. Here's a glimspe into our conversation.
Sri Lanka Travel Guide for Solo Women with Monica Ehman
Tell us about yourself! What do you do when you're not traveling the world? Where do you live? What made you decide to go to Sri Lanka?
For the past 18 years I've been a flight attendant. When my airline merged with another I was offered a buyout, which I accepted. I sold my condo and most of my possessions, bought a one-way ticket to Asia, and here I am!
Originally I had planned to be gone until I ran out of money. However, things have changed within me and I am planning to return to the States in October. That'll be just over one year of travel.
I began my epic adventure in India and have visited Sri Lanka, the Philippines, Malaysia (Peninsular and Borneo), Brunei, Singapore, and Thailand. I venture back to India for the Holi Festival in mid-March, then will continue to Nepal, Bangladesh, Myanmar, Cambodia, Vietnam, Laos, and Indonesia. I would like to find an affordable way to visit Bhutan and Japan (The Fuji Rock Festival in July being the main goal.) I also have a friend in Taiwan who has invited me to visit.
What were your most memorable experiences? What were the biggest disappointments?
My biggest disappointment thus far was Sri Lanka. I had read and heard many wonderful things about the country. Unfortunately, the men quickly turned me off. Many I encountered exuded arrogance and a sense of entitlement. Some tried to take that sense of entitlement too far.
After spending three days in the capital city of Colombo, I opted to take an overnight bus to the east coast and a town called Trincomalee. During that bus ride I had to fend off a would-be rapist and another man who tried to molest me. It was a horrific way to be introduced to a country!
Thankfully I did not let those encounters deter me. I continued my month-long exploration of the country. Despite its small size, Sri Lanka has a lot to offer – culture, history, beautiful beaches, and unspoiled beauty. One of my most memorable moments was a chance encounter as I walked around the lake in Kandy. It was a beautiful afternoon and as I meandered around the lake, I noticed a photo shoot taking place ahead of me. As I drew closer, I thought it was a wedding celebration, but then noticed two "brides." We struck up a conversation and as it turned out, the photo shoot was for a bridal magazine. The two lovely ladies spoke perfect English and explained traditional Sri Lankan wedding customs to me (I had attended a wedding in India so it was interesting to compare the two.) They also allowed me to "hold" their dresses – they were so heavy!
What do you wish you knew before you went?
For Sri Lanka in particular, I wish I had known not to take buses after dark. I did not have a problem taking overnight transportation in India (or any other country since), so I did not think twice about booking an overnight bus. However, as I traveled the country, I shared my experiences with locals I befriended and quickly realized that the bad experiences I had was far too common an occurrence.
In general, I did not realize how stressful and exhausting it would be to travel alone. You are the only one making the decisions every single day. There's the day-to-day stuff like what to do and where to go, to the more complicated task of moving to the next destination. What is that destination and how will you get there? Where will you stay? Traveling on a budget complicates these decisions even more. And let's not forget about personal safety – as a solo traveler, you can never let your guard down too much.
In less practical terms, I wish I had realized how much of an inner journey this would be and how I would struggle with that. As I prepared to leave, I had read many articles discussing this topic of inner growth, but most were written by women in their early- to mid-20s. At 41, and having traveled extensively already, I figured I was near finished with growing. I couldn't have been more wrong!
Sri Lanka Travel Guide for Solo Women with Monica Ehman
Any favorite restaurants/hotels/hostels/sites you'd like to recommend? Tell us what made them great!
I enjoyed the food in Sri Lanka and would highly recommend Shenandiha in Sigiriya. It is a small, family-owned business which serves some of the best curry I've ever eaten. Nila runs Break Point Restaurant in Tangalle; it has only four tables that overlook the water. His dad catches the seafood in the morning which his mother will then cook for dinner. Another excellent seafood restaurant in Tangalle is Friendship Beach, which is set up each night on the beach. It is run by two charming young men who happen to be best friends. The food is as outstanding as the setting. In Weligama, my stay at Samaru Beach House was enhanced by the delicious food they served. To work off those calories, Samaru offers surf lessons and the conditions are ideal for beginners. Also in Weligama, Baba's Kitchen serves delicious kotthu.
In Sigiriya, I stayed at two different places, each were lovely. They were Riverside Lal Homestay and Lakmini Lodge. Lal also offers his services as he is a tuk tuk driver and tour guide. He is well-connected with other business owners around Sri Lanka and is willing to help plan your itinerary. For Lakmini Lodge, you need to ask to stay in the newer rooms as the older rooms are exactly that: old. They serve breakfast in a treehouse of sorts, which offers a spectacular view of Lion's Rock.
In Kandy, I stayed at the newly opened 107 Hostel. It occupies the former King's Stable and is designated as a World Heritage Site. The manager has tried his best to retain its historical charm. It also has a balcony perfect for enjoying tea while watching the setting sun. Breakfast is included with the room and it was delicious and plentiful! The day of my departure, I had to leave early and they even packed a breakfast for me to enjoy on the train. That is service!
Is there anything that women specifically should know before they travel to your destination?
Yes, do NOT, under any circumstances, take public transportation after dark. Sri Lanka is a beautiful country that is worth exploring. However, I would warn every woman to have her guard up just a little bit higher. Do not misunderstand me; I do not believe every man in the country is intent on hurting women or women travelers. I met men who watched out for me and who I now consider friends. However, for some men, it may be their lack of education or perhaps, their cultural beliefs, but they may not understand that what they are doing or attempting to do is wrong.
When traveling to Sri Lanka or any country, I think it's important to remember author Jon Krakauer's definition of the word, "charm" in his riveting book, "Missoula":
To charm is to control by allure or attraction. Think of charm as a verb, not a trait. "This person is trying to charm me," as opposed to "This person is charming."
If someone is trying to charm you, ask yourself why, and be cautious. Without a doubt this applied to my encounter with the man who would later try to rape me. Within seconds of meeting him at the bus station, he tried to charm me with his smile, his helpfulness, and his curiosity. My guard went up and later when he did try to attack me, I was prepared and was able to fight him off.