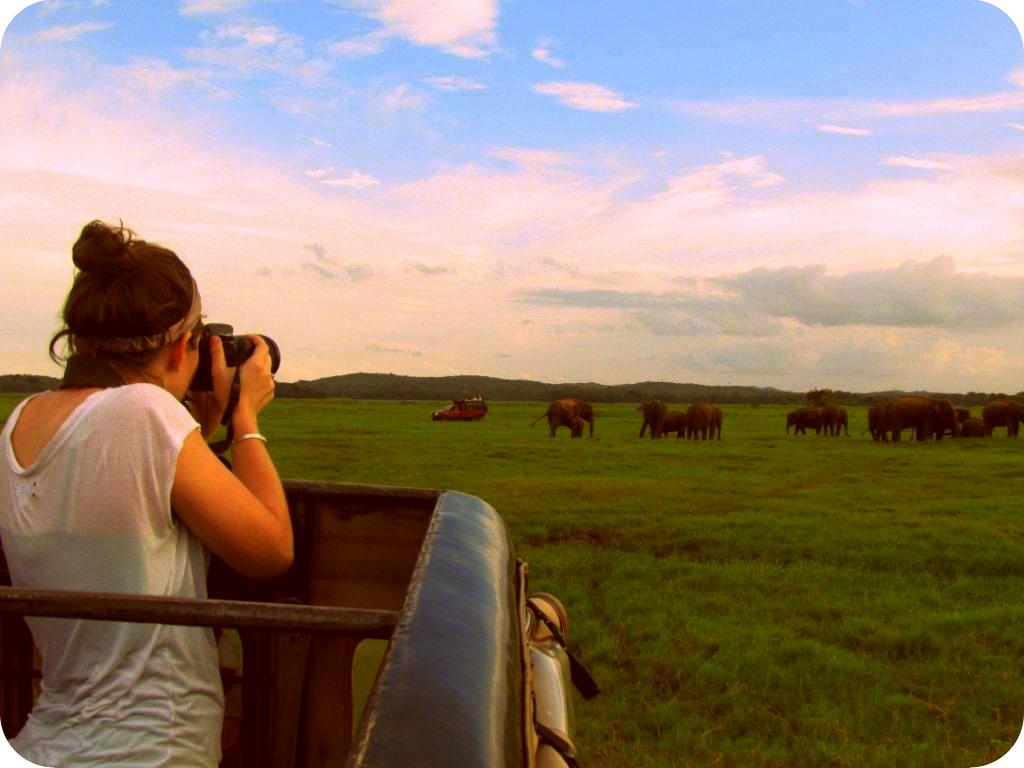 I'm sitting in an open-air safari Jeep in the middle of a vast, grassy plain, drinking hot ginger tea while watching three herds of wild elephants play, eat, and mate. I'm in the Matale district of Central Province, Sri Lanka (near the famous Sigiriya rock fortress) and while I've seen plenty of wild elephants in Kenya and Ghana, I've never been this close to them! I could watch these regal, playful animals for hours – and on this warm, tropical afternoon, I'm doing just that.
I'm on a private, exclusive safari with the touring company "Ayu in the Wild." The company is run by two friends of the Deputy Director of the U.S.-Sri Lanka Fulbright Commission, who is my boss and friend, too. (I'm a Fulbright Scholar based in Colombo.) The tour owners needed some guinea pigs for a new safari package they've developed, and yours truly was asked to be one of them! Ayu in the Wild prides itself on providing unique, off-the-beaten trail jungle safaris – complete with little touches such as cups of tea in the Jeep while we're watching wild elephants roam.
I knew I was in for an interesting experience when, on the pre-safari survey, they asked me, "How young are you?" I've never been so delighted to provide my age.
To truly experience Sri Lanka, one must get out of Colombo. Sri Lanka's capital is enjoyable, don't get me wrong – you'll never want for a good latte, live jazz, or fancy hotels here. But it's increasingly becoming the kind of major city that has everything a tourist could possibly need, and if your travel interests are in line with mine, you didn't fly halfway around the world for pasta with pesto and spa pedicures.
A Sri Lankan Safari Experience
Whether you are in Sri Lanka for ten days or two hundred, spend a little time shopping and dining in Colombo (my recommendations for what to do and see in the capital are coming soon in a separate post), and then get outta town to enjoy the blissful diversity Sri Lanka has to offer.
Wild elephants are a good place to start.
The morning after our first night sleeping in an eco-lodge in the middle of the jungle, I'm visibly relaxed (if not a bit itchy from a few fresh mosquito bites). After a leisurely wash in the outdoor shower and breakfast next to a mossy pond, we're on our way to Wilpattu National Park, and on the way, I see my first wild peacock. The forlorn wail of a wild peacock is both beautiful and wrenching and reminds me just how much I prefer the sounds of the jungle to those of Colombo's busy streets.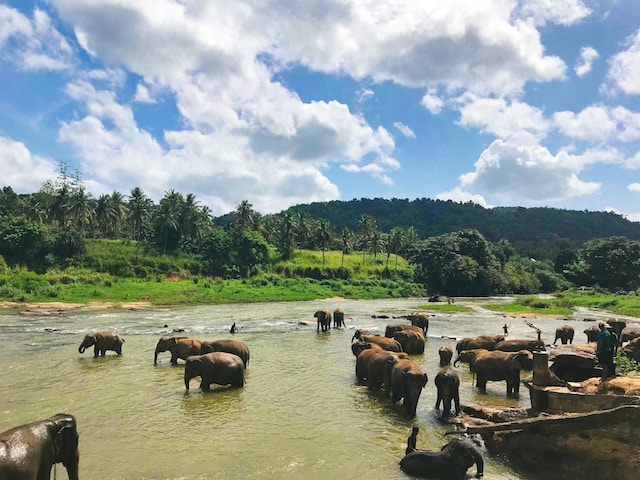 Sri Lankan Safari
I'm reminded how much I love having any excuse to use my headlamp; how much I enjoy showering outside; how I'm the kind of young female traveler who has to "rough it" in order to write home about it. This may be a mere three day safari, but it's only taken one night and day to remind me how at home I feel in Sri Lanka's lush jungles.
After a sunset safari drive (which included another warm cup of tea underneath a star-covered night sky) and a good night's rest sleeping on a mat outdoors at another lovely eco-lodge, we're up and ready for a full day in Wilpattu National Park.  Wilpattu, about 180 kilometers north of Colombo, is the largest and one of the oldest national parks in Sri Lanka.
It is home to leopards, sloth deer, elephants, water buffalo, wild pigs, crocodiles, and many, many species of birds. (My favorite sightings of the day were a crested serpent eagle and a leopard stalking two sambar deer!) Riding through the dense jungle scrub and around huge water holes, I thought about the recent history of the park.
Wilpattu was closed from 1985 to 2003, due to security concerns that the island was facing as a result of the civil war that raged for years in Sri Lanka. During those years, the park was a base for rebels, and poaching was common. Today, visitors can only tour about 25% of the park (which, trust me, is enough – the park is massive) and for the most part, it remains one of Sri Lanka's least-crowded national parks.
While I have a job and life in Colombo to get back to soon, I think I'll stay for a little while sipping tea under the stars and tending vegetables with this perfectly content jungle family.
There's something special about going on a private, small safari in and around some of the finest wildlife refuges Sri Lanka has to offer. And if animals aren't your thing, there's always interesting people to meet.
Deep in the wild, I met a jungle farmer named Asanka who lives on a small plot of land with his wife and daughter. Easily one of the most optimistic and joyful Sri Lankans I've ever met, Asanka works incredibly hard to provide for his family. He loves his land, loves farming all kinds of vegetables, and even makes bricks in his spare time in order to better support his family.
I was quickly reminded, yet again, of how diversity manifests itself in every corner of this island nation. Asanka is Buddhist, his wife is Catholic, and they pray to a Hindu god, whose framed photograph sits on a tree branch in the jungle where Asanka and his neighbors gather to pray every day. After spending an evening with this family, I realized I wanted to return to Sri Lanka's capital just as much as they did – which is to say, not at all.
I'm fortunate to be able to get a glimpse of this side of Sri Lanka while it's still here.
While I have a job and life in Colombo to get back to soon, I think I'll stay for a little while sipping tea under the stars and tending vegetables with this perfectly content jungle family. Colombo will always be there – but the things that make this kind of traditional life possible for Sri Lankan families like Asanka's may not be around much longer. I'm fortunate to be able to get a glimpse of this side of Sri Lanka while it's still here.
Have you traveled to a Sri Lankan safari? How was your trip? Email us at [email protected] to share your experience with the Pink Pangea community. We can't to hear from you.